Samsung Galaxy Nexus Teardown reveals glass and display fused, low soldering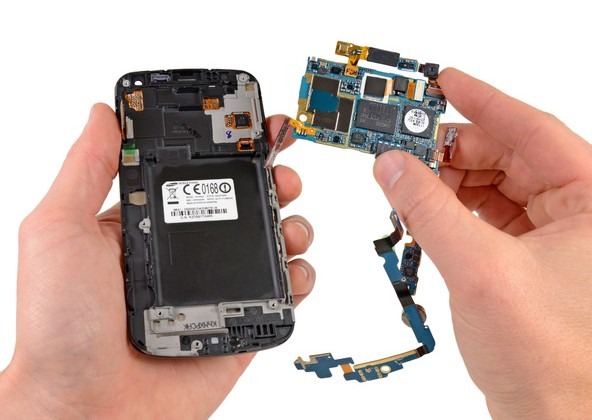 With the USA release of the Galaxy Nexus on the horizon and many folks on the outside of the states with the international edition in their hands already, we've only to cry in a corner until Verizon lets loose the device – but until then, we can dream with things like this iFixit teardown released today. What the folks over at the teardown palace have revealed is that not only is the Galaxy Nexus right in the middle of the pack when it comes to repairability, it's basically as simple on the inside as it is on the out. Not just one whole heck of a lot of surprises are contained within, but some pointers on how well you should treat the device do reveal themselves.
First, the display is fused to the glass, this meaning that if you've got to repair one, you've got to repair the other – and that means replacement, and high cost. Better you don't toss your Galaxy Nexus down any stairwells is the lesson to be had here. You can get most the the device apart with some fine screwdrivers and guitar picks, but the process is not easy, so basically don't try it unless you've got to. Other than the volume switch and the vibrator motor, the majority of the device (the parts you'd want to replace, anyway) are no soldered, so that's good news.
Inside you'll find a Melfas 8PK173 1126 touch screen controller, NXP 65N00 Smart Card IC, and the RFMD RF6260 Quad-band Multimode Power Amplifier Module. The Multichip Memory Package, the DDR2 SDRAM, and the dual band Wlan are all made by Samsung, and the both the power management and the audio codec are made by Texas Instruments. And of course the battery is removable as well, it sitting pretty at 1750 mAh so you can roll all day long, and it's got NFC in it as well, acting as the antenna you need for your future with Google Wallet, amongst other neat touch-to-work things in the NFC world. Now we've only to wait for the real Verizon thing here in the USA to see if the whole package really is going to live up to the hype.
Check out our review of both the Galaxy Nexus and the operating system it employs, Android 4.0 Ice Cream Sandwich, and pray for a USA unveil soon!
[via iFixit]