Samsung Galaxy Golden Brings Dual-Screen Android Flip-Phone On Second Tier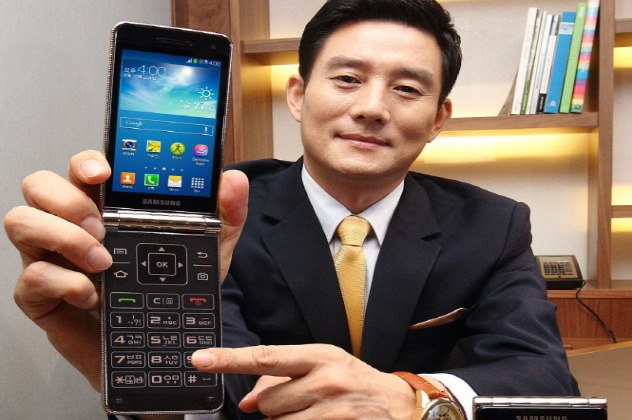 If you'll remember back to when the rumors of not one, but two Samsung dual-display flip phones appeared earlier this year, it was said that they'd not quite have the power of the Galaxy S 4 (the hero of this years' series), but they would look relatively similar. Now we've seen one – Samsung Hennessy with a quad-core processor and physical keypad – and the other is appearing just today. This second device goes by the name Samsung Galaxy Golden – and as you may have guessed, it's gold.
This smartphone is relatively similar-looking to the Hennessy, but this device – also known as the SHV-E400 – works with two 3.7-inch Super AMOLED displays and is powered by a 1.7GHz dual-core processor rather than a quad. The device's coloring is officially called "Champagne", and may be a bit familiar to those of you following the Apple iPhone 5S rumor mill where a similar color configuration is popping up.
This dual-screen Android smartphone works with Android 4.2 Jelly Bean and features a collection of apps that'll interact readily with the rest of the Samsung Galaxy S, Note, and Tab lineup from this year. On the back – underside, rather – of the Galaxy Golden is an 8-megapixel camera and inside you'll find Wi-fi, GPS, and Bluetooth.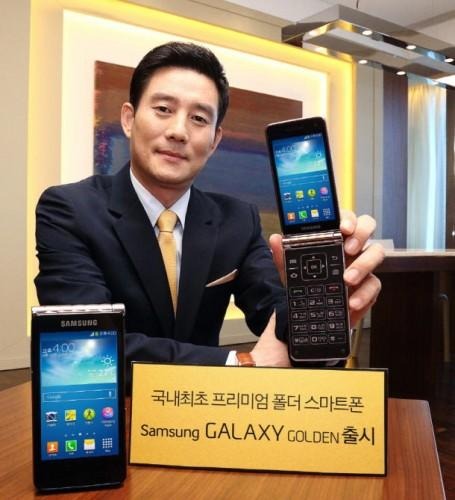 Though the launch of this device is limited to Korean telecoms SKT and KT, it's possible that it'll spread beyond those borders. It's not entirely likely, on the other hand, as the age of the flip-phone has all but ended internationally – or at least inside the USA (for smartphones, that is).
Also note: back when this device was first teased by Samsung, it was said that it would launch with 4G LTE and hit stores in August. So if you're not seeing it at your local retailer today, you will be the end of the month!
VIA: Samsung Tomorrow