Samsung Galaxy Gear to be sleeker than leaked prototype smartwatch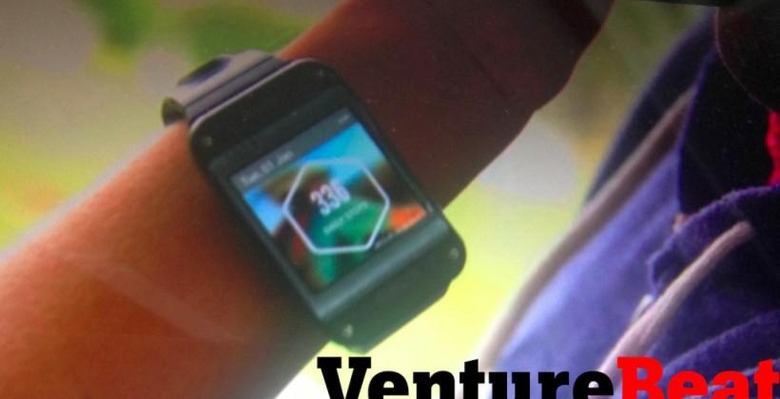 Leaked prototype images of Samsung's Galaxy Gear are not representative of the final smartwatch design, new insiders claim, suggesting the South Korean company still has a surprise in store for its pre-IFA 2013 event this week. Images and details purportedly showing the Galaxy Gear – an Android-based wearable, expected to take a fitness slant – emerged earlier today, showing a bulky and potentially cumbersome design that led some to prematurely declare the project a dead-end. However, new rumors validate alternative suggestions that the prototype is not entirely comparable to what Samsung will announce, either in design or functionality.
According to GigaOm's sources, and as we speculated earlier, the leaked prototype is indeed one of Samsung's incomplete developed devices. These, although distributed to early partners so as to give them time to develop apps for the new form-factor, are not indicative of what the consumer version will look like.
For instance, the actual Galaxy Gear that will reach shelves is described somewhat vaguely as "a different, more finished product", with a roughly 2.5-inch touchscreen display set in casing around 3-inches in diameter.
Samsung has something of a track record for distributing different versions of devices to developers and other partners, in part to muddy the waters when the inevitable pre-announce leaks happen. It's unclear how many versions of the Galaxy Gear there have been, or indeed whether Samsung will be able to trace the source of today's publicized prototype based on the revealed design.
The browser functionality – said, in the leak earlier today, to support internet access over WiFi even if there is no smartphone paired – is said to be not present in the final model. Samsung has supposedly used a customized version of Android 4.3 Jelly Bean, with new full-screen notifications complete with glanceable oversized iconography, and the on-screen keyboard disabled.
Standard Bluetooth LE (Low Energy) is said to be used, with the Galaxy Gear believed to be compatible with any smartphone or tablet supporting that. Such compatibility would mean the Galaxy Gear could, at least in theory, be used with Apple's iPhone 5 and the iPhone 5S expected later in the month.
However, a Samsung device is said to be required to actually install apps on the Galaxy Gear. These are distributed via a special app store, it's claimed, rather than via the Google Play store.
As for the battery life, which is believed to last for around 10 hours, the new sources suggest that the Galaxy Gear will run for around 24 hours "with modest use."
We'll know more on September 4th, when Samsung is holding its latest "Unpacked" event to show off the Galaxy Gear and, if the chatter is true, the new Galaxy Note 3. SlashGear will be there to bring back all the details, so keep an eye on our IFA 2013 hub for the news as it happens.