Samsung Galaxy Fold Ready To Launch Again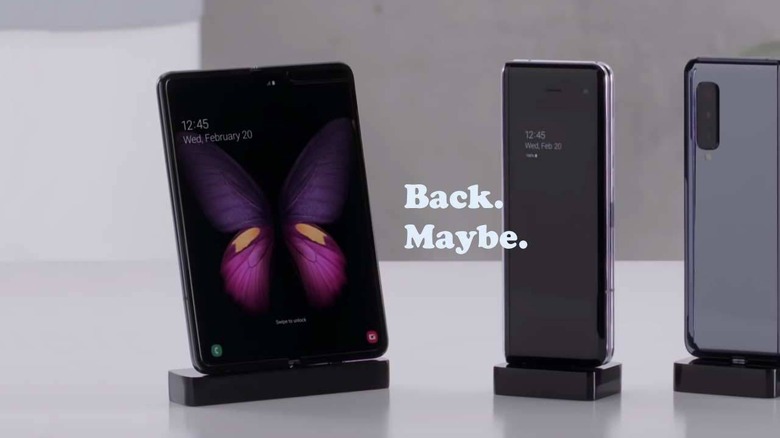 The Samsung Galaxy Fold is ready for release according to industry sources today. This information comes from industry professionals and professors at Seoul National University and KAIST, as well as a "source close to the matter" speaking anonymously. If the phone is indeed ready to roll, it'd be a key element in the lead up to the launch of the Galaxy Note 10, a device that's set for official reveal on August 7, 2019.
This anonymous source spoke with TheElec, saying "a couple weeks ago, Samsung Electronics sent out the Galaxy Fold to this group," likely meaning the group of industry professionals and professors mentioned above. "Word is that the phone aced the tests and is ready for launch."
Saying the phone "aced the tests" seems a bit suspicious, if we're assuming this source is not in the employ of Samsung or the various entities that profit from the production and distribution of the Galaxy Fold in general. The original Galaxy Fold was meant to launch in April of 2019, but saw delay after the first round of public review units showed major flaws.
Because of the flaws in industrial design, the original Galaxy Fold launch was delayed, and Samsung went back to the drawing board to make certain no such errors made their way to the hands of consumers. Last month Samsung Display's vice president Kim Seong-cheol affirmed that the company's foldable display parts were ready for Galaxy Fold's mass production.
The final launch date for the Galaxy Fold is still unknown. It's likely this smartphone will be launched as soon as Samsung can possibly launch, due in part to the race to the gate by several other hungry smartphone brands.
The Huawei Mate X will be on sale in late July or early August according to Huawei. Competition like this brings all the new tech to the yard, which is good! But it also brings all the broken foldable displays to the yard – so some hesitation is also good!