Samsung Galaxy Buds Review: AirPods lessons learned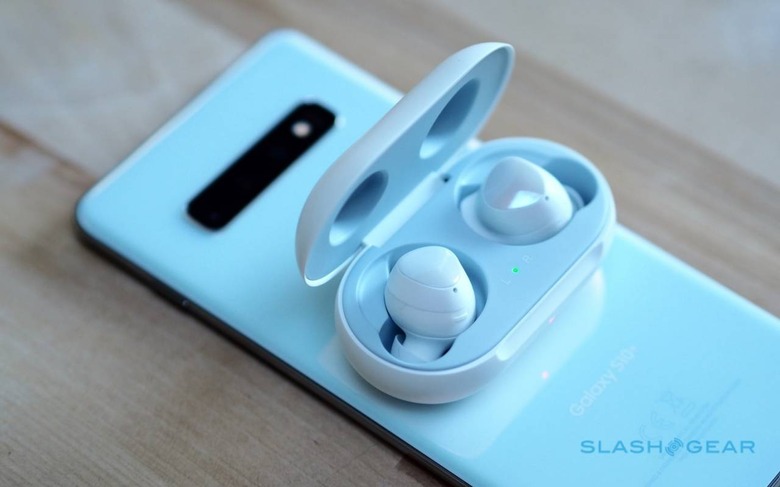 Samsung is no stranger to wireless earbuds, but the Galaxy Buds' predecessors have never quite aced the experience in the way that this new model does. Arriving alongside the Samsung Galaxy S10, the Galaxy Buds promise the convenience of AirPods but with the sort of customization Android fans love. With a $129 price tag, though, is this all too good to be true?
Design and Comfort
After last year's Samsung Gear IconX, the design of the Galaxy Buds comes as little surprise. Unlike AirPods, Samsung's earbuds nestle inside your ear. They're made of matte plastic – white in the case of my review set, but Samsung also has black and yellow versions – with a silicone ear tip and a rubber fin that conspire to hold each bud in place. An IPX2 rating means drips of water and sweat won't be a problem, but rain not so much.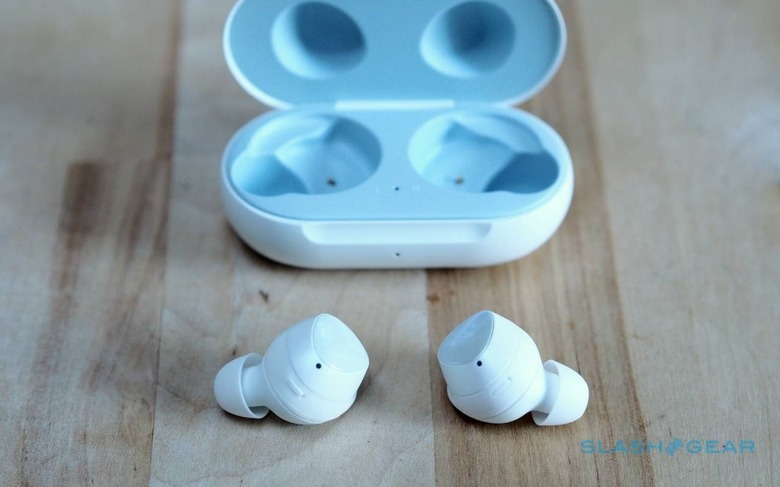 The outer panel is finished with a pearlescent panel which is also the primary control interface. One tap toggles between play and pause, while a double-tap skips ahead a track if you're listening to music, or answers or ends a call. Three taps takes you back a track.
What happens when you long-press is customizable. You can have it turn on the Galaxy Buds' ambient sound mode, piping through outside audio in case you need to hear an announcement or briefly talk with someone, or have it adjust the volume. Alternatively, a long-press can summon your digital assistant of choice.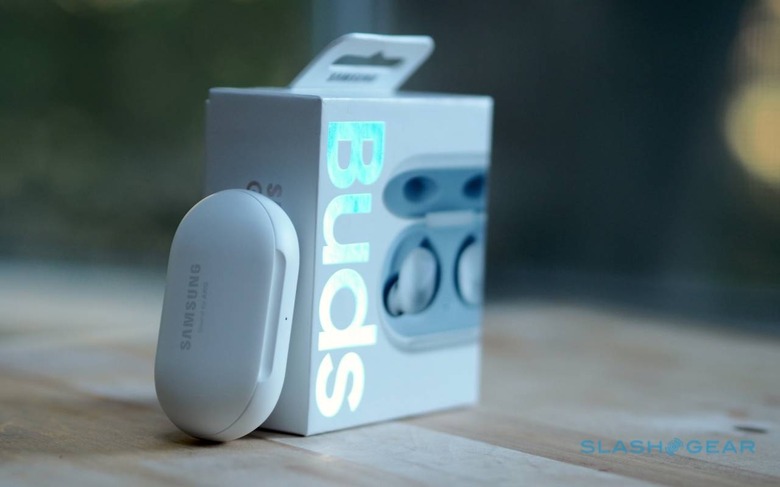 Then there's the charging case. It's noticeably smaller than the case which Samsung included with the Gear IconX, though the oversized-pill shape is the same. However it's still bigger and heavier than Apple's case for the AirPods. A fairly strong magnet holds the lid closed, which is welcome: I don't think it would be likely to open up accidentally in my bag, whereas I've had AirPods go rattling around inadvertently before now. The fact that the case has an external charging LED gets it bonus points, too.
Samsung includes a choice of three different earbud tips, and three sets of wingtips, in the box. I found it much easier to get the right fit for my ear; in contrast, AirPods never feel quite like they'll stay in place if I do anything more energetic than casually walking. The Galaxy Buds, meanwhile, stayed in place even while jogging, and didn't feel uncomfortable in the process.
Setup and Control
Apple's pairing process between AirPods and iPhone is a thing of beauty, and happily so is the experience between Samsung's Galaxy Buds and an Android phone. As soon as I opened the earbuds case near a Galaxy S10+, a dialog popped up on-screen offering to pair them. Four permissions boxes then followed – making sure I knew that the Galaxy Buds would be able to control the phone, among other things – and after that they were connected.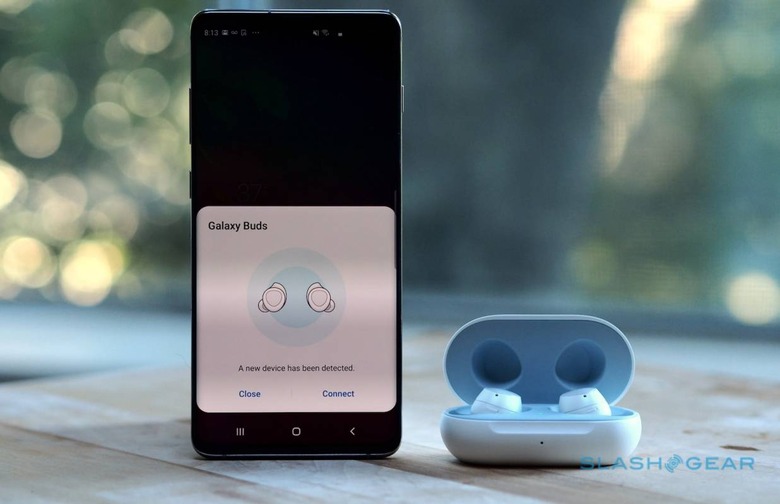 Subsequently, any time I opened the case and popped a Galaxy Bud into my ear, the connection was re-established. The experience with an iPhone was less elegant: I needed to go into the iOS settings and connect through the Bluetooth menu there. Still, once paired they worked as you'd expect.
Samsung has a Galaxy Wearable app for Android, though, which you miss out on with an iPhone. It's there that you set up what the touch-controls do, control Ambient Sound mode, adjust the equalizer, and see the battery status.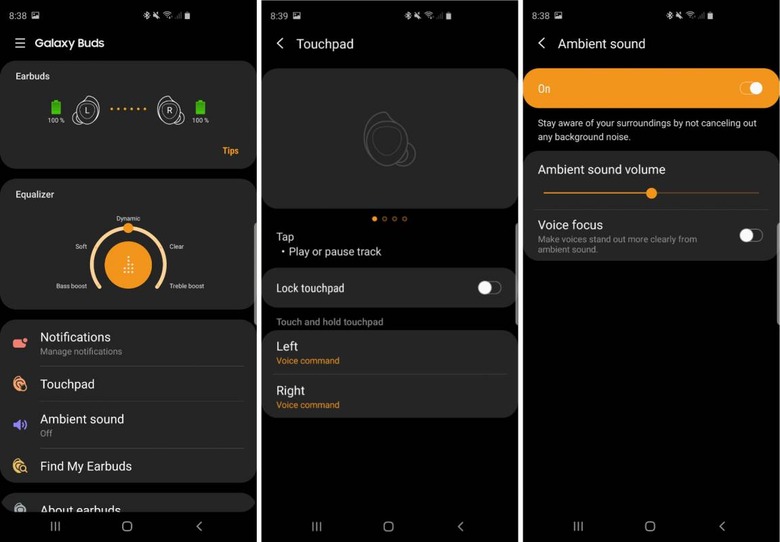 There's a surprising amount of customization possible. You can have different long-press actions for the left and right earbuds, or turn the touch-pads off altogether, and the equalizer has five modes: Bass boost; Soft; Dynamic; Clear; and Treble Boost. For notifications, you can choose which apps have their alerts flagged through the Galaxy Buds, and whether they'll still be read out even if you're actively using your phone.
Something I did miss was automatic pause of music when you taken a Galaxy Bud out. That's one thing AirPods offer, and that I've come to really appreciate. Instead, I had to remember to tap first to pause before pulling the earbud free.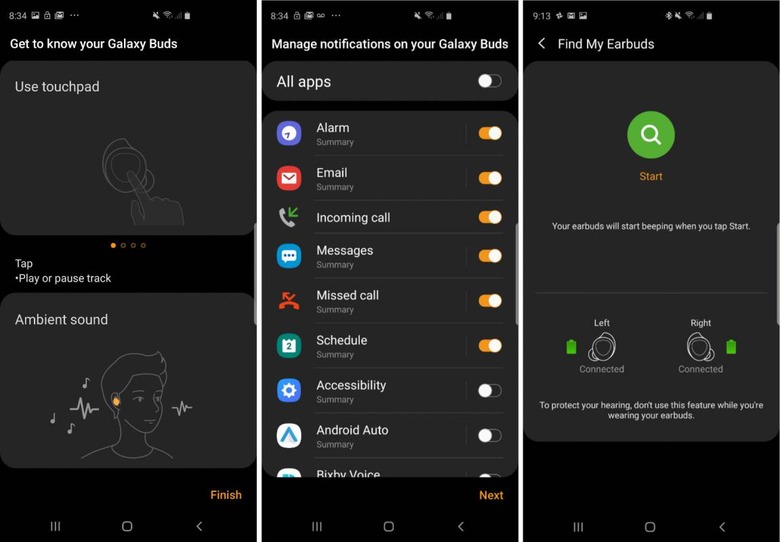 The other important feature is Find My Earbuds. As you'd expect, it's designed to help you when you inadvertently lose a Galaxy Bud between the sofa cushions or in the depths of your bag. It causes them to play a loud sound which makes hunting them down far easier.
Audio Quality and Ambient Sound
For me, wireless earbuds have always been primarily about convenience first and then audio quality second. The swiftness with which AirPods connect means I'm more likely to quickly put them in for a call or to listen to a song. I was pleased to discover that the Galaxy Buds check the same boxes.
The Samsung's snugger-fit pays dividends when it comes to cutting out external noise as well as emphasizing the bass. With the equalizer turned off, the Galaxy Buds are fairly flat in their overall response. I found myself wanting a little more low-end, something the Dynamic setting addressed by adding the thump of bass I'd been looking for.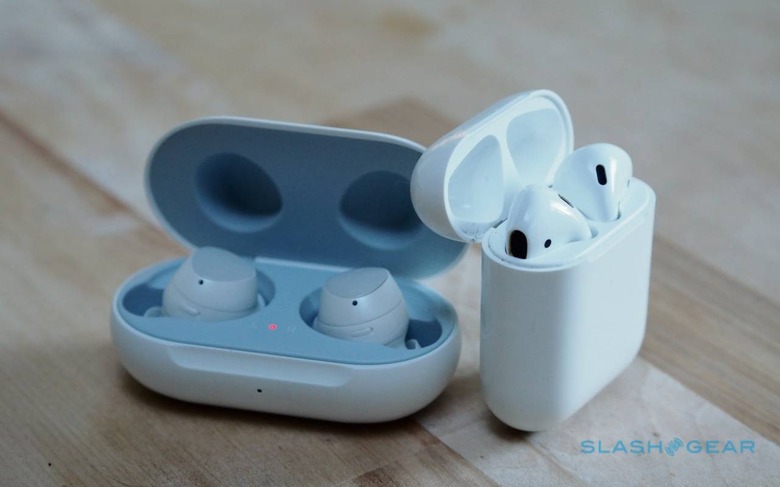 Similarly, though the Galaxy Buds aren't going to compete with audiophile headphones with their treble, there's a sparkle that the AirPods can often miss. Again, a lot of that is down to the better seal with your ears that Samsung's ear-tips ensures. Considering the $129 price tag, I was still a little surprised that I far prefer how the Galaxy Buds sound to how Apple's earbuds do.
Of course the upside to the AirPods' fit is that you're not entirely isolated even when you're wearing them. Ambient Sound mode tries to address that for the Galaxy Buds, blending some of the external noise with what you're listening to. You might not want it turned on if you're looking to block out the world on a flight, but if you're exercising while listening to music then having the Galaxy Buds include a little ambient sound could help you avoid stepping out in front of a car.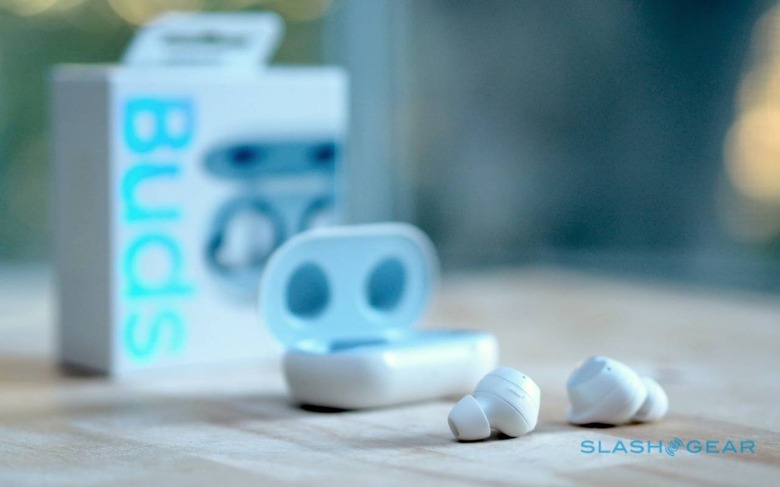 Optionally, there's a voice focus setting which emphasizes the frequencies common to the human voice, turning the Galaxy Buds into makeshift hearing aids of sorts. For calls, the earbuds switch automatically between the two microphones on each, based on how much ambient noise there is. Callers told me I could sound a little distant at times, but I had no problems hearing them.
Samsung uses Bluetooth 5.0, with support for the A2DP, AVRCP, and HFP profiles. The Galaxy Buds can deal with AAC, SBC, and a Samsung-proprietary Scalable codec. I was able to leave the Galaxy S10 in one room and still have uninterrupted music next door, even with a wall in the way.
Battery and Wireless Charging
Samsung quotes up to six hours of music playback with the Galaxy Buds, or five hours of talktime on calls. With predominantly music use, interspersed with a brief phone call, I got past 5 hours and 30 minutes, which is impressive indeed. To recharge them, you need to put them back into the case.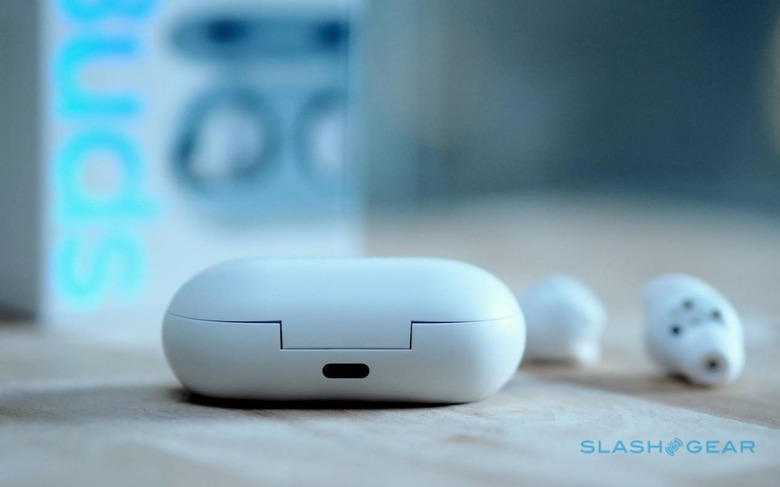 Unfortunately the smaller case comes with a smaller battery. Samsung rates it as good for another seven hours of listening, but that's your lot. In comparison, the AirPods case has several full charges for Apple's earbuds.
Where Samsung edges ahead is in ease of recharging. There's a USB-C port on the back, but also Qi wireless charging built-in too. Sit the Galaxy Buds' case on a wireless charging pad, or on the back of a Galaxy S10 in Wireless PowerShare mode, and you'll top them up with no cables required.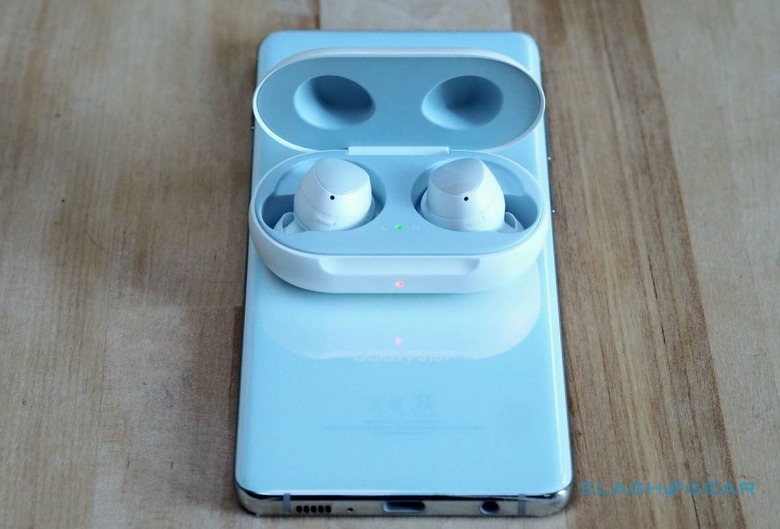 Verdict
Ecosystems matter. If you're an iPhone user, Apple's own AirPods still provide a better overall experience. The Galaxy Buds will work with your iOS device, but you miss out on all the customizable settings. The flip side, though, is that for most Android users Samsung has just made the best wireless earbuds around.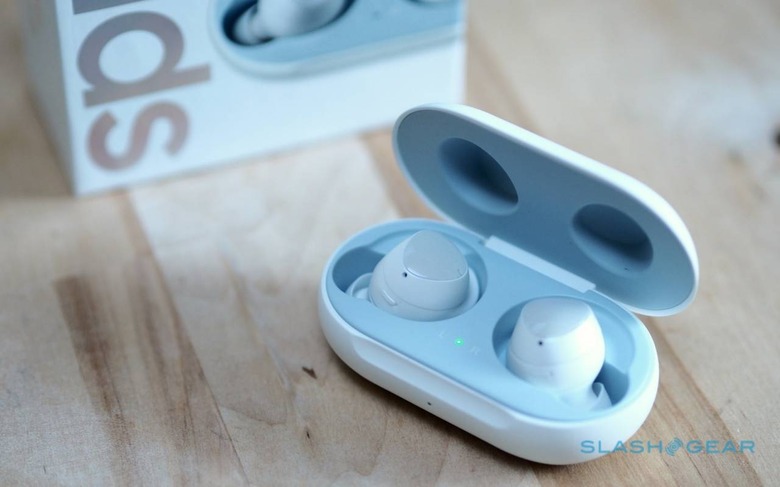 It seems a little ironic, given Samsung is one of the few remaining hold-outs when it comes to offering a 3.5mm headphone jack on its phones, but the Galaxy Buds are more than reason enough to lose the cord. From the comfort, to the battery life and usability, to clever features like Ambient Sound mode – not to mention the fact that they deal perfectly well with most music types – they're great all-rounders.
Could you find better audio quality and still avoid the cords? Sure, but not for the $129 that Samsung is asking. The wireless earbuds market may have got crowded over the past twelve months, but Samsung just gave Android users a no-brainer pick of the bunch.