Samsung Galaxy Buds+ Review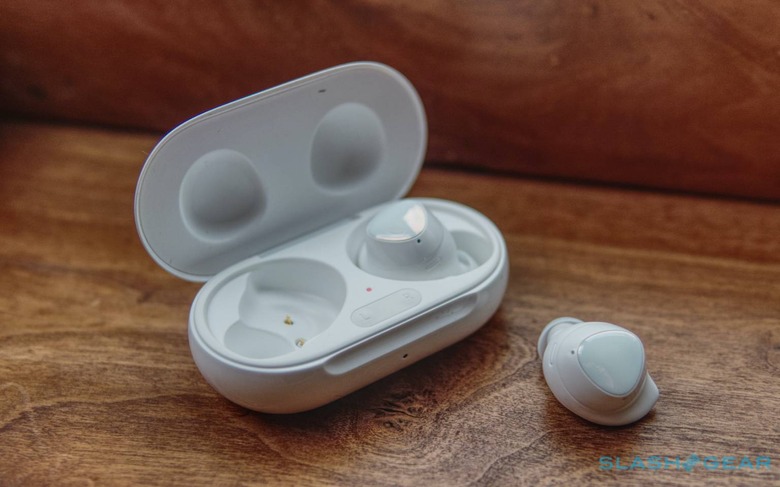 EDITORS' RATING: 8/10
Samsung's Galaxy Buds+ may have had to share stage-time with the Galaxy S20 series and the Galaxy Z Flip at Unpacked 2019, but that's not to say the updated wireless earbuds weren't worth attention. Follow-up to last year's well-received Galaxy Buds, the new earbuds promise a boost in audio quality, usability, and battery life, though with an increase in price along the way.
Familiar design hides some noticeable upgrades
Slightly heavier than before, but still comfortable, each earbud has a shiny finish and a pearlescent touch panel on the outside. The case is shiny now, too; a little smaller than the old Galaxy Buds case, but still larger than I'd prefer. Samsung offers white, blue, and black finishes.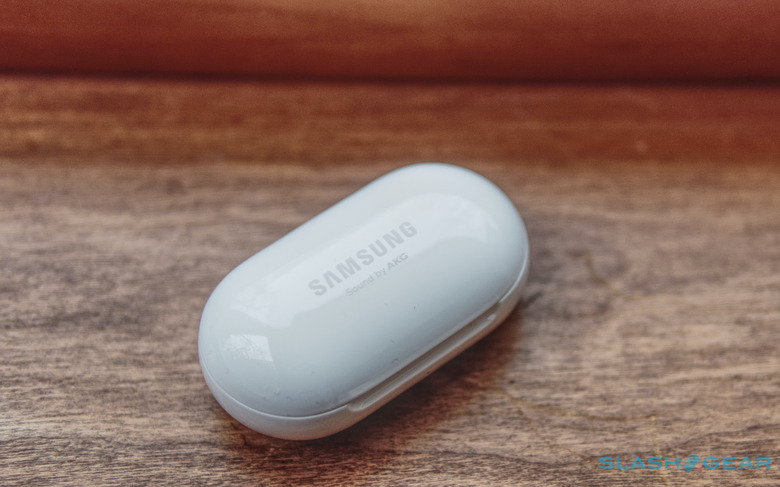 The familiar design gets a few upgrades only your ears will recognize, though. There are now two drivers inside – a separate tweeter and woofer – rather than just one, while the Galaxy Buds+ also now have three microphones. There's an inner mic and two outer mics, the latter used for beam-forming.
As before you control them by tapping the touch panel. A single tap handles play/pause; a double tap skips ahead a track or answers a call; a triple tap skips back a track. Long-press is user-customizable: you can have it adjust the volume, for example, summon your voice assistant, or if you're a Spotify user on Android it can trigger a customized playlist based on the music you listen to regularly.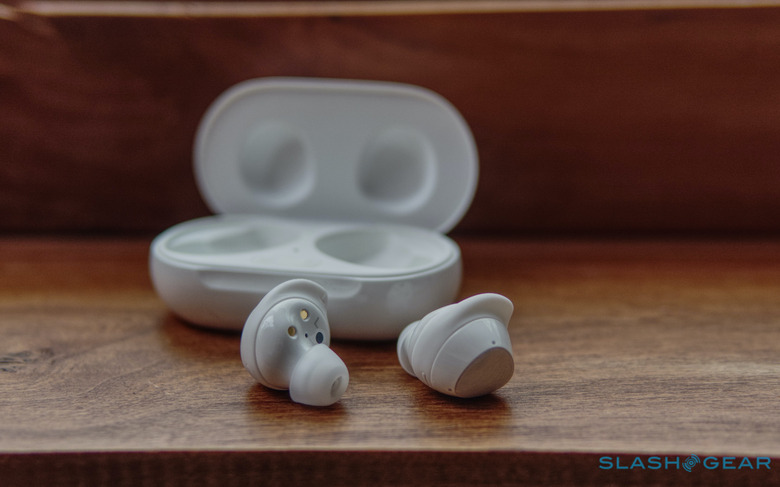 Sadly the touch response can be a little finicky still, too. At times, the Galaxy Buds+ recognized my double tap as a triple, for instance. I suspect practice and growing familiarity over time would help there, and I still prefer tap controls to speaking to an assistant.
Sound quality takes a step up
I liked how the old Galaxy Buds sounded, but I'll concede that they weren't best-in-class. The Galaxy Buds+ addition of a second driver in each earbud pays dividends, with cleaner bass and a generally more balanced sound across the range.
If your musical tastes err on the thumping side, the AKG-tuned low-end here stands a far better chance of impressing. Samsung's bass emphasis isn't the chunkiest I've heard – even when you tweak things with the various EQ settings in the app – but they escape distortion. At the same time, the high-end gains a vibrancy that suits vocals and brighter instruments.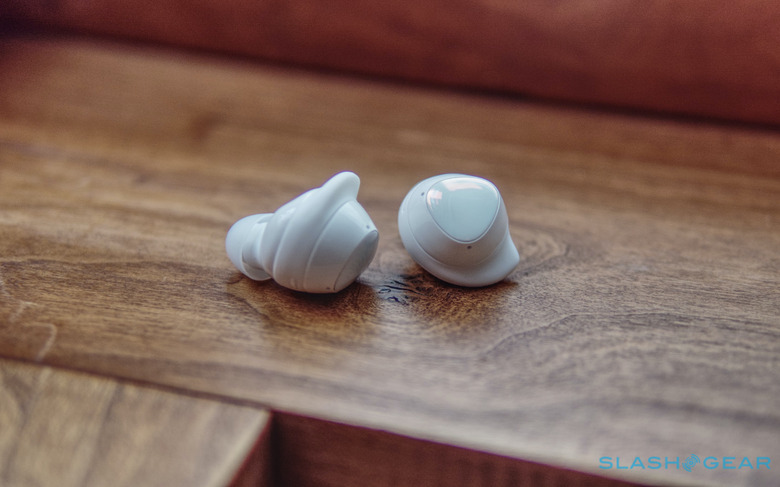 Where the old earbuds probably encountered the most complaints was in voice calls. Here, the beam-forming dual external microphones work their magic, and the Galaxy Buds+ are much improved. In noisy settings – like in an office or the street – callers were much more likely to be able to hear me.
ANC is MIA
Given Apple's trajectory putting active noise cancelation (ANC) into the AirPods Pro, it didn't seem too much to expect Samsung would follow suit with the Galaxy Buds+. Surprisingly, that's not the case. The updated earbuds still rely on a snug fit in your ears to keep you aurally-isolated from the outside world.
To make that more likely, Samsung includes both three sizes of silicone ear-tip and three sizes of fin – designed to nestle into the whorls of your outer ear – which are all interchangeable. No Comply foam tips, but since they're a regular size you could swap out Samsung's choices for whatever you prefer. There's enough room in the case for even a relatively large tip, too.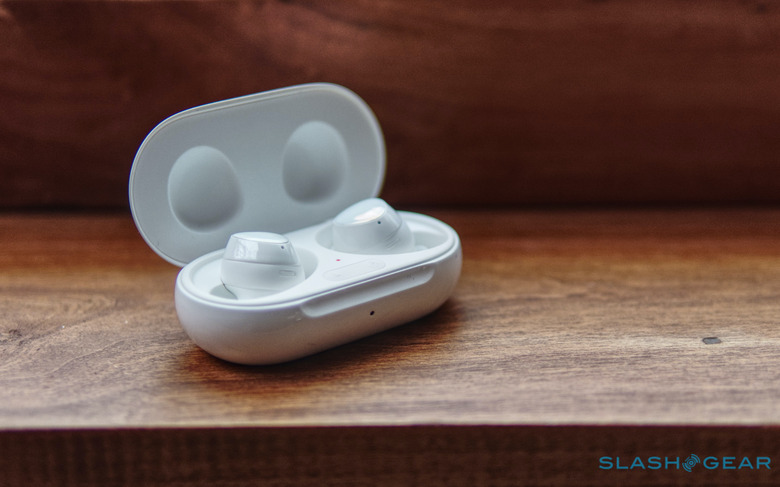 The result is decent isolation, but I'd still reach for AirPods Pro or Sony's WF-1000XM3 were I about to take a flight. Samsung does offer a pass-through audio mode, allowing through a little ambient sound. That can be useful if you're trying to navigate busy city streets and prefer not to be hit by traffic.
It's controlled through Samsung's Android app or the new iOS app. While the old Galaxy Buds were iPhone compatible, you couldn't tweak some of the features; the Galaxy Buds+ get a special app that gives iPhone owners almost all the access to settings that their Android counterparts have. Samsung has also made it so that a pair of Galaxy Buds+ will automatically be paired with any device signed into the same Samsung account.
Battery life is king
I can't argue with the Galaxy Buds+ battery life. The old earbuds managed six hours of music playback, and then a further seven hours from the battery case. With this revamp, you're looking at a promised 11 hours of music, and then a further 11 hours from the case.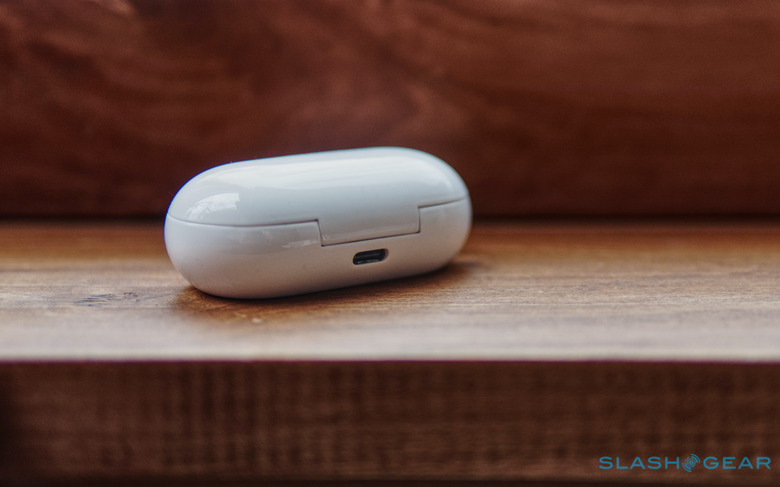 The resulting 22 hours still falls short of the 24+ hours Apple quotes with AirPods Pro and their charging case, but the reality is more nuanced than a single number might suggest. Each AirPods Pro earbud is rated to last for 4.5 to 5 hours (depending whether ANC is on or off); the battery in the case holds multiple charges, but you'll have to interrupt your listening or calls more frequently to top up. As someone who has had an AirPod unexpectedly run out of power while on back-to-back calls, the ability to go a whole work day without needing to charge up the Galaxy Buds+ is a boon.
When you actually do need to recharge, a three minute charge nestled in the case is enough for an hour of music playback. As for the case itself, that has a USB-C port on the back but there's also Qi wireless if you have a charging pad – or a recent Samsung phone with Wireless PowerShare – to hand.
There's still room for improvement
I'd still like to see Samsung throw its hat into the ANC ring, but I can understand the absence of active noise cancelation on the Galaxy Buds+ given their $149.99 price tag. More annoying is the IPX2 water resistance, unchanged over the old earbuds. They'll hold up to a sweaty gym session, but rain is beyond the rating.
Verdict
The joys of going wireless continue to convert headphone users to earbuds like the Galaxy Buds+, and for excellent reason. Longer battery life, little in the way of sound quality compromise, and the general convenience of cutting the cord all help explain the rapid growth in the segment.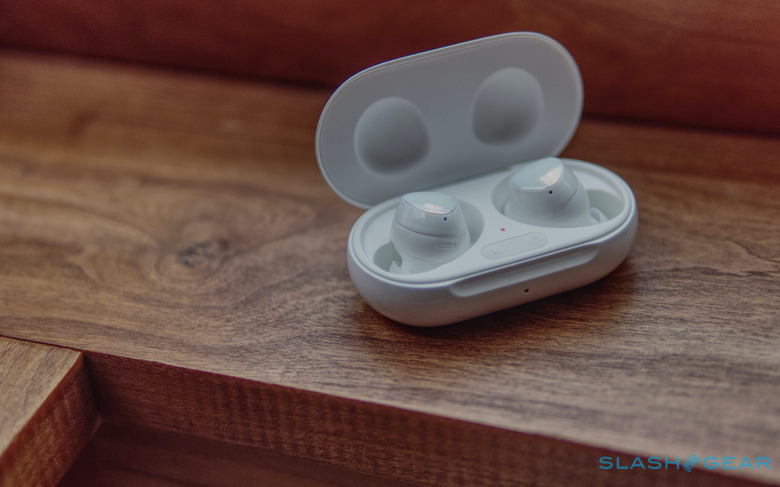 Facing that competition, the Galaxy Buds+ make a stronger, better-rounded showing than their predecessors. Improvements in musical quality and battery life, not to mention much-needed finessing of in-call audio, leave these a capable accompaniment to your Galaxy S20. Though I suspect most iPhone owners will still look to Apple's own AirPods, the addition of an iOS app by Samsung is a welcome bridging of the platform divide.
That's not to say they're perfect, mind. The absence of active noise cancelation is going to understandably discourage many, especially with ANC-packing rivals not a huge premium on Samsung's $149.99 price. Those who want true go-anywhere reliability will see the meager IPX2 rating a snub, too. Like the Galaxy S20 series, the Galaxy Buds+ feel very much a pleasing evolution of what came before, rather than a revolution.