Apple AirPods Pro Review - Why less noise costs more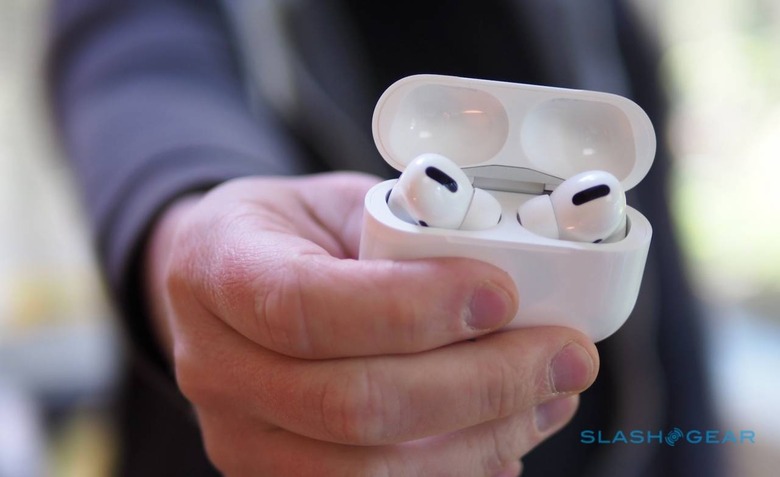 If the AirPods' convenience was enough to make Apple's fully-wireless earbuds a runaway hit, adding active noise cancellation could send them stratospheric. That's the theory behind the Apple AirPods Pro, anyway, instantly familiar at first glance but packing the sort of sound isolation that city dwellers, office workers, and frequent fliers dream of. At $249 they may not be cheap, but can the AirPods Pro make up for that in the ears?
AirPods Pro setup
As with the AirPods – which remain on sale at $159, or $199 with wireless charging – the AirPods Pro come in a compact, white case that doubles as the charger. It gets Qi wireless charging support as standard, along with a Lightning port. Apple even throws a Lightning to USB-C cable in the box, just like the iPhone 11 Pro. Compared to the "floss-container" original AirPods case it's shorter and wider, more akin to a chunky Zippo in size and shape.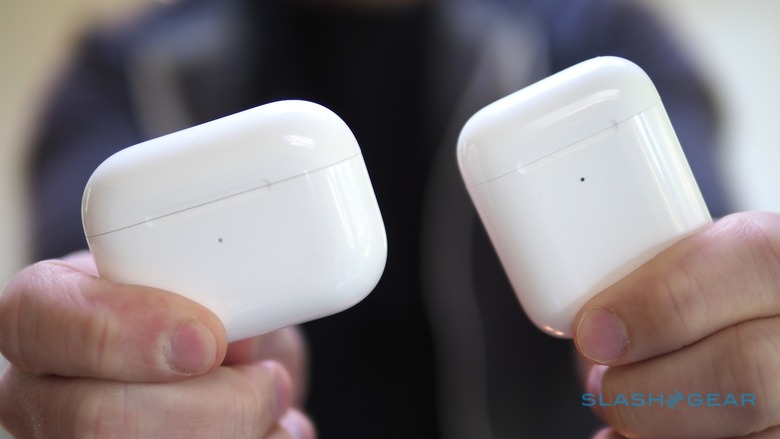 Ease of setup remains a huge strength. Apple's H1 chip means pairing the AirPods Pro with your iPhone is as simple as opening the case near the phone: a dialog pops up on-screen to connect the two. After that, any other Apple device signed into the same Apple ID shares that pairing, making switching between your iPhone and your Mac, or even your Apple TV, increasingly straightforward.
The switch to silicone ear tips led Apple to add an extra step to its initial setup process, an Ear Tip Fit Test designed to ensure you're getting the best possible seal. It plays a short chunk of music, and uses the microphones inside and outside of each earbud to check for sound leakage. If too much of that is heard, it'll suggest switching from the pre-installed medium tips to the small or large that Apple includes.
Those tips pop on and off – requiring a little more force than you might expect, leading me to worry I might break them – and you can, of course, have a different size on each earbud. It's worth noting that Apple's test only takes into account sound leakage for active noise cancellation (ANC) purposes, not the comfort in each ear. I got a good seal rating with the medium tips, for example, but the small tips felt more snug and stable.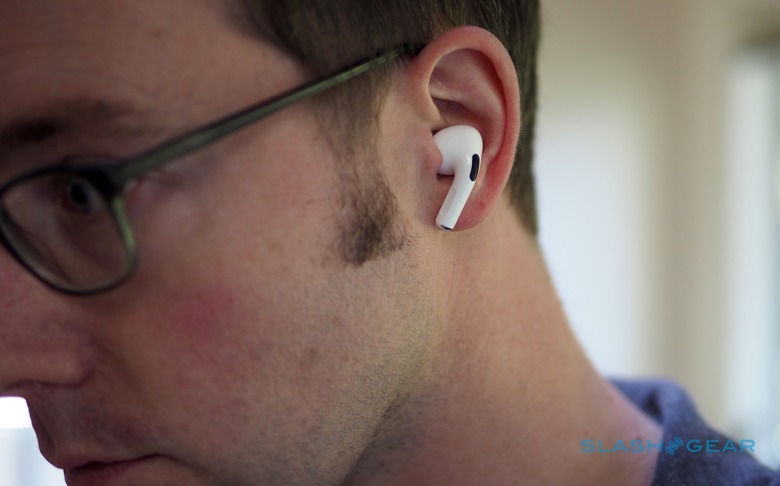 I have, I'll be the first to admit, problematic ears when it comes to in-ear buds. Often they just won't fit me properly, or if they do they feel uncomfortable after a while. My experience with AirPods Pro has been mixed.
With the slightly oval shape of the ear tip, it can be a little tricky to do the usual push-and-twist that works with round tips. Unlike regular AirPods, which I can quickly whip out of their case and have in place in time to answer an incoming call, AirPods Pro are proving more finicky. Once they're in, though, they feel more stable: I could jump on the spot with AirPods Pro in, and not have them shake loose like my AirPods might.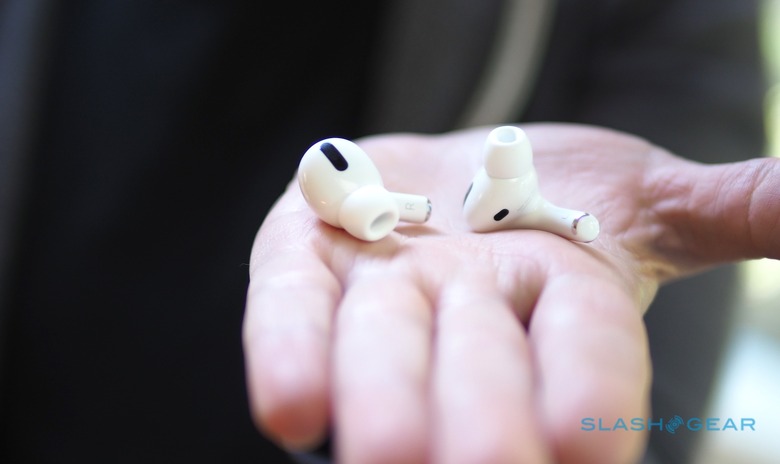 Apple uses a vented system for comfort over extended wear, allowing the AirPods Pro to balance the air pressure inside the ear canal. It definitely helps avoid that "clogged" feeling you can sometimes have after wearing earbuds for a longer period.
Apple's ear tips are proprietary, meaning that, if you're a fan of third-party foam or other tips, you won't be able to use them with the AirPods Pro. Apple tells me it has no current plans to open up the market to other companies.
AirPods Pro controls and configuration
To control AirPods, you could tap them or speak to Siri. Rapping on AirPods Pro while they're wedged into your ear canals, however, could be uncomfortable, and so Apple switched to a new touch-based system. There's a pressure sensor built into the short stem of each earbud.
By default, a single squeeze toggles play/pause or answers/ends a call. A double-squeeze skips ahead a track, while a triple-squeeze skips back. If you want Siri, you use the "Hey Siri" wake-phrase. Finally, a long-squeeze switches between active noise cancellation mode and Transparency mode. Alternatively you can long-press the volume slider in the iOS Control Center, and switch ANC modes from there instead.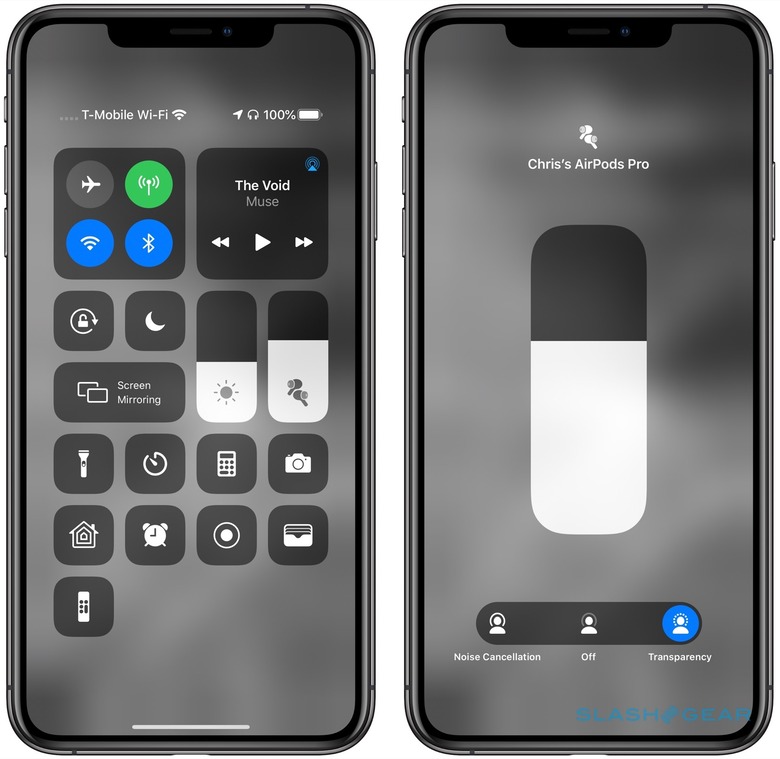 Configuration options are fairly limited. Dig into the AirPods Pro settings via the Bluetooth menu, and you can choose whether a long-squeeze adjusts ANC mode or launches Siri; you can have different settings for each earbud. You can also set which modes that long-squeeze cycles through: noise cancellation, Transparency, or fully off, or any combination of the three.
Automatic ear detection – which usefully pauses the music if you take an earbud out, or answers an incoming call if you put an earbud in – can be toggled on and off, too, and you can run the Ear Tip Fit Test again. A further setting, buried in the Accessibility options, allows ANC to work even when you only have one AirPod Pro earbud in.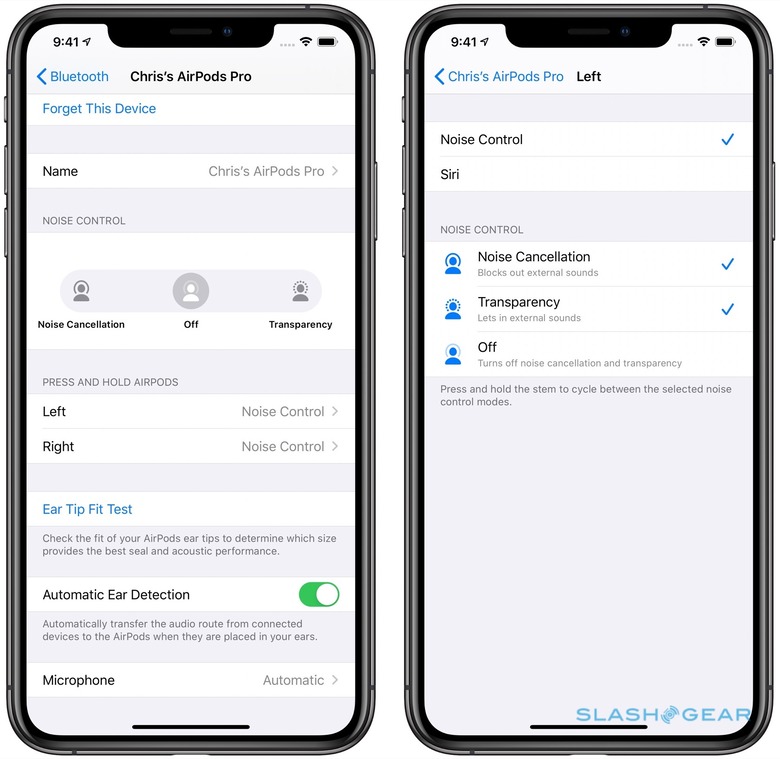 AirPods Pro music and active noise cancellation
The AirPods Pro sound much better, musically, than the regular AirPods. That much is clear from very early on, and doesn't come as much of a surprise, either. With their closer fit into each ear canal, the new earbuds deliver far more of their sound to you, unlike the fairly leaky old design.
A more snug fit isn't the only reason, though. Apple says it has redesigned the high-excursion driver and the amp it's paired with, but it's also doing a lot more processing. The active noise cancellation system uses microphones both on the outside of the earbud and inward-facing, the latter tracking what, exactly, the wearer is hearing. By comparing that with the source music itself, Apple's Adaptive EQ algorithm can make tweaks – hundreds of times a second – to ensure you're getting the best possible audio.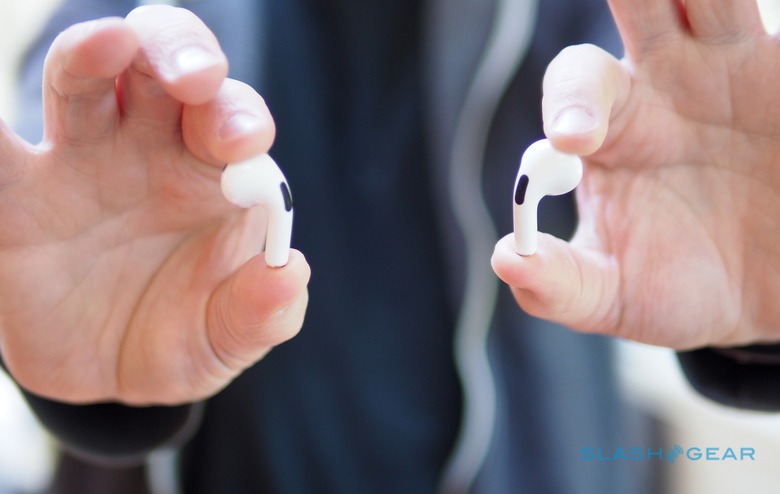 Bass takes a big step forward over the regular AirPods, the new Pros being much more capable of delivering the thump some musical styles demand. Not so much as to drown out the mids and high-end, though. There's a nice balance to everything, and if you're a long-time AirPods wearer it'll probably just sound "similar but better" to your ears. I found I could notch down the volume in loud environments but still hear more detail than before, simply because the ANC empties out the soundstage.
If you don't like the sound profile, you've got a problem. There's no EQ for adjusting sound quality for music, nor any sort of adjustment over how the active noise cancellation works. Rival ANC earbuds and headphones allow you to adjust the levels of cancellation versus ambient sound, for example, or tweak music levels, but here it's Apple's way or nothing.
Like the Beats Solo Pro – but with different algorithms, Apple tells me – the AirPods Pro use the external microphones to create an inverse waveform to balance the ambient noise. Combined with the tighter seal from the silicone tips it's very effective, tamping down things like urban traffic noise or the sort of background hum you'd get on a plane.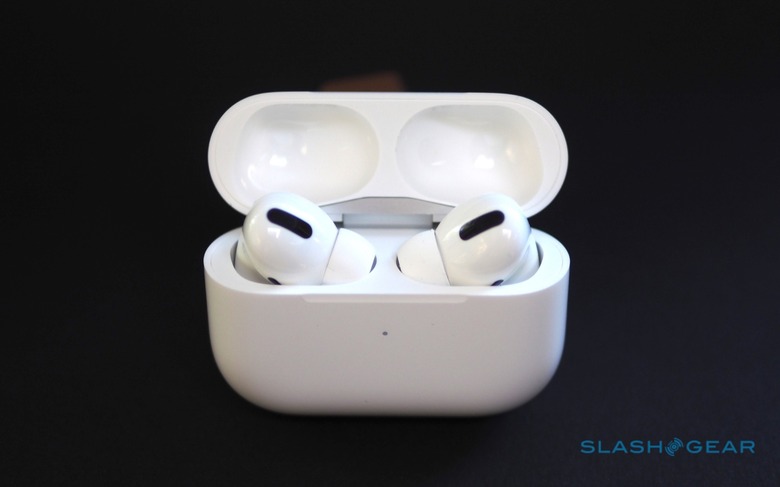 The AirPods Pro Transparency mode, meanwhile, allows for a blend of that ambient noise. It's designed to leave you slightly less isolated, handy if you're trying to navigate traffic or need to be at least somewhat accessible to coworkers in the office. Apple's Transparency mode is one of the best I've heard, in fact, leaving voices sounding natural unlike some rival systems.
As you'd expect, active noise cancellation takes a toll on battery life. Leave it turned off and each earbud is rated for up to five hours of music; turn it on, and that dips to 4.5 hours. With the charging case, you're looking at over 24 hours in total. Apple's estimates seem fairly accurate from my experience.
Of course, as any early AirPods adopter will by now know, Apple's batteries aren't designed to be replaced and, over time, how long they'll last on a charge will dwindle. It's a problem all of these fully-wireless earbuds run into, though if you have $29 Apple Care+ coverage you'll get a free replacement should that happen (versus $49 for each earbud and the case).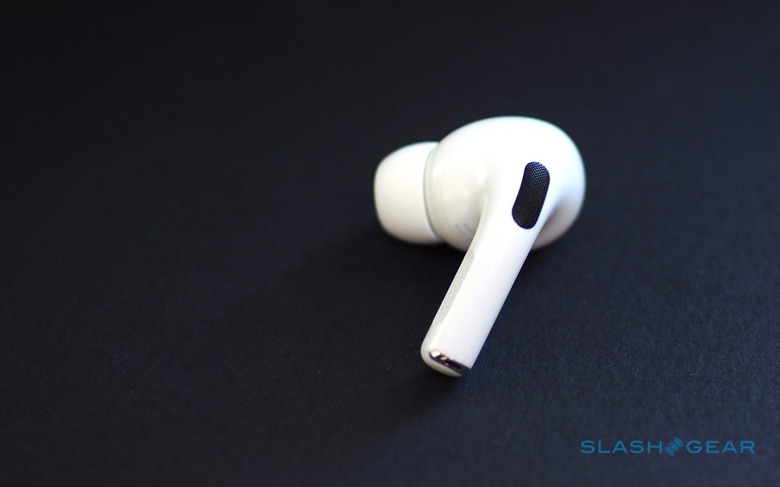 One area I was surprised by is how much of a difference ANC makes to voice calls. Even with just one earbud in, ANC makes it much easier to hear a caller, without having to crank up the volume excessively. As with the regular AirPods you can switch earbuds mid-call without interruption, very useful if you've got a full day of conversations planned and are hammering the battery.
AirPods Pro with Android
Apple may have designed the AirPods for the best possible experience for people in its own ecosystem, but the wireless earbuds brought more than a few Android users into their local Apple Store, too. With fully wireless ANC earbuds still a relative rarity, it's likely that some of that crowd will be eyeing AirPods Pro, too.
The good news is that, with a few annoying exceptions, the experience is solid. You don't get the fancy pairing process that iPhone owners do, but after holding down the button on the back of the AirPods Pro case it should show up in the Android Bluetooth available devices list.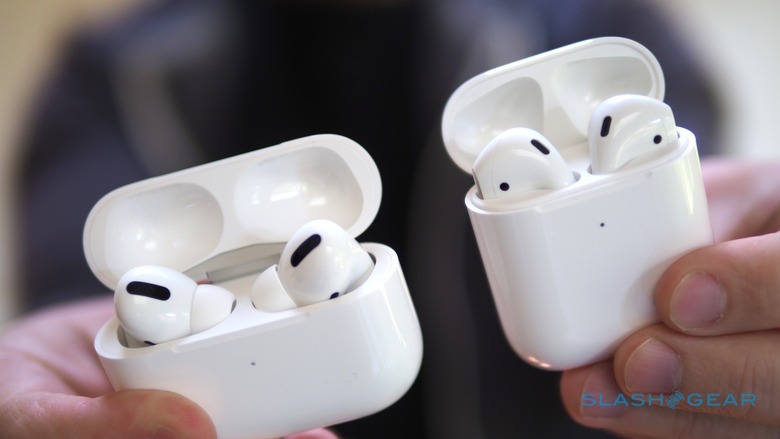 Squeezing to play/pause, answer/end calls, and navigate through playlists works as expected. Long-squeezing to toggle between ANC and Transparency modes works too. If you want to use the Google Assistant, however, there's a problem. Even setting the long-squeeze gesture to trigger Siri on an iOS device doesn't make them launch the Google Assistant on an Android phone; for that you'll need to turn to the Play store where a number of third-party apps claim to fill that gap.
The other big omission is automatic pause. Taking out one of the earbuds with an Apple device pauses the music or video that's currently playing; putting it back in resumes it. Unfortunately that doesn't work with Android phones.
Apple AirPods Pro vs Sony WF-1000XM3
The comparison most people have asked me about so far is how the AirPods Pro hold up to Sony's WF-1000XM3, the $228 active noise cancelling earbuds launched earlier this year. I've been blunt in my belief that Sony's ANC is easily the equal of Bose's system these days, so I was very curious to see how Apple's might hold up.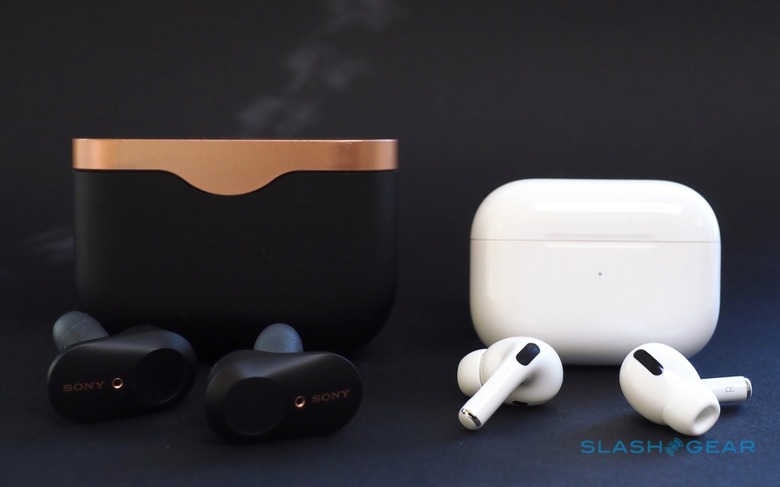 Fit is subjective, but I'll say that I find the Sony earbuds feel more secure in my ears than Apple's, and they require less trial-and-error with putting them in correctly. The AirPods pro are IPX4 water and sweat resistant, however, while the WF-1000XM's aren't rated. Sony's charging case is considerably larger, almost twice the size of Apple's, and its earbuds are bulkier too, but the upshot there is longer battery life. Sony's earbuds are rated for up to six hours each with ANC, or eight without it, with the case extending that to 24 hours with ANC turned on.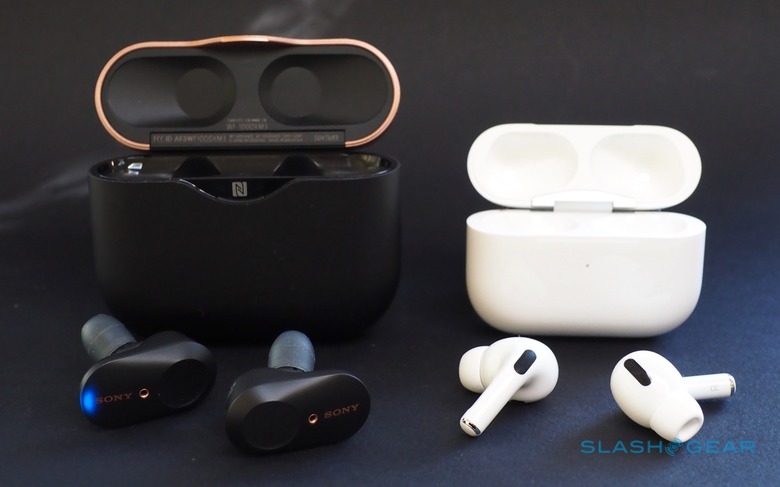 The Sony's sound better at music to my ears, fuller and richer than the AirPods Pro. Stood outside next to a merrily-humming gas generator, I also decided Sony's active noise cancellation has an edge in how much noise it can cut out over Apple's system, plus the WF-1000XM's app allows for lots of tweaking. The flip side is that AirPods Pro are simply far more convenient for those with multiple Apple devices, and if like me you switch audio source between your phone and your laptop multiple times a day, that convenience quickly adds up. I prefer how the AirPods Pro perform in voice calls, too.
AirPods Pro Verdict
Like I said, individual fit is a subjective thing, and I suspect that there'll be more people whose ears play better with AirPods Pro than they did with AirPods than vice-versa. The improvements in isolation from a purely physical standpoint, combined with solid active noise cancellation, make the AirPods Pro the earbuds to get if you're choosing from Apple's range. Those who enjoy the sense of ambient connection the AirPods offer will get the same through the excellent Transparency mode.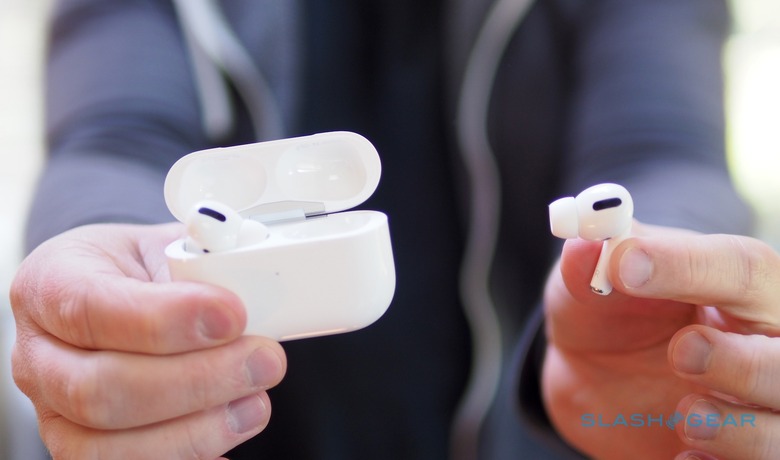 Nonetheless, there's room for improvement. Apple's ANC is good but it's not the best out there, at least to my ears. Similarly, battery life is good but not great, and I really hope we get more options in ear tips. The AirPods team could do worse than look to their Beats counterparts, too, who built an Android app so that those outside of the Apple ecosystem could more readily control the Solo Pro's settings.
If you're deep in that Apple ecosystem, however, there's no denying that AirPods Pro have a huge amount of appeal. $249 certainly isn't inexpensive, you should probably factor in Apple Care+ too, and if you're deciding purely on performance then the slightly cheaper Sony earbuds deserve an audition. For those who want simply the tightest integration with their iPhone, Mac, iPad and anything else with an Apple logo, though, the AirPods Pro are compelling all-rounders.