Samsung GALAXY Beam Review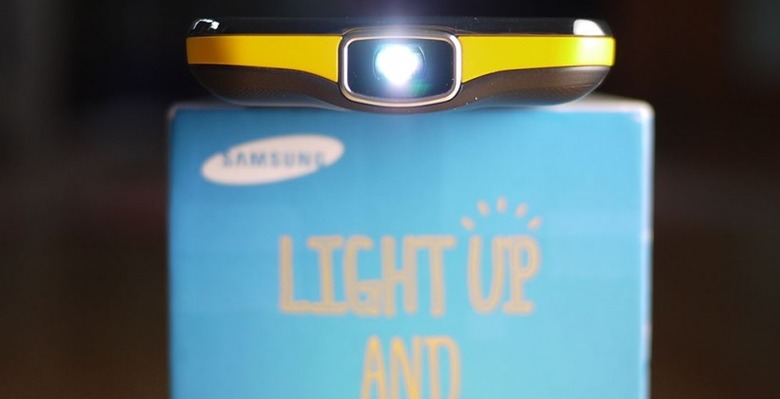 If you're looking for just about the strangest smartphone to have been released thus far this year, you're looking right at it right here: the Samsung GALAXY Beam. This device is a relatively powerful smartphone on its own, but with it you get a built-in projector as well. You've got a 15 Lumen Texas Instruments DLP (Digital Light Processing) unit at the end of a smartphone that's essentially the top of the line minus one year from the smartphone evolution timeline – is such a combination worth the effort?
Hardware
This device has a fairly standard 1GHz dual-core processor, a 4-inch WVGA (800 x 480 pixel) resolution TFT LCD display, and the ability to work with HSPA and EDGE/GPRS, with networks differing depending on the country you're in. Inside the device you've got 8GB of built-in memory as well as a microSD card slot that accepts up to 32GB of extra storage in a single card.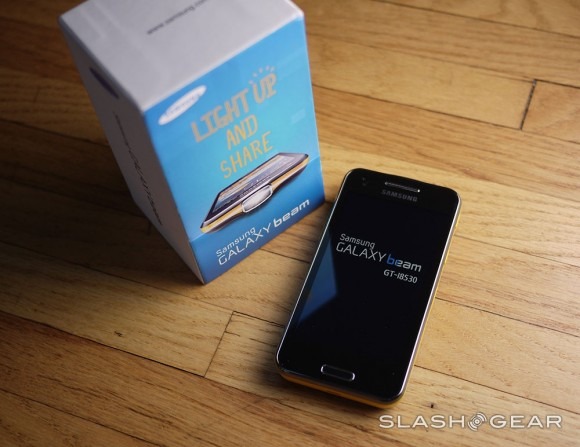 On the back of the device you've got a 5 megapixel camera with single LED flash and on the front you've got a 1.3 megapixel camera. The entire device measures in at 124 x 64.2 x 12.5mm at 145g light. It's not the smallest device on the market, but it's certainly small and light considering its ability to tote a projector onboard.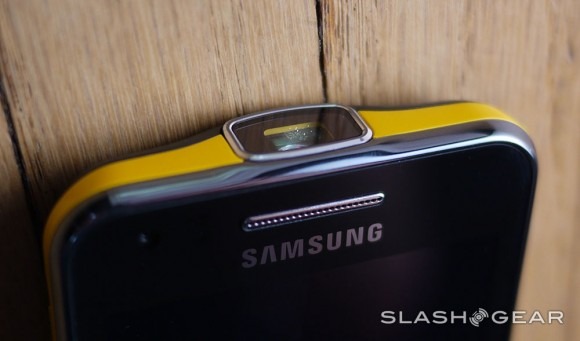 The projector is bright to a degree of 15 Lumen at 1W and can project at nHD resolution (640x360 pixels). You've got the ability to project images from the display in mirror mode – this by simply pressing the dedicated hardware button on the right of the device – or in a collection of presentation modes. See more on this in the "Projecting" section later in this review.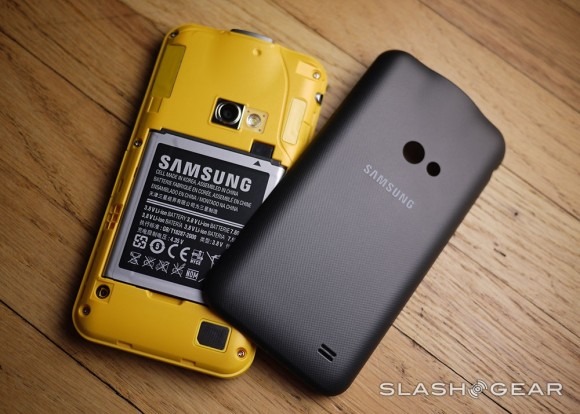 The device has a rather nice feel to it with a rubbery textured back and a form-fitting shape all around. The device functions generously as a standard smartphone, which will be rather important to many users at it costs essentially the same as much higher-powered devices also on the market at the same time. Then there's the yellow band – a daring aesthetic choice which we hope very much will pay off for Samsung so that they'll continue to go wild with color in the future – it's nice!
Software
Most of the software aspects here are included in the "Projecting" section – everything aside from that is a fairly standard Android 2.3 Gingerbread experience. If you're looking for the most advanced standalone software experience for a smartphone on the market, this isn't it. But for a Gingerbread machine – that is, two generations of Google mobile OS before the current version 4.1 Jelly Bean – this device is perfectly legit.
You've got no attached carrier (at the moment) so you'll only have Google app and Samsung's collection of pre-loaded apps plus a couple of projector-friendly apps as well. Apps such as QuickPad, Samsung's Social and Music Hubs, and Kies 2.0 are included.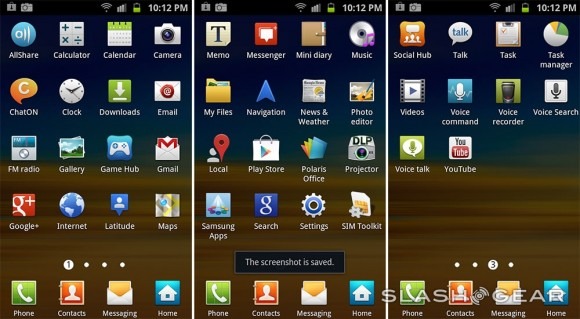 Benchmarks on this device show, again, that this isn't the battle-ready gaming and processing beast that'll be beating all competitors, but it's certainly beefy enough to make the projector elements worthwhile. The processor at work here is the rare NovaThor U8500, that is working with a 45 nm architecture with 1GHz dual-core ARM Cortex-A9 for CPU and ARM Mali 400 (single-core) for GPU. This processor also exists in the Sony Xperia P and U, Samsung Galaxy S Advance, and several other lesser-known devices.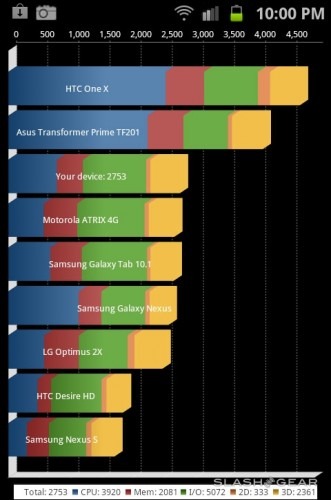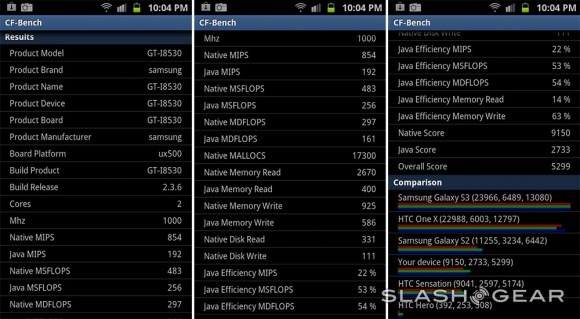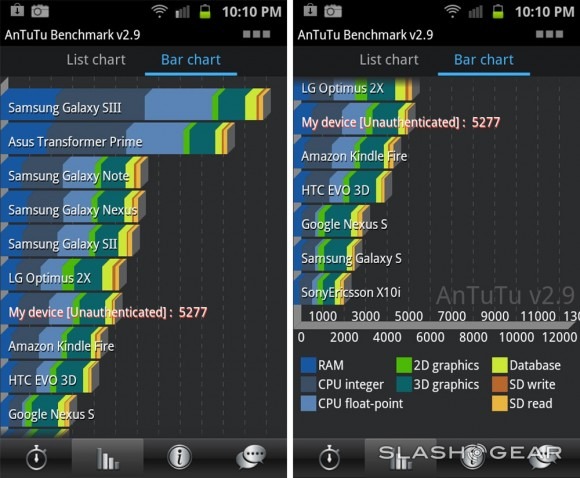 Projecting
You've got a whole host of options with your built-in projector up top of this device. Samsung lists personal theater, fun group sharing, mood generator, outdoor entertainment, professional presentations, education, and room decoration amongst their suggested use cases. Users purchasing the Samsung GALAXY Beam will likely use the device less than they expect that they'd planned, but will find that when they DO use it, they'll be pleasantly surprised at how well it works.
You can play movies at home with whatever movie app you've got on the device – like the Samsung Movie Hub, of course. You can play YouTube videos at a party. You can project images of disco balls and fireplaces – a collection of repeating images such as these are included on the device so you can get the idea rather easily. You can bring this device with you camping to watch a movie projected on to your camper – an idea, again, I'd never have thought of if Samsung hadn't suggested it.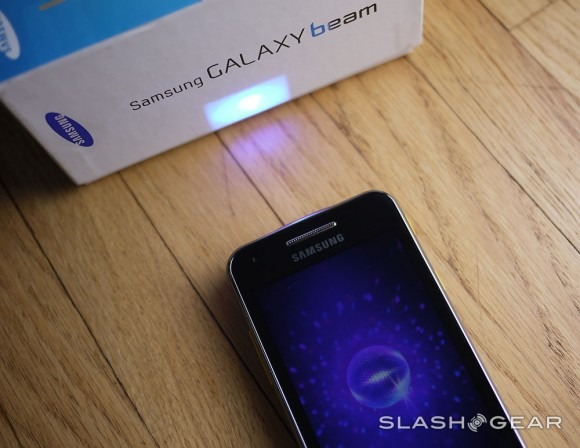 Then comes the professional uses, the first of which is showing off a slide show in the classroom or at a meeting. You'll look positively magical busting out your smartphone in a meeting that projects your ideas onto the wall with no outside assistance. And what a fun idea it'd be to show off your portfolio in a coffee shop up on the wall where everyone can see at once!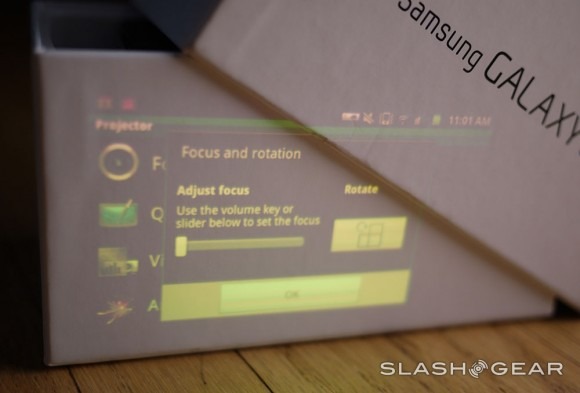 Then there's OHP mode – over-head projector – where you'll be doing both input and output at the same time. This mode projects whatever images are on your screen while at the same time your back-facing camera is watching whatever is in front of it to see what your device wants to project. Such a simple concept and certainly something a Samsung engineer one day realized was awesome enough to be included as a sell-point in their big list of features.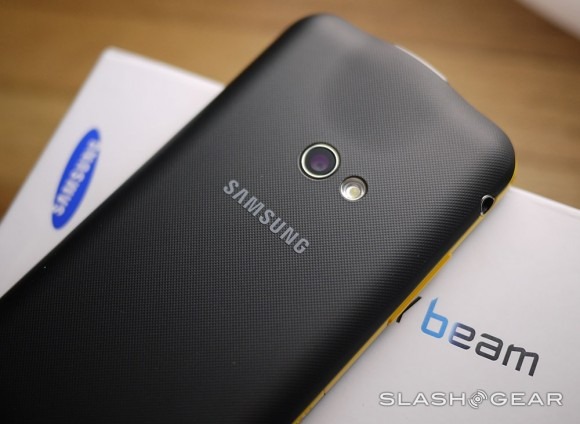 The camera's position on the back (closer to the center than the top where it'd normally be on most smartphones) is certainly intentional. While it may simply be down there to get out of the way of the projector which sits at the head of the smartphone, it also feels more natural here to do over-head projector action.
Battery
With the package we've got, there are two full removable batteries that can be switched in and out of the device along with a battery charger that doesn't need the smartphone to work. This means you can have a battery charging in your home or office while you're out and about with the smartphone, then when you need more power, all you've gotta do is swap. We'd certainly recommend this setup for any smartphone user who needs to be up and running at all times, but especially here with the projector situation.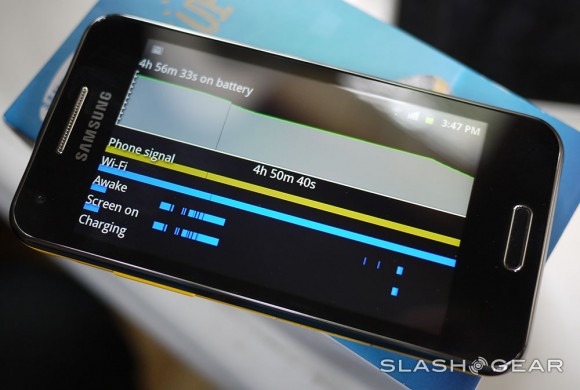 The reason for this is that the Samsung GALAXY Beam uses its 2,000 mAh battery up relatively fast if you're using the projector quite often. It's an impressive feat to see this device playing a full-length 2-hour movie without needing to be plugged in, but if you're thinking about then taking it out for a night on the town with the same battery, you'll be out of luck. Without using the projector you'll easily have a full day's moderate use with one battery.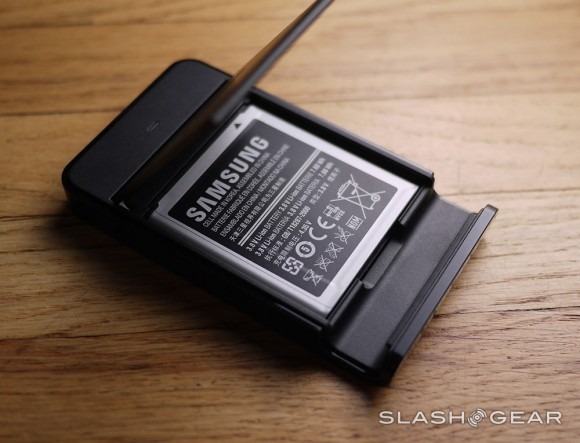 And remember to keep that charger handy regardless of how much you think you'll need it!
Wrap-up
The Samsung GALAXY Beam is certainly a specialty device. If you have a need for a projector that's also a smartphone, or a smartphone that's also a projector – this is your only real legitimate choice. This smartphone is powerful enough to be your normal everyday driver, but you're certainly going to want to know that you'll be using the projector on a daily basis to make it all worth your while.
This device is currently available internationally (UK, France, Singapore, India and Brazil) and USA launch dates have not been announced, but are expected soon – rather soon, we hope!