Sony Xperia U Review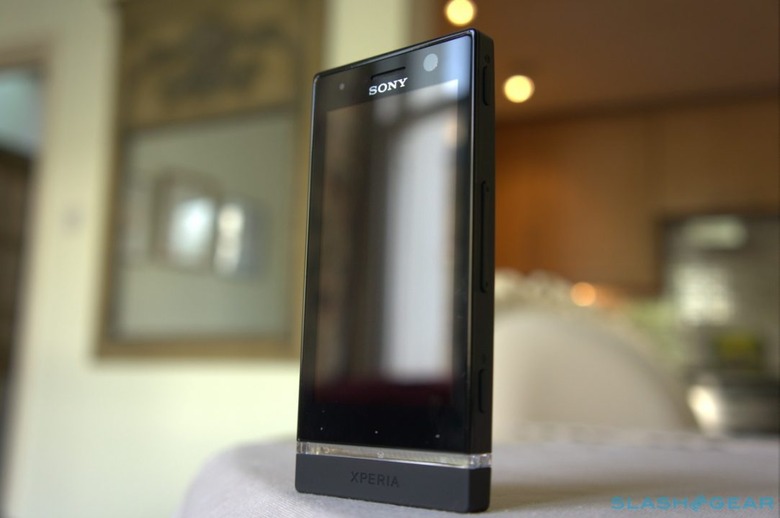 Sony pushed the Xperia S out of the door back in March, but the Xperia P and Xperia U have lagged behind a little in making it to market. Both of those devices are finally with us, and just like HTC, Sony seems to be banking on three phones hitting different price brackets to try and jump start its smartphone career. The Xperia U may be the cheapest in the NXT line, but it does have some solid specs: a dual-core 1Ghz processor, 854x480 3.5-inch screen, and five megapixel camera. How does it hold up? Find out after the jump.
Hardware
The Xperia U is identical in design to the Xperia P and Xperia S, and it would be accurate to say that the U is essentially a mini version of the S. The soft touch plastic makes a return here, unlike the aluminum Xperia P, as does the monolithic chassis with a strange mix of curves and sharp angles. It's an intriguing design, and the clear strip at the bottom device, which houses the antenna, certainly helps it to stand out. The strip also lights for certain notifications and alerts, and can be changed to display different colors depending on your mood.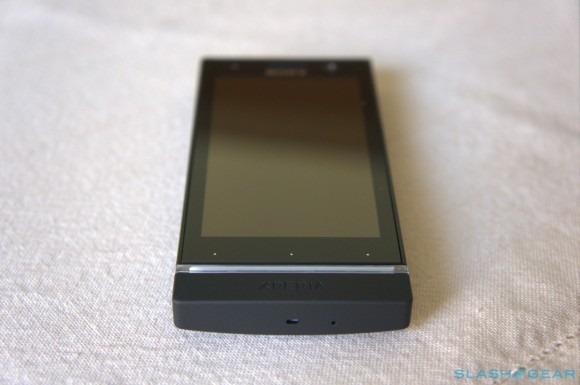 The 3.5-inch body fits snugly into your hand, although the front angles of the screen might dig into the palm depending on your particular grip. The soft touch plastic feels nice too: granted, it doesn't feel as good as an aluminum or glass construction, but it's much better than the glossy plastic that plague a lot of phones at this end of the market. It's thicker than rivals at 12mm, but the curve of the back gives the illusion of a thinner device, and it really isn't an issue in day to day use.
Spec wise, this phone doesn't slouch. Sony is using a custom NovaThor dual-core 1Ghz processor, 512MB of RAM, 4GB of storage, and a five megapixel camera. The good news: the processor is responsive and snappy enough, but you might notice some minor stuttering on graphical transitions and webpages occasionally. It's not as fast as a Snapdragon S3 chip, for example, but it's better than the single-core chips you'd typically see at this price range.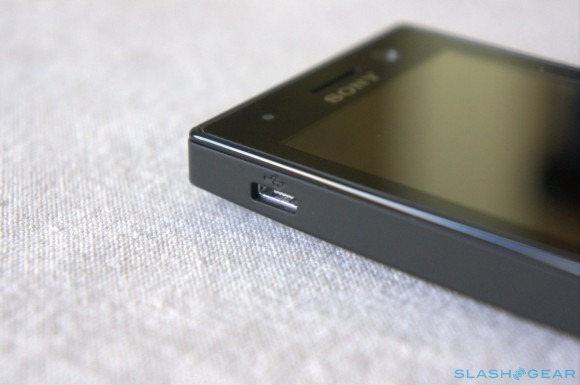 The bad news: that 4GB of storage is all you're going to get. Sony has made a curious decision not to include a microSD card slot, so you're either going to have to rely on cloud services to store all your content, or buy a USB On The Go adapter and carry a FAT32 USB stick. We tested USB OTG functionality on the Xperia U just to make sure, and everything worked fine. We really have to question Sony's move on this one though. Even dirt cheap Android phones include a microSD card slot, so would it really have been so much trouble to include one here when there's only 4GB of storage to play with?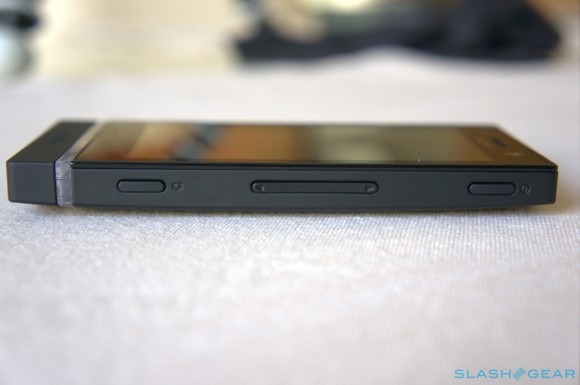 What about that 854x480 3.5-inch display? Well, it's a mixed bag. Pixel density is good, but the quality of the panel isn't. Viewing angles are decent, but colors quickly fade as you angle the phone. Moreover, there's a strange graininess to the panel that can be noticed on lighter backgrounds as you move a little closer. Head-on you won't see any issues, but holding the phone at a slight angle reveals the disconcerting effect.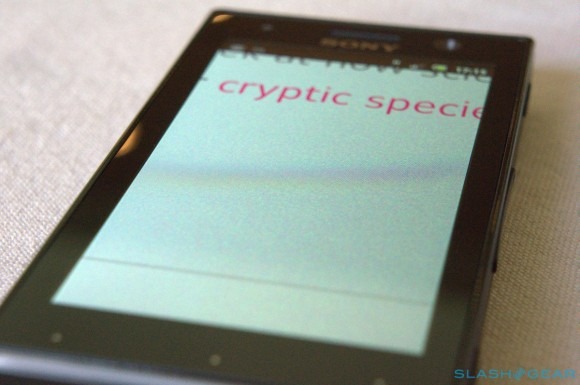 Even worse, there's no oleophobic coating on the screen: it picks up grease, smudges, and fingerprints very quickly, and requires a thorough wipedown with a proper cloth to keep it clean instead of a quick wipe down on jeans or a shirt. By far the most irritating issue, however, is the visible digitizer grid that's prominent on white backgrounds and webpages. As you angle the phone, you'll be able to see the crosses in all their glory. We were surprised at just how noticeable it was, and it's been a long time since we've seen any phone display them so clearly.
In terms of ports, you'll find the standard fare: microUSB, 3.5mm headphone jack, power button, volume rocker, and dedicated camera key. The power and volume keys are easy to press, although we would have preferred to see the power key at the top of the device rather than the right side. The camera key, however, is a little strange: it's a two-stage button, but it's somewhat tricky to operate. The initial focusing stage is very light and clicky, almost to a fault, but pressing the button all the way down takes a little too much effort and may result in blurred pictures.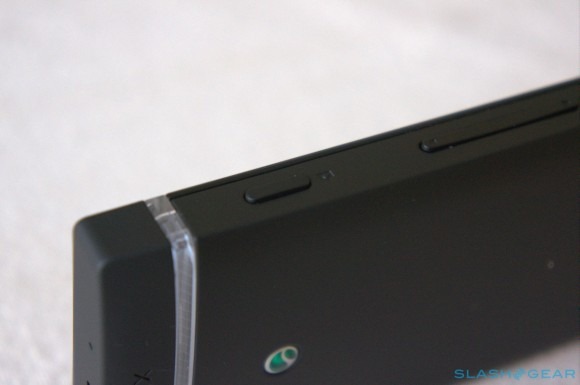 Pop the back of the phone off and you're greeting with a removable 1,290mAh battery and SIM card slot that's housed on the side rather than lurking beneath the power source. If you think you'll be able to swap it easily, no dice: the phone automatically restarts once you pop a new one in. The slot has a push-push mechanism similar to a microSD card slot, so it springs firmly into place.
Software
The fact that Sony is still shipping Gingerbread on its newest handsets is particularly groan worthy, and while the company has promised updates to Ice Cream Sandwich, we remain skeptical until they start delivering them to the NXT line. The U is no exception, running Android 2.3 with the same modifications Sony has made to its other smartphones. Everything you would expect from Android is present – Gmail, Maps, etc – but Sony has bundled a bit of bloatware with the device and some pre-installed applications.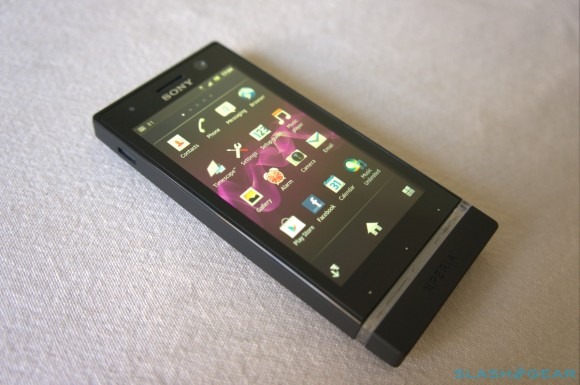 We don't mind seeing apps like Astro file manager and WhatsApp making the grade, but the inclusion of McAfee Security, Wisepilot and OfficeSuite really isn't necessary. Luckily you can uninstall the apps to save precious space. Otherwise Sony has included some of its own offerings, including Music and Video Unlimited, offering content via subscription for Sony devices, and Media Remote allows you to control a Sony Bravia TV over WiFi using the phone. TrackID works in a similar fashion to Shazam, identifying the track and artist of a song as the app listens in, and PlayNow is Sony's own app store filled with games, apps, and music.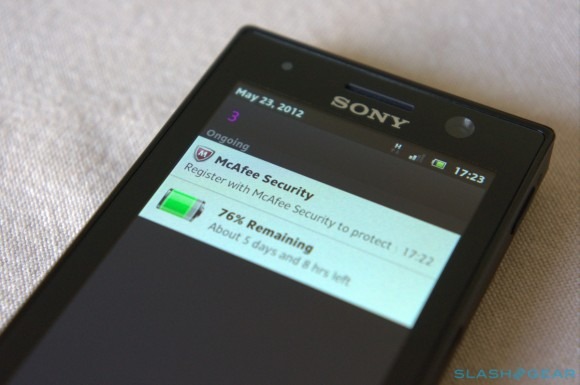 We were wary of the software keyboard on the Xperia U, but it's actually pretty capable. The default setting which has haptic feedback enabled does cause it to lag on occasion, a common occurrence on Android phones, but turning that off means things move swiftly around. Some might have trouble getting to grips with it due to the smaller screen, but this reviewer didn't have too much trouble. The stock Ice Cream Sandwich keyboard is still better, but Sony's attempt isn't bad at all.
Performance of the handset overall is good. The dual-core chip seems to keep things moving along nicely, with only very minor stutters on graphical transitions and menus occasionally. The browser is also relatively snappy, although the device will struggle with heavier webpages, doubly so for those with Flash content. Turning Flash off or setting it to on-demand helps a lot.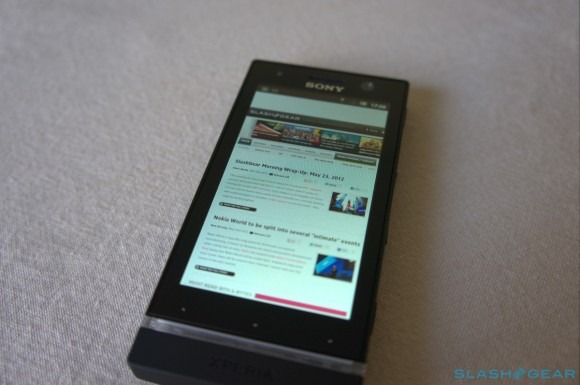 The Xperia U generally performed well in benchmarks too: Sunspider 0.9.1 gave a score of 2526ms, Quadrant came in at 2204, and AnTuTu had a healthy 5359 result. That puts it ahead of many single-core budget phones on the market, and generally sits around Tegra 2 in terms of performance.
Camera
There's nothing particularly exciting about the Xperia U's camera, packing a five megapixel sensor and 720p video recording. Shots are decent, but vary considerably depending on shooting conditions. Colors are slightly oversaturated, and washed out in low-light scenarios, but on a sunny day in London detail was good on close and far away subjects. There is some minor noise reduction going on, however, which ramps up dramatically as you enter low-light areas. We would have preferred that Sony reign that in a little, but it's not the worst we've ever seen.
Taking photos is a little tricky: as mentioned above, the two-stage shutter button is somewhat finnicky, and several blurred photos were taken as we tried to get the hang of it. There's always the option of taking photos using the on-screen button, but there's no touch-to-focus: the camera focuses on a subject and snaps the photo at the same time. If you want to prep your shot first, you'll have to make do with the awkward button instead.
The 720p video is, in a word, terrible. This is probably some of the worst compression we've seen from a smartphone camera, with videos plagued with macroblocking and massive edge enhancement. The jelly effect is present and accounted for too, so cars and fast pans will fill the video with distortion. You need to be careful with your finger placement as well, otherwise you'll cover the microphone on the bottom of the phone and muffle the audio. Typically smartphones are fine for quick videos, but we wouldn't ever use the recording mode on this phone. It really is that bad.
Phone and Battery
We tested a few calls around London with the Xperia U and had no problems at all. The earpiece could do to be a little bit louder, but otherwise callers were clear and understandable, and we didn't have any dropped calls. Data speed were fine: on Three's network we saw an average of 3Mbit/s download speeds and 1-2Mbit/s upload speeds, but that varied depending on the area of London.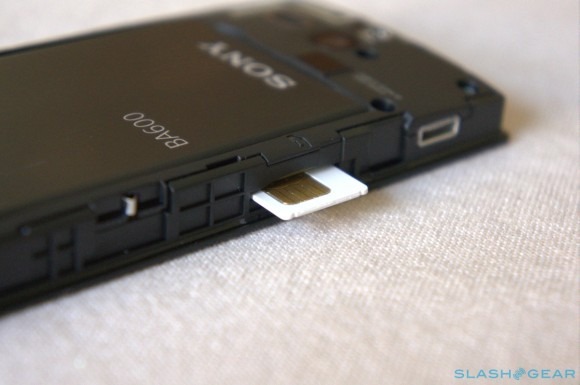 Battery life was pretty good overall. On a video rundown test, which puts the screen brightness at 100%, volume using headphones at 50%, and WiFi/3G left on, we saw a 720p H.264 video on loop drain the battery in 4 hours and 37 minutes. With regular usage as a daily driver, the phone can easily get through a full day, and with light usage would manage around two without issue. The processor seems to be quite conservative, as there was minimal battery drain on standby even with push email and WhatsApp updates in the background.
Wrap-Up
The Xperia U is decent, but we can't look past the two glaring issues. The first is the screen: maybe we're nitpicking, but we wouldn't be able to live with it for an extended period of time without becoming extremely irritated. Secondly, the omission of a microSD card slot, especially with the limited internal storage space, is a crying shame. Everyone may be quick to promote the cloud for content storage, but high-speed internet isn't as ubiquitous as some may think.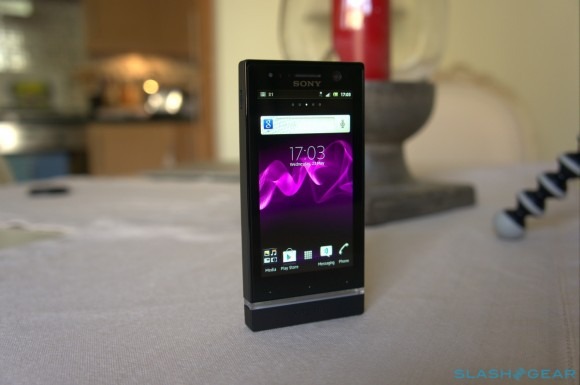 What saves the phone is the price: there's really not much else out there at this price bracket that combines the specs with overall performance. Three is offering the Xperia U on Pay As You Go for £180, with phones such as the Lumia 710 coming in roughly the same at £170 on O2, while the HTC One V commands a premium at around £230, also on Three. The only other option is to look at the second-hand market and see what dual-core phones are on offer.
It really comes down to how much you're willing to spend and what you're willing to sacrifice. If the screen doesn't bother you (try and find a demo unit to see for yourself before committing), and you can live with 4GB of storage, then the Xperia U is a solid choice. The HTC One V is arguably a better choice overall, but there's no denying the sometimes sluggish performance and higher price of that handset.