Samsung Galaxy Beam combines Android smartphone and Pico projector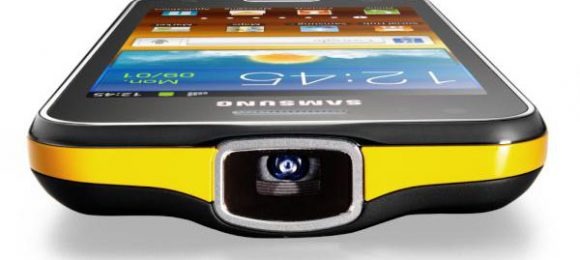 It's been a while since we saw Samsung try the whole projector-phone combination, but now that it's on top of the smartphone world it looks like they've got the resources and guts to try again. Enter the Samsung Galaxy Beam, a new Android smartphone with a Pico projector integrated into the housing. The Beam is getting a special pre-Mobile World Congress unveil, making it the first Samsung device to be officially announced at the event – just over 24 hours before it starts.
Details in the official press release paint a picture of a mid-range Android phone with a projector crammed in for good measure. A 1.0Ghz dual-core processor runs Android Gingerbread on a 4.0-inch Super AMOLED screen. The device is surprisingly slim considering the hardware, with a 12.5mm profile. Though the 2000mAh battery is above average for a smartphone, there's no telling how long it will last while projecting content via the top-mounted lens.
And speaking of the projector, it's not the greatest a 15 lumens, but with something this small that's hardly a point of contention. Samsung didn't say what resolution could be projected, but an image as large as 50 inches can be created, presumably with some built-in adjustment tools.
There's no word on pricing or availability, but a standard HSPA radio indicates that Samsung is looking for a reasonably wide distribution. The Galaxy Beam will be on display at Samsung's booth, so we'll make sure and swing by to check it out. Keep our Mobile World Congress portal open for the latest details.