Samsung AMOLED Beam SPH-W9600 projector phone arrives in Korea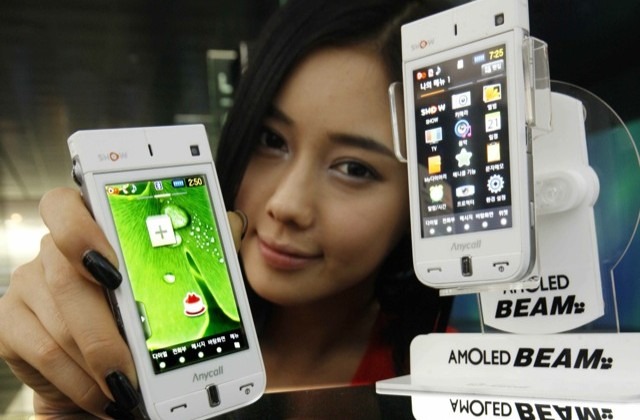 Samsung seem to be leading the charge when it comes to cellphones with integrated pico-projectors, with yet another new model from the company.  The Samsung AMOLED Beam SPH-W9600 has a 3.3-inch WVGA AMOLED touchscreen, 5-megapixel camera and a 9 lumen projector module capable of up to 50-inch images.
Samsung reckon the AMOLED Beam W9600 is 1.5x as bright as its predecessor, the SPH-W7900.  Like that model, there's support for showing photos and video (either recorded with the phone's camera, or preloaded onto it), and the W9600 can also display Microsoft Office documents and play back DivX-encoded video.
Elsewhere there's a DMB terestrial digital TV tuner, HSDPA, Bluetooth 2.0+EDR and a front-facing camera for video calls, while onboard memory totals 11GB with a card slot for adding up to 16GB more.  The whole thing measures 56 x 116 x 15.7 mm.  No word on whether we might see the AMOLED Beam SPH-W9600 reach the US or Europe, but we're guessing we'll probably get the Samsung Beam I8520 instead.
Press Release:
Samsung Illuminates the Future With the AMOLED Beam, Its Latest Beam Projector Mobile Phone

Equipped with high quality AMOLED display and advanced beam projector features, the AMOLED Beam brings a stunning mobile experience to the Korean market

SEOUL, Korea – April 15, 2010 – Samsung Electronics Co. Ltd., a leading mobile phone provider, today introduced the AMOLED Beam (SPH-W9600) to the Korean market. The successor to the Samsung Haptic Beam (SPH-W7900), the world's first full-touch beam projector phone, the AMOLED Beam delivers an enhanced viewing experience and richer image projection.

Moving the mobile phone experience from personal use to social engagement, the AMOLED Beam allows users to project and share multi-media entertainment, games, video and pictures captured on the 5.0 megapixel camera. Business users can use the AMOLED Beam to swiftly and simply deliver professional presentations wherever and whenever required.

The AMOLED Beam provides an exciting mobile experience by projecting any content to a maximum screen size of 50 inches. The phone also boasts a display 1.5 times brighter than that of previous model, the Haptic Beam. Featuring a lightweight and compact design, the AMOLED Beam offers optimized features such as Microsoft Office and DivX codec support for convenient use, 3.3" WVGA display, 5 megapixel camera, and Terrestrial DMB.

About Samsung Electronics Co., Ltd.

Samsung Electronics Co., Ltd. is a global leader in semiconductor, telecommunication, digital media and digital convergence technologies with 2009 consolidated sales of US$116.8 billion. Employing approximately 188,000 people in 185 offices across 65 countries, the company consists of eight independently operated business units: Visual Display, Mobile Communications, Telecommunication Systems, Digital Appliances, IT Solutions, Digital Imaging, Semiconductor and LCD. Recognized as one of the fastest growing global brands, Samsung Electronics is a leading producer of digital TVs, memory chips, mobile phones and TFT-LCDs. For more information, please visit www.samsung.com.

AMOLED Beam (SPH-W9600) Product Specifications

Network:

HSDPA

Display:

3.3" WVGA AMOLED (800x480)

Camera / Video:

5.0 megapixel Camera + VGA Video Telephony Camera
DivX support

Audio:

Poly 64, MP3, CMX

Value-added Features:

WVGA Projector (9 Lumen @ 1W)
Terrestrial DMB

Connectivity:

Bluetooth 2.0

Memory:

8GB + 3GB, external memory slot (Up to 16GB)

Size:

56 x 116 x 15.7mm

Battery:

1200 mAh

* Product specifications are subject to change without notice.