Samsung Beam I8520 projector-phone hands-on [Video]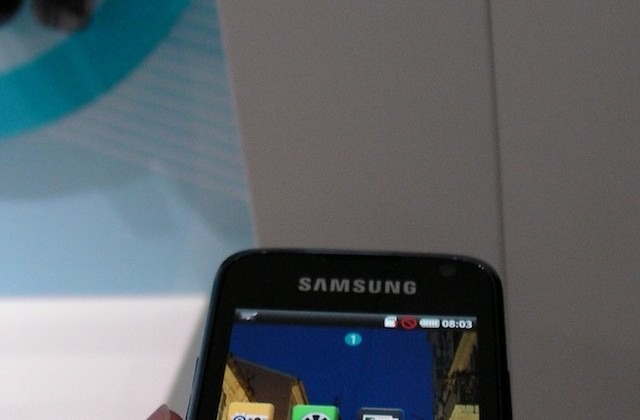 Slapping a pico-projector module into a phone isn't exactly new, but Samsung's Beam I8520 is perhaps the first that has us truly tempted.  The smartphone – formerly known by its "Halo" codename – ticks plenty of the boxes many shop for handsets by: it runs Android 2.1 on a 3.7-inch Super AMOLED display with capacitive touchscreen, and has an 8.1-megapixel camera on the back complete with an LED flash.  On top of Android Samsung have used their TouchWiz 3.0 UI, and while we've never been especially big fans – in comparison to other manufacture-specific software environments – the whole thing moves along at a decent lick of speed.
Of course, the real interest here is the integrated pico-projector.  Samsung have used a Texas Instruments DLP module running at WVGA resolution, just like the Beam's own AMOLED display, and it's triggered by holding down a button on the right-hand side.  Whatever's on the main display can be projected, and the Beam's pico has a 6 lumen brightness rating.
That's not enough to upstage your local Odeon, certainly, but in the darkened setup of Samsung's demo area is was bright enough to enjoy movie clips or demo impromptu presentations.  As you can see in our video demo, after the cut, the Beam can also be used in relatively standard lighting, though of course the experience is somewhat dimmed then.  We had trouble focusing in when reasonably close to a surface, but found that pulling back washed out the picture as the ambient light took its toll.
Nonetheless, it's an interesting proposition and perhaps one of the best pico-projector integrations we've seen so far.  Samsung have wisely taken advantage of the large chassis size to fit in a high-resolution camera, and the ability to then immediately show off photos and video without having to gather everyone around the display is a boon.
The Samsung Beam I8520 is expected to go on sale over the summer; no word on pricing or specific launch regions as yet.
https://www.youtube.com/watch?v=LnQVn3c6QAg