Samsung: Full OLED TV details plus "premium range" reveal in August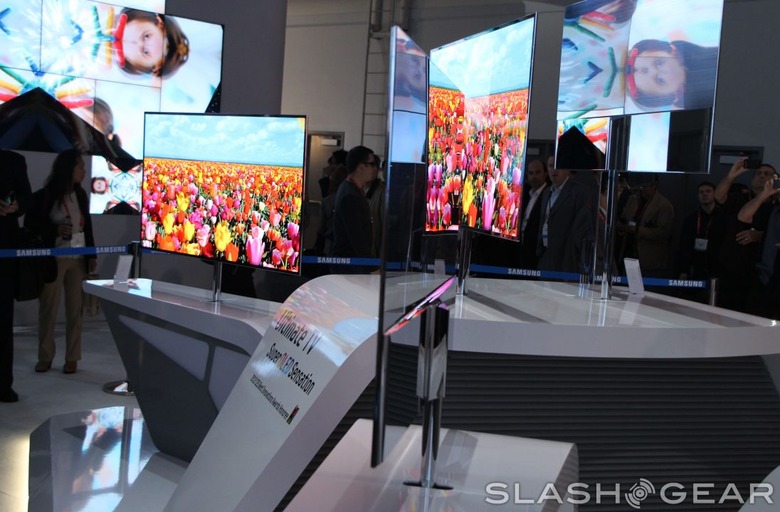 Samsung will haul its OLED HDTV to IFA 2012 in late August, the company has confirmed, giving the 55-inch set its official launch along with a new, premium range of TVs. The OLED TV was first shown off at CES back in January 2012, with incredibly narrow bezels, a super-slim depth panel and, of course, the vivid colors and great contrast ratio that we're used to from OLED screens. Samsung has been coy with pricing, though. Meanwhile, there's also news on a cloud upgrade for AllShare.
In fact, so far Samsung has only said that it will put the OLED set on sale sometime in 2012. LG's counterpart set, also shown at CES 2012, is believed to be launching with a roughly $7,900 tag, though, and so we're expecting something similarly eye-watering from Samsung.
We'll know for sure at IFA 2012, along with details of the Korean company's new flagship range. Samsung only dropped vague hints about that new line-up, though described it as even "more premium" than the OLED model. We're guessing that means in terms of functionality and design rather than screen technology, unless Samsung has some serious surprises up its collective engineering sleeves.
Samsung 55-inch OLED TV live:
What both should support is the newest iteration of Samsung AllShare, which adds in a cloud element to what until now has been a local DLNA-based service. A free 5GB cloud account for device buyers will allow for automatic upload of photos, audio and video shot on gadgets like the Galaxy Tab series of tablets or Galaxy phones, and then remote access and streaming playback on other phones, tablets, or TVs.
That will be followed by a remote login system later in 2012, which Samsung describes as allowing its users to access any of the company's devices they own, no matter where they are in the world – providing they have a data connection – with a single Samsung account login. Laptops, phones, tablets and more will be supported; the company will detail the system further at IFA 2012 in late August.