Samsung Fascinate Review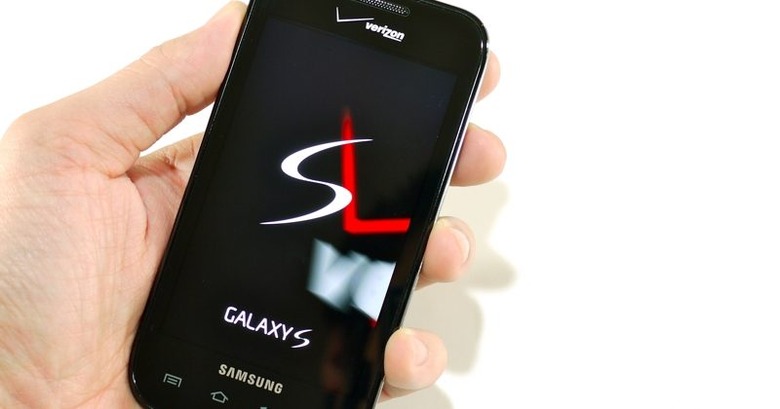 By now, you wouldn't think there was much left in the Samsung Galaxy S family that could still surprise us. After the success of the original European model, followed by launches on AT&T and T-Mobile, the Super AMOLED Android smartphone is now heading to Verizon in the shape of the Samsung Fascinate. Are CDMA and Verizon's other tweaks enough to convince us that this is the Galaxy S sibling to adopt? Check out the full SlashGear review after the cut.
The core specifications of the Galaxy S are pretty well known. Up front is a WVGA 4-inch Super AMOLED touchscreen, while there's a 5-megapixel camera on the back (which, on the Fascinate, is paired with an LED flash). Inside is Samsung's own 1GHz Hummingbird processor running Android 2.1 Eclair with the TouchWiz 3.0 UI (also subject to some Verizon modifications); there's also Bluetooth 3.0, WiFi b/g/n, EVDO Rev.A and 2GB of internal storage.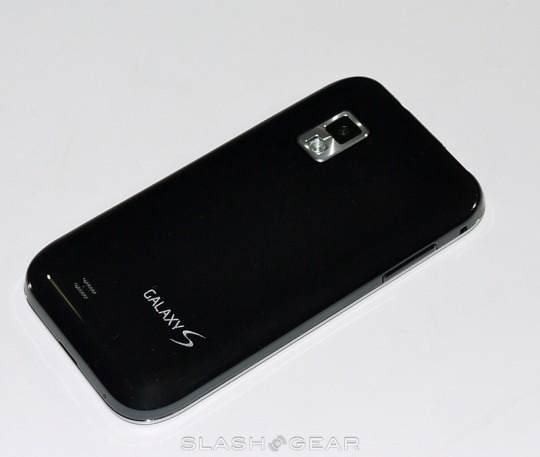 Design-wise, the Fascinate resembles the T-Mobile Galaxy S, with touch-sensitive menu, home, search and back keys on the front panel, volume rocker on the left, and an annoyingly-placed power button on the right. On top is the microUSB port – covered with a sliding door – and a 3.5mm headphone socket. The plastic back panel clips off to reveal a 1,500mAh battery, while the whole thing is slightly thicker to accommodate the flash (a compromise we're happy with).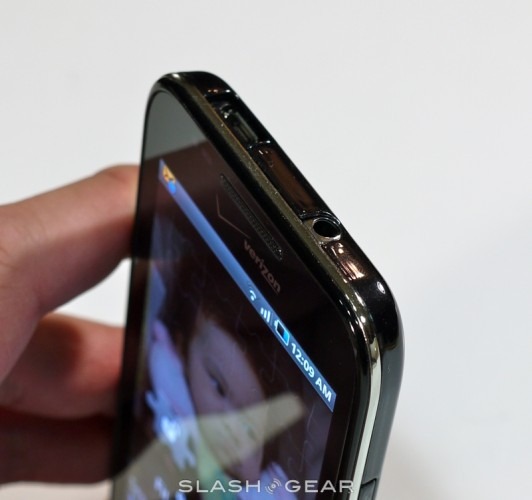 Samsung Fascinate unboxing:
[vms fd4398cbac35e050a217]
We're fans of the whole Galaxy S range, but the Verizon Fascinate could well be our favorite so far. The carrier has obviously worked with Samsung on modifying the core OS build, and there are several points at which this edges the Fascinate ahead. The three homescreen icons can now be changed, for instance, while they're locked on the AT&T Captivate, and we didn't observe any of the GPS issues we'd experienced on other variants. That's not to say Samsung has no room for improvement. The email app can only handle a single Exchange account at a time, Samsung's TouchWiz widgets take up too much screen space, and we still observed a few of the periodic stalls that mar the overall user experience.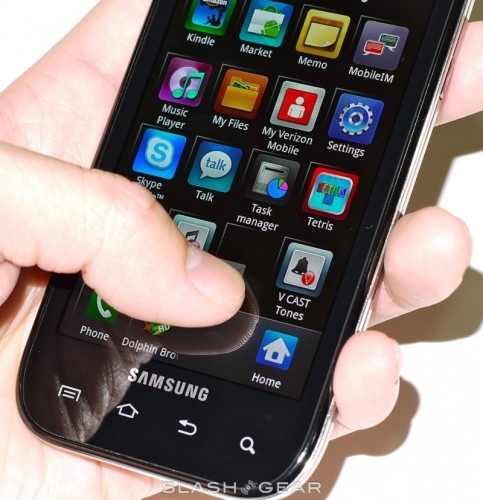 Still, they seem less frequent than on other versions, and even Verizon's own VCAST apps work well on the Fascinate. The Verizon VZ Navigator app is a strong alternative to Google Maps Navigation, and of course there's also Microsoft's Bing on board. Verizon has made a deal with Microsoft for exclusive access to the Bing Android toolbar, which replaces the standard Google bar on the Fascinate.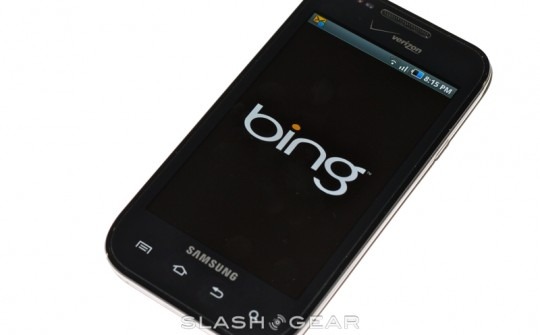 The Bing experience itself is actually reasonably strong. The UI is good, with the default results view mixing in search, images and news content into a single display. However you can also dig down into various categories – images, movies, maps, local, news and directions – together with performing voice searches and showing directions and navigation. There's more detail in this demo video:
Samsung Fascinate Bing demo:
[vms f5a9133504de568f5f6d]
Unfortunately, while the Bing experience is strong, it's frustrating that there's no way to switch back to Google's own search bar. We can see plenty of people being satisfied with Bing, yes, but one of Android's strengths is its customization potential. Just as when AT&T blocked app sideloading on the HTC Aria, we're not happy with anything that reduces that flexibility.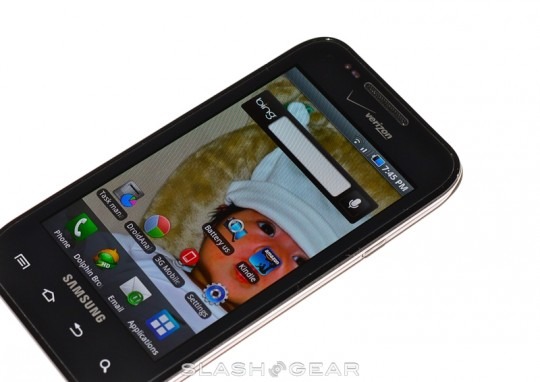 Samsung are known for their strong multimedia performance, and the Fascinate is no different. The 5-megapixel camera produces excellent stills and 720p video, with touch-to-focus and sensible automatic use of the LED flash. The results outclass what we produced with the 8-megapixel DROID X, which once again goes to show that it's not the number of pixels you have but how you use them. The flash can also be used during video recording, and unlike on rival devices, when you're shooting in low-light situations it comes on as you frame the shot rather than just when the picture is taken.
Sample still shot taken with Samsung Fascinate: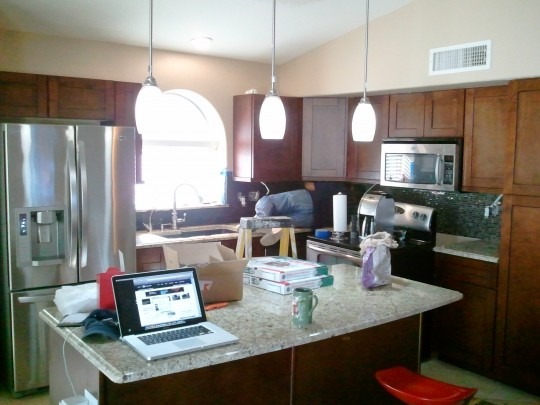 Samsung Fascinate indoor daylight 720p video sample:
[vms 9504b9398284244fe97c]
Samsung Fascinate indoor night 720p video sample:
[vms 7f3e96597370d5c8cf03]
Multimedia consumption, meanwhile, includes support for DivX and Xvid video content, rather than simply Android's standard provisioning for MPEG4, H.264 and AVI. Coupled with the amazing Super AMOLED display – which lacks the sheer pixel density of the iPhone 4's Retina Display, but goes a long way to making up for that with bright, saturated colors and rich, inky blacks – with its 4-inch compromise between pocketability and scale, and the Fascinate is one of the best handsets around for watching video on. Audio performance too is good (there's an FM radio as well) with support for Bluetooth A2DP streaming. Interestingly, while AT&T and T-Mobile's versions of the Galaxy S proved sluggish to index a memory card full of media files, the Fascinate whipped through a 16GB microSD with barely a pause. Unfortunately Verizon don't bundle the HDMI adapter cable in the box with the Fascinate, which seems a missed opportunity.
Verizon has a strong reputation for superlative call and data performance, and the Samsung Fascinate is certainly a best-of-breed when it comes to taking advantage of that. Voice calls were crisp and clear, while the speakerphone manages to be both loud and precise. Of course, since the Fascinate lacks the front-facing camera of the original Galaxy S, you can't make good use of video calling apps like Qik, Fring or the Verizon-exclusive Skype. While native 3G mobile hotspot functionality isn't integrated into Android until Froyo, Samsung has preinstalled its own hotspot app to share the Fascinate's EVDO Rev.A connection with up to five WiFi clients – such as netbooks, iPads and PSPs – and that works well. Unfortunately this isn't a so-called World Phone, so there's no GSM or UMTS for voice or data use outside of North America.
Samsung Fascinate vs Captivate, Epic 4G, Evo 4G, DROID X and Incredible:
[vms fb634e6a85bb9d9adf21]
Battery life has proved one of the Fascinate's main strengths. We've been putting it through its paces, and found we could manage around 14 hours and 25 minutes of mixed usage: that includes web browsing, Exchange push-email turned on, periodic checking of three Gmail accounts and some multimedia. Considering the number of smartphones which – if used to their full potential – require a top-up partway through the day, that's a big plus in the Fascinate's favor.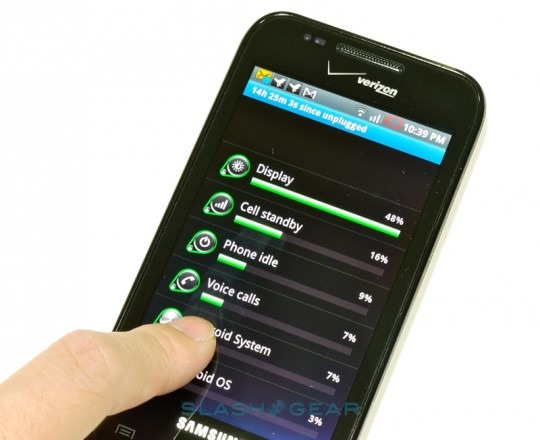 If your runtime needs are even more demanding, Verizon are offering a small range of Fascinate accessories that includes a backup battery kit. $39.99 gets you a second 1,500mAh Li-Ion battery together with a charger. There's also a desk cradle ($29.99) and a car dock ($39.99); slot the Fascinate into the desk cradle and it automatically loads up a clock mode app called "Desk Home" with access to alarms, weather, calendar and other shortcuts. Like Motorola's desk dock for the DROID 2, there are day and night color schemes.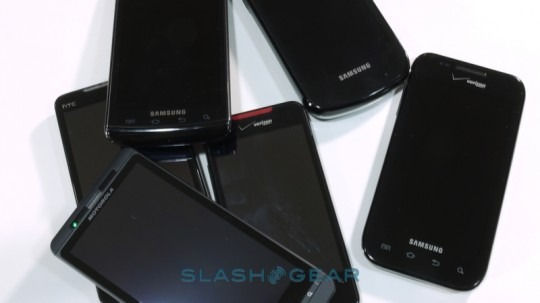 The Motorola DROID range – currently led by the DROID X and DROID 2 – is perhaps the Fascinate's biggest competition, not only in terms of consumers but for the amount of attention Verizon itself is paying. The Fascinate is undoubtedly the best phone Samsung has made on the best network in the US right now, but the carrier's DROID focus means the Samsung is perhaps not receiving as much love as it deserves. We'd pick the Fascinate over the DROID X, and while we'd miss the Motorola's physical buttons, the Samsung's stronger camera performance and better display would be ample compensation.
With Android 2.2 – which Samsung claims is due later in 2010 – the Verizon Fascinate will get even faster, but we don't feel the need to hold off until the new ROM is released. This is one of the best Android smartphones we've tested, and certainly the best of the US Galaxy S family (assuming you don't want to use your phone outside of North America). Samsung and Verizon have saved the best until last, then, and in doing so created a strong alternative to Apple's iPhone 4.
The Verizon Samsung Fascinate will go on sale online on September 8th, and in Verizon stores on September 9th. It will be priced at $199.99 after a $100 mail-in rebate and with a new, two-year agreement complete with data plan.