Samsung Galaxy S Review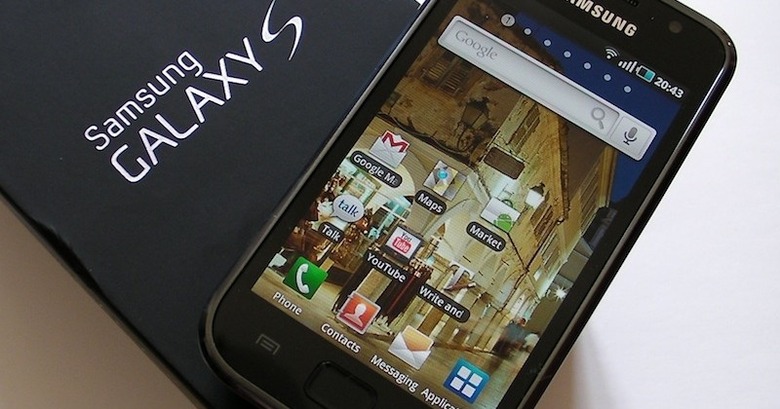 The Android smartphone segment keeps getting stronger, and the Samsung Galaxy S looks set to be a key player in 2010. Not only does it get the company's coveted Super AMOLED display, but a 1GHz processor, 720p HD video recording and plenty of wireless connectivity. Now freshly announced as incoming to Verizon as the Fascinate, T-Mobile USA as the Vibrant and of course AT&T as the Captivate, the Galaxy S is certainly spreading itself around. Is this Android's answer to the iPhone 4? Check out the full SlashGear review after the cut.
In the time we've been carrying the Galaxy S, more than a few people – geeks included – have mistaken it for an iPhone 3GS. The glossy black plastic and metal-effect bezel both echo Apple's second/third-gen smartphone; the irony, of course, is that the Cupertino company has now moved on with the almost retro lines of the iPhone 4, and the Galaxy S feels a little indistinct in comparison. It's certainly a lightweight and slim handset, at 122.4 x 64.2 x 9.9mm and 119g, though it's undoubtedly plasticky in its hand-feel. Still, there's little creaking or flexing, and build quality feels decent.
Hardware controls are minimal, consisting of a volume rocker on the left hand side, the power/standby key on the right, and a home button under the screen that's flanked by touch-sensitive menu and back buttons. Long-holding the menu key calls up search. The power button feels poorly placed, and we'd rather it were on the top edge of the Galaxy S; it's also a little vague in its physical feel, and more than a few times we've accidentally hit it twice or held it too long and had to dismiss the power-off menu. The absence of a D-pad or optical joystick is generally not a problem; we only missed it when trying to precisely navigate within text to make spelling or URL corrections.
Samsung Galaxy S unboxing & hands-on:
[vms 1b7d5eabf33396c2683a]
As for the rest of the hardware, keeping the whole thing moving is Samsung's own 1GHz Hummingbird processor, paired with 8GB (or 16GB, depending on version) of internal storage. In our 8GB review unit that's partitioned into approximately 2GB for apps and 6GB for media; there's also a microSD slot (for up to 32GB cards). Connectivity includes triband 900/1900/2100 HSDPA/HSUPA along with WiFi b/g/n, Bluetooth 3.0 and a microUSB 2.0 port; there's also GPS, an accelerometer, digital compass, and both proximity and light sensors. Like the iPhone 4, the Galaxy S has two cameras: one, a 5-megapixel autofocus unit on the back, and a VGA-quality front facing camera for video calls. No flash – LED or otherwise – however, though you can record 720p HD video at 30fps.
It's probably the display that is the Galaxy S' crowning glory, with Samsung's own Super AMOLED technology making a reappearance after its decent showing on the bada-powered Wave. Here, though, it's grown to 4-inches (800 x 480 resolution) and it's quite the eye-catcher. Colors are vivid and beautifully saturated, while the brightness is easily strong enough on the medium setting. That adds up to reasonable outdoor performance, too; unlike the Nexus One, the AMOLED display of which requires more than a cupped hand in order to make it out, the Galaxy S is visible – though not ideal, we have to say – in normal daylight conditions.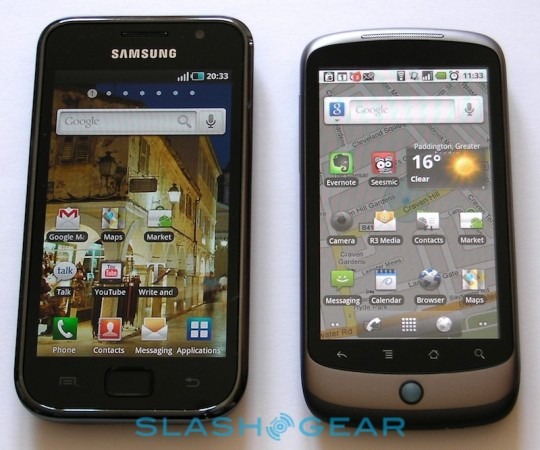 The obvious comparison is against Apple's new Retina Display technology, and of course the Galaxy S' resolution can't compete with the 326dpi of the iPhone 4's outstanding screen. Nonetheless, it's one of the best panels we've seen on a mobile device of late, and certainly better than most AMOLED and LCD displays. Here, Samsung have paired it with a decent, responsive capacitive touchscreen that requires only a relatively light touch.
Software wise, the Galaxy S runs Android 2.1 partially disguised by the company's own TouchWiz 3.0 UI. The main improvement is in the notification bar, which now gets persistent shortcuts for toggling WiFi, Bluetooth, silent and vibration modes, together with media playback controls when the MP3 app is running. Four fixed icons – Phone, Contacts, Messaging and Applications – run along the bottom of the screen and can't be moved or replaced.  [Update: only Applications is permanent; the others can be swapped out by going into the app menu and choosing Edit from the menu - thanks tnt!] Still, we've made our feelings clear about TouchWiz (in its various incarnations) in previous reviews; suffice to say, it lacks the appeal of HTC Sense, and most of the time we'd have preferred the basic Android 2.1 interface. More worryingly, whatever Samsung has done to the ROM has introduced numerous points of lag and even freezing.
Try to open your email inbox, or view a specific message, and the Galaxy S sometimes seizes up for a few seconds before the content is shown. There are similar pauses when deleting items or marking messages unread, with pop-up contextual menus hanging around on-screen for seconds longer than they should. Meanwhile the back control can be reluctant in its action, before suddenly catching up and slinging you to the homescreen. We've got two Galaxy S handsets on hand from different sources and both show the same sort of issues (more noticeable when you've loaded your email inbox and contacts). It's frustrating, especially given that the 1GHz chip can otherwise feel faster than smartphones running Qualcomm's rival 1GHz Snapdragon CPU.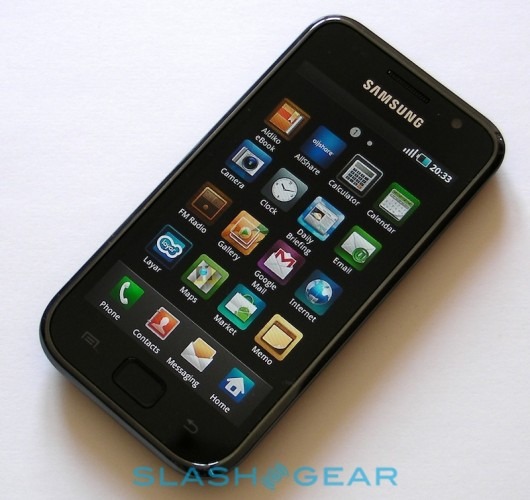 Lag isn't the only problem we've had, either. The Galaxy S has randomly lost our email inbox in the time we've been using it – requiring inputing all our Exchange settings again, and performing a full sync – and the camera app has crashed a couple of times, refusing to load until we power-cycled the phone. Elsewhere, the UI is simply frustrating. New SMS alerts, for instance, aren't removed from the Android notification bar until you not only view the message in the bubble conversation view, but actually tap the new bubble itself and "open" it on a separate page. No new information, but an extra step all the same. We prefer the regular Android icons to those in TouchWiz, though admittedly that's a matter of taste, but the way Samsung has managed the desktop is slightly at odds with Google's own approach with Android. The Galaxy S has seven homescreen panes with the default "home" pane on the far left; the Android OS is more used to the "home" pane being central, and so if you choose Google Maps as your Live Wallpaper – which normally uses GPS to center the map on your current location – the maps are offset since the center point is on homescreen four. Nit-picking, yes, but it's the sort of poor polish that undermine a successful UI.
Sadly there's no way to easily turn off TouchWiz and return to the native Android UI, so owners unwilling to experiment with unofficial ROMs will be stuck with Samsung's interface. Some of the company's preloaded tools aren't bad, however; there's a full copy of Swype, the gesture-based keyboard (though it isn't enabled by default) and Samsung's multimedia player is far better than the standard Google offering. It supports MPEG4, H.264, H.263, DivX, Xvid, WMV, AVI, MKV and FLV video, among others, together with a healthy clutch of audio formats including OFF and FLAC. Paired with the 3.5mm headphones jack and onboard storage you've got an Android phone that could certainly give an iPod touch a run for its money.
Social networking tools are fashionable, and Samsung's approach is a little similar to HTC's. The Galaxy S has Samsung's Social Hub, a combined stream of Facebook, MySpace and Twitter messages – complete with a desktop widget and the ability to send out an update to one or all services simultaneously – but there's also a "Mini Diary" app that allows you to easily create journal entries complete with photos, stored weather information, text notes and more. Unfortunately, once created they're basically stuck on the phone; there's no way to remotely sync them or upload them automatically to a blog somewhere.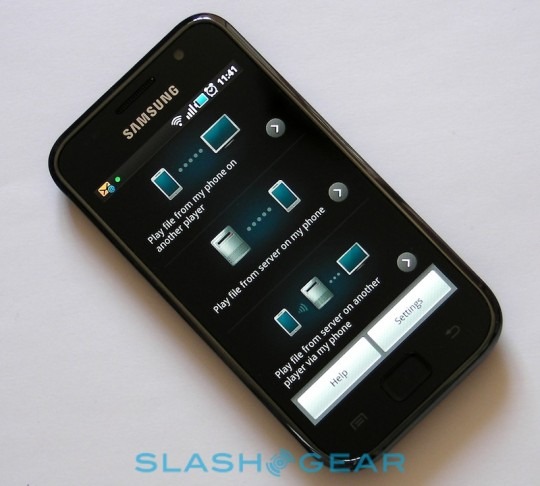 More useful is Samsung AllShare, which takes DLNA media sharing and puts a cellphone-friendly face on it. AllShare allows you to stream multimedia from the Galaxy S to a WiFi-connected player – whether a standalone audio system, network-connected HDTV or a computer – or vice-versa, or even to act as a remote control for your media server, selecting files to play remotely. Video, audio and images can all be streamed, and the Galaxy S simply showed up as a media source in compatible apps.
As for playback on the Galaxy S itself, understandably it's video that shines best thanks to the Super AMOLED display. We had no problems getting various DivX and Xvid files to play, with 720p HD video looking great. Interestingly, there's a TV Out option in the settings pages, though no sign of an adapter in the box to actually hook up a bigger screen. Audio, meanwhile, is reasonably loud and clear via the Galaxy S' own speaker, but Samsung's bundled earbuds are actually surprisingly good and, while still not outperforming a reasonable aftermarket set, do at least avoid the noise leakage and underwhelming bass of Apple's standard set. There's also an FM radio, complete with auto-scan and user presets, though it relies on the headphone wire to act as antenna.
Samsung has something of a reputation for decent cellphone cameras, and the Galaxy S generally doesn't disappoint. At 5-megapixels with autofocus, the only thing missing from the spec sheet is a flash of some sort. What you do get are various photography modes, including blink, face and smile detection, panorama and high-speed shooting, together with a decent amount of control over manual settings. There are also multiple effects, such as vintage and cartoon, and a high-visibility mode which boosts the UI so that it's easier to see while outdoors. The end result are bright, clear and well balanced shots, with decent colors and – as long as you don't use the digital zoom – little noise or pixellation. Without a flash you're obviously limited in your low-light use, with focus being a particular trouble, though we might argue that LED flash units are generally underwhelming anyway. There are samples in the gallery below, unedited aside from being resized by 50-percent.
Video, meanwhile, can be recording in one of five resolutions from 320 x 240 to 1280 x 720, with or without audio and with manual control over exposure, contrast, saturation and sharpness. However there's no focus control. Interestingly, during recording you can choose to either pause or stop; pausing allows you to chain several segments into the same clip. A size counter shows how big the file is getting while you can also use the 4x digital zoom (which is jerky moving between levels, rather than a smooth optical zoom). Files are recorded in MPEG-4 in a 3GP container and at around 11.6Mbps, along with mono audio from the Galaxy S' single microphone.
Samsung Galaxy S 720p HD video sample
We weren't disappointed on playback, either. Audio, obviously, isn't as precise as with a stereo microphone, but video was smooth, jerk-free and on a par with a point-and-shoot camcorder such as from Flip. Fast pans showed no blurring or jerking, and despite the absence of a manual macro mode during video recording close-up text was legible. It's disappointing Samsung don't include either an HDMI port or a suitable adapter cable for easily playing back content on a larger display, though of course if your TV is compatible you can use AllShare.
To get to grips with what the Galaxy S' Hummingbird CPU could really deliver, we turned to Android benchmarking tool Quadrant. This measures processor, memory, I/O and 2D/3D graphics and combines them into a single numerical score. The Galaxy S (running Android 2.1) came in at 874, while a Google Nexus One (running Android 2.2 FRF50) scored 1,390. That's a considerable difference, but a lot could be down to the OS rather than the hardware; according to Quadrant's figures, the Galaxy S scored approximately 50-percent more than a Nexus One running Android 2.1, suggesting that should the Samsung handset get a Froyo update then it might pull ahead of the Google-branded phone.
Updates, though, are a sore issue among Samsung owners right now. The company recently pushed out Android 1.6 to its Behold II handset – launched in November 2009 with 1.5 – but also confirmed that the smartphone wouldn't see any further upgrades to 2.x or beyond. Opinion understandably differs: some say the Behold II simply isn't powerful enough to handle the Live Wallpapers and other system-intensive features of newer versions of Android, while others reckon Samsung are merely looking to forget the older phone and instead push on with their newer devices.
Meanwhile, Samsung has apparently confirmed that the Galaxy S should get an Android 2.2 Froyo update later in 2010, but the exact timescale for that still isn't definitive. As we've seen with other Android devices that use custom UIs, manufacturers generally struggle to adapt to newer OS versions and that delays their release. Our advice is always to pick a phone which does what you want it to do today, rather than what it might do months down the line, but we'd also add that handsets with the basic Android build rather than a manufacturer-tweaked one should inevitably be your choice if speedy upgrades are your top priority.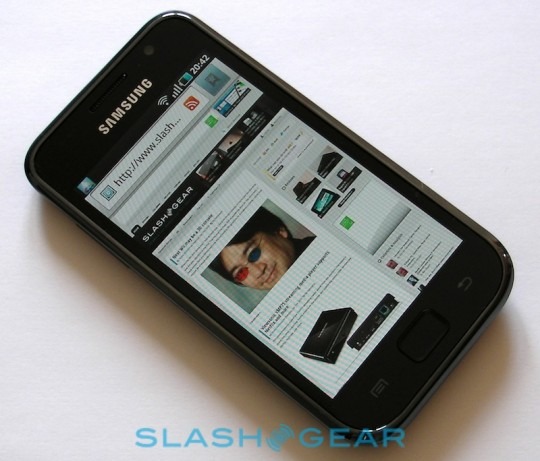 We can't fault the Galaxy S on phone performance. Voice calls are clear and loud, and the speakerphone is suitably booming. Unfortunately apps aren't quite set up to take advantage of the front-facing VGA camera yet; Qik's video call app only works on the EVO 4G right now, while Fring are still working on an update that can use the Galaxy S' front camera rather than the back one. Battery life, meanwhile, proved more impressive than expected. With push email turned on and regular use, we got through two days from the Galaxy S' 1,500mAh battery, surprising indeed for a modern touchscreen smartphone.
So what about the iPhone 4? There are certainly similarities: the processors (which despite the differing names were both developed by Samsung and Apple-acquired Intrinsity) each run at 1GHz, the camera resolution is the same, both are slim and relatively lightweight. However the two platforms – iOS4 and Android – differ significantly in their approach to users, developers and openness. Apple's by now legendary approvals process for the App Store means that only those titles that suit the company's intent for the iPhone will get through; on the other hand, users have greater confidence that the software they download is unlikely to negatively affect their handset.
Meanwhile the Android Market does without the strict gatekeepers, meaning the breadth of apps is greater though the risk of downloading something half-baked or even malware-infected is also higher. There's growing choice, and the Android OS as a whole is far more flexible in terms of developer tinkering. In its more recent versions it's relatively user-friendly, too, a far cry from the early days.
Is the occasionally staccato performance enough to sour the Galaxy S altogether, however? We're not entirely sure what's causing the occasional lag – poor CPU throttling perhaps – but we're hoping Samsung can address it with a minor firmware patch. As it stands, it's a frustrating mar on what's otherwise a very strong smartphone experience. The Galaxy S' screen is the best this side of a Retina Display – and larger too – while the phone, albeit erring on the plastic side, is well made and has impressive multimedia skills. It's also slim, so despite the screen size can drop into a front pocket without causing problems. The strengths outweigh the drawbacks overall, though you may find yourself explaining more then once that no, this isn't an iPhone, it's something arguably just as good.
Thanks to Clove.co.uk for the loan of the Galaxy S. The 8GB version is available now for £452.38 ($680) with a bundled 8GB microSD card.