Droid X Review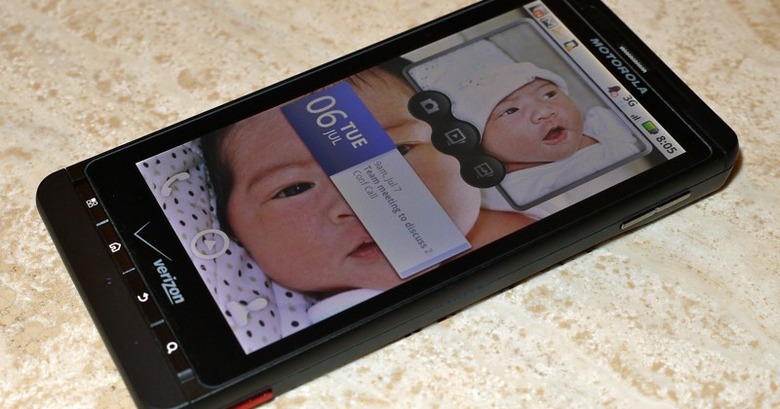 Motorola's first-generation DROID shook HTC's dominance of the Android segment and arguably reinvented the company after years of tired RAZR variants. Now, after a spate of low- to mid-tier Android devices, the company has unveiled their next high-end smartphone. The Motorola DROID X, again on Verizon Wireless in the US, scales up the screen, the camera and the processor, while simultaneously slimming down in the hand; it also faces strong competition from HTC, Samsung and others. Has Motorola done enough second-time around? Check out the full SlashGear review after the cut.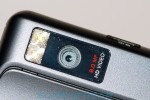 Like the DROID before it, the DROID X is a CDMA EVDO Rev.A device with no GSM to fall back on for international use. Running Android 2.1 with a new, slicker interpretation of MOTOBLUR social networking integration, it's dominated by a 4.3-inch 854 x 480 capacitive touchscreen LCD display that pushes the dimensions to a hand-dominating 65.5 x 127.5 x 9.9 mm. At 155g there's a pleasing balance of heft, and the protruding hump at the top rear edge – to accommodate the 8-megapixel autofocus camera with dual-LED flash – isn't too annoying after a few day's use. We actually grew to appreciate it as a way to tug the DROID X out of a front pants pocket.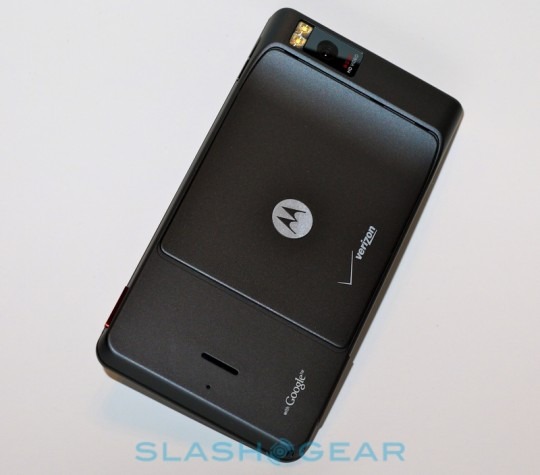 Connectivity includes the usual WiFi – b/g/n supported here – and Bluetooth 2.1+EDR, along with a microUSB 2.0 port and a micro HDMI port for hooking up the DROID X to an HDTV and playing high definition movies. There's a 3.5mm headphone jack along with GPS/A-GPS, an accelerometer, digital compass, proximity/ambient light sensors and a microSD card slot (supporting up to 32GB) to augment the 8GB of internal memory. Motorola will be including a 16GB microSD in the box, so already the DROID X exceeds the entry-level iPhone 4 when it comes to capacity.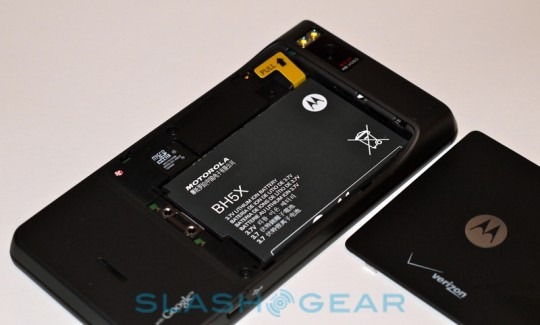 Under the hood it's left to a 1GHz Texas Instruments OMAP3630 processor to keep things running smoothly, and the relatively new chipset does an excellent job. Interestingly, Motorola has added a performance toggle which allows users to select between three different levels of CPU throttling: Battery Saver, Performance and Smart, the latter automatically selecting between them. We benchmarked the DROID X using Quadrant, which measures processor, memory, I/O and 2D/3D graphics and combines them into a single numerical score. In Battery Saver mode, the DROID X scored 819, in Performance mode it scored 1,204, and in Smart mode it scored 963. In contrast, the Samsung Galaxy S running Android 2.1 – using Samsung's own 1GHz Hummingbird CPU – scored 874, while a Google Nexus One running Android 2.2 – using Qualcomm's 1GHz Snapdragon – scored 1,434. Considering Android 2.2 significantly boosts performance in comparison to 2.1, we've high hopes for the DROID X when Motorola deliver the promised 2.2 upgrade later in 2010.
The physical design leaves no doubt as to the DROID X's heritage. A little less blunt-edged than its predecessor, it's finished in matte black soft-touch plastic and feels sturdy and solid. Beyond the curve of the camera hump there's little deviation from straight lines, and while it may not be to everyone's taste we're big fans of this particular branch of Motorola's design language. Controls include a row of physical buttons under the display – Menu, Home, Back and Search, bizarrely changed in order from the DROID – together with volume controls, a dedicated camera shortcut and the power-lock button spread around the sides.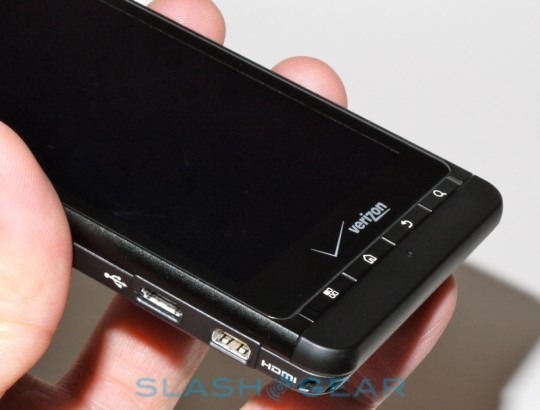 For a regular LCD panel, the original DROID's display proved mighty impressive; happily the DROID X continues that legacy. Obviously larger – though running at the same resolution – there's no Super AMOLED or Retina Display magic here, just a high quality LCD TFT screen with great color saturation, decent contrast and sufficient brightness for outdoor use. It can't quite keep up with Samsung's Super AMOLED on the Galaxy S in terms of its colors (when indoors, anyway) nor the iPhone 4's Retina Display for sheer pixel density, but it's certainly one of the stronger smartphone screens we've seen of late.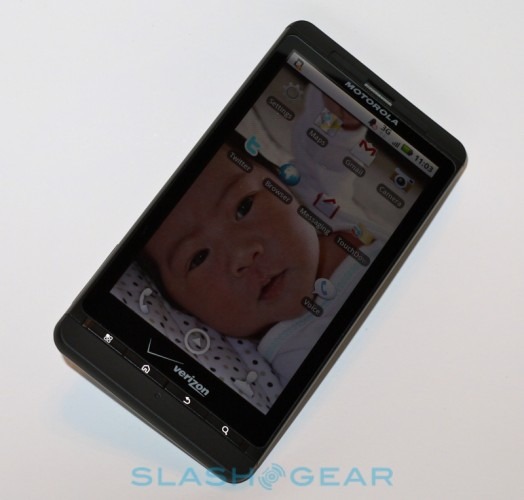 Motorola obviously achieved their 9.9mm thickness on the DROID X by dumping the DROID's hardware keyboard and instead settling on on-screen 'boards. Happily they've not limited themselves to the regulation Android 2.1 layouts but thrown in not only their own keyboards but the speedy Swype 'board, which allows you to type by dragging a finger between letters rather than pecking at them. Having used super-sized devices like the HTC EVO 4G (4.3-inches) and the HTC HD2 (4.1-inches) before, we're well aware of how straightforward on-screen typing can be when you've got a considerable amount of finger-room to play with, and the DROID X doesn't disappoint here either. Typing is accurate and you can comfortably use both thumbs with the DROID X in portrait orientation; Motorola has also added multitouch support into their keyboards, which allows for even faster typing if your fingers can keep up.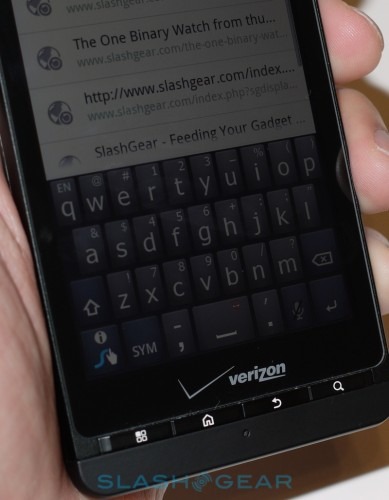 Motorola's other significant change to the stock Android experience is their latest interpretation of MOTOBLUR. Introduced to great fanfare on some of the company's mainstream models – not, for instance, the DROID – MOTOBLUR promised to suck all your social networks into a single place, filling the desktop with various widgets. While it found some favor, it also proved a turn-off to many more serious users; the MOTOBLUR desktop looked cluttered, overwhelming, and – ironically – lacked some of the more obvious tools like pulling out @-replies in Twitter.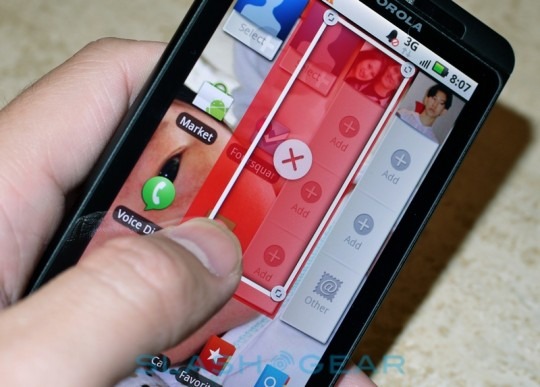 On the DROID X, meanwhile, Motorola aren't calling the social networking integration MOTOBLUR. Instead, it's a somewhat nebulous UI enhancement, bypassing Motorola's server-based login system – which requires a user account be created and whichever social networks you're using be registered to it – and instead pings the networks itself. A couple of simple update widgets bring new messages to the homescreen; you can register accounts from Facebook, MySpace, Photobucket, Picasa, Skype and Twitter. Once done, the DROID X pulls in your contacts on each service and attempts to amalgamate them with your existing contacts, something we had mixed success with.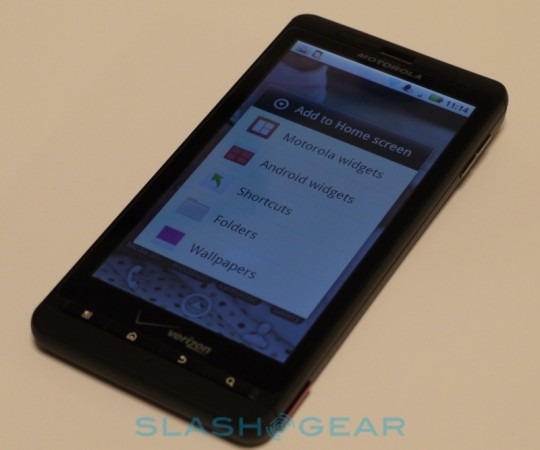 Of course, you can also ignore the built-in networking functionality and use your own choice of apps – the official Twitter client, for instance, or one of the many third-party offerings. Most of the time we found separate apps gave us a better user experience anyway. There are also various RSS and contact widgets that can be not only placed freely on the Android homescreen – rather than locked to the normal 4 x 4 grid – but resized depending on how much information you want showing. The flip-side is, of course, that by customizing Android, Motorola has likely left consumers waiting longer for updates to newer builds of the OS; considering the DROID X ships with Android 2.1 to begin with, not the newer Froyo, that's a potential sticking point for would-be buyers. The compromise made on an HTC Sense device, for instance, is often easier to stomach because Sense is such a slick environment and adds to the user experience: when you're basically ignoring the "enhancements" Motorola have introduced, you find yourself wishing they'd just left well alone and delivered Android 2.2 untouched.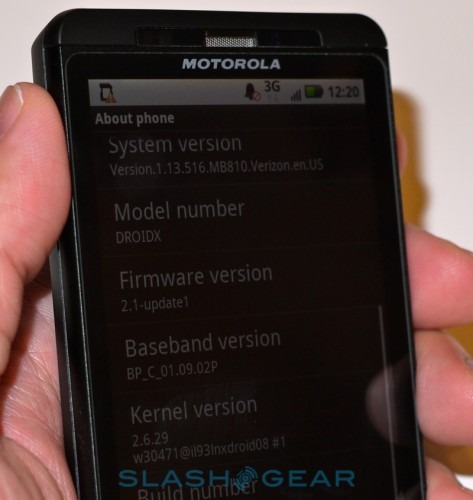 As it is, you get Android 2.1 and the usual array of Google apps like Gmail, YouTube and Google Maps Navigation. The DROID X's strong CPU performance shows its hand in the browser, with snappy rendering and lag-free panning, pinch-zooming and scrolling. No Flash support, of course, until Android 2.2 brings its Flash 10.1 to the phone. There's also access to the Android Market, with its growing selection of apps, and true multitasking of the sort that iPhone 4 owners can only dream about.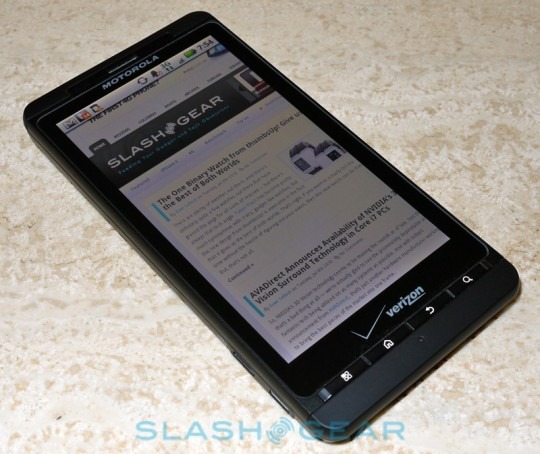 Motorola are proud of the DROID X's optical abilities, and they've got reason to be. It's increasingly common knowledge that plentiful megapixels don't necessarily add up to better image quality, but the DROID X's 8-megapixel camera produces decent shots and video as long as you give it sufficient light. Stills show accurate color balance and decent contrast, only descending into graininess when dealing with low-light conditions or working at the higher levels of the digital zoom. The camera UI has touch-focus and is generally straightforward to use, but the app is slow to load when triggered by the camera shortcut key, which is particularly tricky to press. It was a little to easy to accidentally move the camera mid-photo as a result.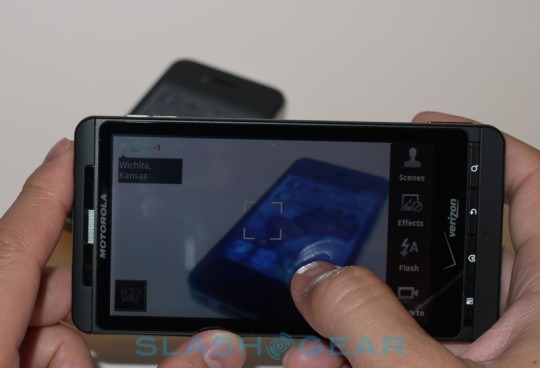 Video, meanwhile, looks crisper and better balanced than what we've seen the similarly 8-megapixel EVO 4G produce, though both handsets demand a steady hand if footage isn't to wobble and shake. The DROID X's three microphones can be switched between, depending on your subject and shooting style; you can, for instance, turn off the rear-favoring microphones and simply leave the front panel pick-up active so as to narrate a clip clearly. Motorola also say the three mics are used for noise cancellation, though that was less obvious in its impact.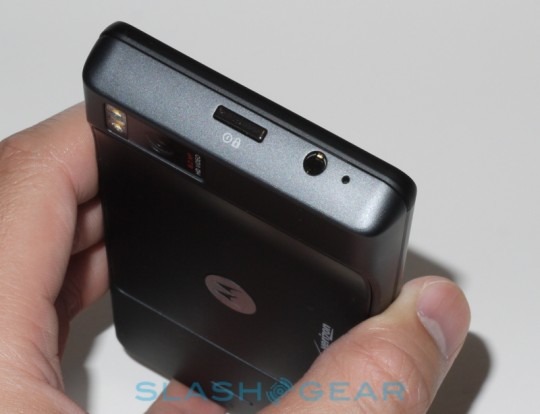 Once you've recorded a clip or shot a few images, you can plug the DROID X into an HDTV or other display via its HDMI output. You'll need the correct micro HDMI adapter cable, of course, or the special DROID X HDMI Dock – more on which later – but once you're suitable equipped it's a simple matter to browse content on the bigger display. There's no 1080p HD support, only 720p, but clips – either side-loaded or recorded yourself – look pretty good, certainly sufficient to bore friends and family after coming back from holiday.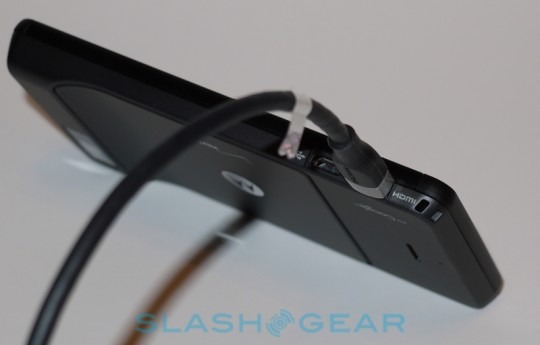 With all that display to gape at, you could be forgiven for forgetting that the DROID X is also a phone. Verizon's network has a reputation for decent voice performance, and the new Motorola doesn't disappoint. Thanks to the multiple microphones and strong speaker, both ends of the call proved clear and relatively hiss-free. Motorola preload a MiFi-style 3G Mobile Hotspot app which, like we've seen on other devices, allows you to share the DROID X's EVDO Rev.A connection among multiple WiFi connected devices. The carrier is charging $20 per month for 2GB of tethered data (distinct from the unlimited on-device data, it's worth noting), and unsurprisingly it all works as you'd expect.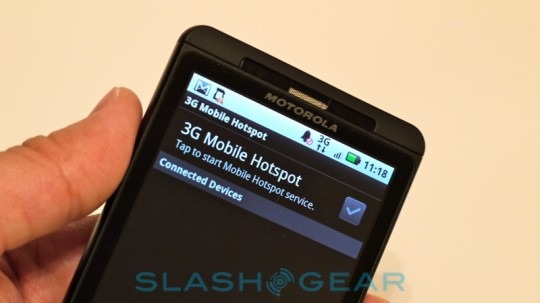 Unfortunately, one of the things we expect from hotspot functionality is that it guzzles through battery life, and sure enough a little WiFi-tethered browsing takes a big chunk out of the DROID X's 1,540 mAh Li-Ion battery. Motorola quote up to 480 minutes continuous talktime from the DROID X, or alternatively up to 220hrs standby; in reality "normal" use on a smartphone is a mixture of push email, browsing, media playback, photography, messaging and calls, and as ever that's more difficult to boil down to simple numbers. With "normal" use we've been charging the DROID X nightly, par for the course on a modern smartphone, and aside from when using it as a hotspot, haven't had to reach for a mid-day top up as yet. Of course, if you really need to eke out a little longer, the throttled Battery Saver CPU mode can help things.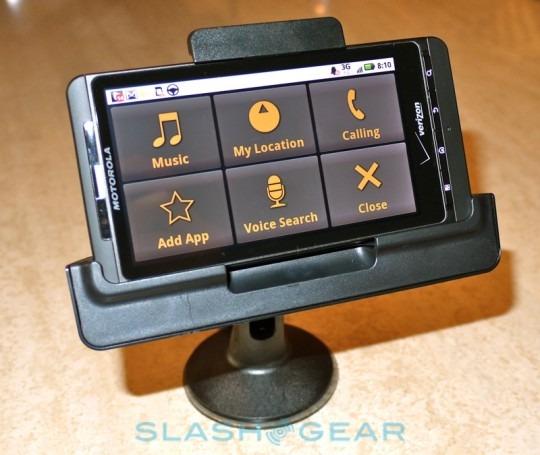 Motorola's in-box accessories aren't too impressive, barring the 16GB microSD; you get a microUSB cable and the charger, meaning you'll need to pick up a micro HDMI cable if you want to enjoy your content on a bigger screen. Motorola would prefer you to pick up their DROID X HDMI Multimedia Station, of course, which as with the original DROID automatically turns the smartphone into a nightstand/desk-friendly digital photo frame, weather display and clock. It has both HDMI and USB connections for easy charging. Motorola's second dock for the DROID X is the Car Mount, a suction-cup attached windshield cradle with a USB input for recharging the smartphone and a 3.5mm output so that you can route the DROID X's audio through your car stereo (if it has a suitable aux-in port). Slotting the DROID X into place automatically loads up the finger-friendly dashboard, complete with access to media playback, hands-free calling and of course Google Maps Navigation for turn-by-turn directions. Both docks work well and feel solid, though Verizon are yet to confirm exactly how much they'll cost.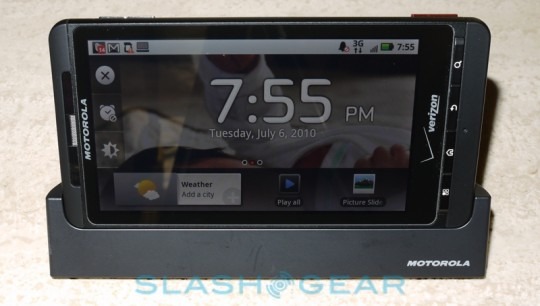 DROID X Car & Home Dock demo
[vms 1007abfbb8415b83ae2c]
It feels like every week we're talking about whether one device or another is the best Android smartphone on the market, and declaring a new – if transient – winner of the title. Motorola is certainly back on form with the DROID X, making a capable play for the top spot and giving Verizon-devotees an excellent option among big touchscreen handsets. It lacks the superlative display of the Galaxy S, though comfortably out-performs it in day to day use, and the WiMAX connectivity of the EVO 4G, but bests it in camera output. Our biggest criticism is Motorola's decision to ship with Android 2.1; with Froyo we've a feeling this could be the handset to beat, and it's frustrating to think that, in choosing to customize the OS, Motorola has inevitably introduced some degree of delay to future upgrades. Right now the DROID X is comfortably among the best Android devices you can buy; in a few months time, with Android 2.2 in place, it may be the Google phone to beat.
DROID X Unboxing and demo of new UI
[vms a2aee2df08cf09d7016c]
Update 1: HDMI out works with side-loaded content.