Samsung Exynos 5 Dual detailed: You want this in your next tablet

Samsung has revealed details of the new Exynos 5 Dual, the company's latest chipset for smartphones and tablets, packing a pair of Cortex-A15 cores for superlative mobile power. The new 32nm SoC packs twin 1.7GHz cores and supports up to 2560 x 1600 WQXGA resolution – interesting, given the persistent rumors that Samsung is readying an 11.8-inch tablet at just that resolution - along with 1080p 60fps hardware deceleration and 3D graphics.
There's also USB 3.0 and SATA3 support, OpenGL ES 2.0 and OpenCL support, and the ability to drive wireless displays. For the first time, Samsung has implemented a separate display subsystem, which the company says makes for a cheaper overall device and better performance.
Samsung is pretty vocal about the Exynos 5 Dual's performance, comparing it to a desktop processor in terms of capabilities, and suggesting that it will offer twice the performance of an Exynos 4 Dual 1.4GHz. Its individual cores at between 1.5x and 2x faster than Cortex-A9 cores – as used by NVIDIA in the Tegra 3, though in NVIDIA's chip you do get four of them not two – while memory bandwidth is similarly speedy.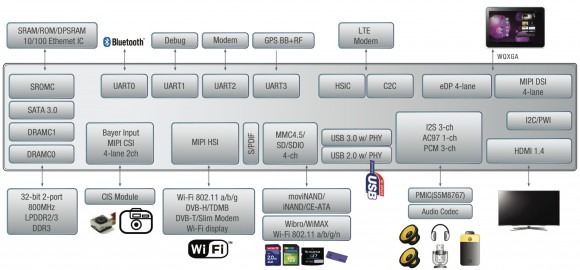 Samsung claims to have planned for a "worst case" scenario in driving graphics, with the Exynos 5 Dual capable of handling a full 2560 x 1600 display overlaying a UI onto 1080p video, keeping a camera preview running, encoding video, and simultaneously using HDMI-out to an HDTV. Overall bandwidth is double that of the previous Exynos 4 Dual.
Meanwhile, power consumption is down – 30-percent lower than 45nm chips – and with specific power-saving routines for energy-hungry displays. Samsung isn't saying what products we can expect to see the Exynos 5 Dual show up in, but we're hoping that changes soon.