Samsung spun its old plasma TV plant into something much more profitable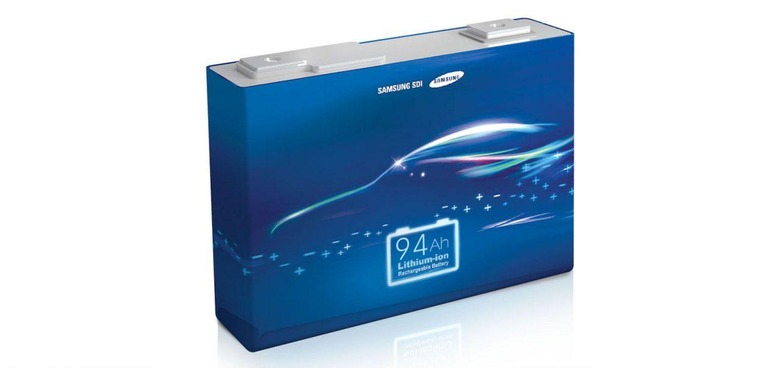 What do you do when nobody is buying expensive plasma TVs any more? If you're Samsung, you reboot your plasma panel plant into a market that's far more lucrative: electric vehicle batteries. That's just what Samsung SDI, the South Korean behemoth's battery manufacturing arm, has done in Europe.
The EV battery plant is in Goed, just outside Budapest in Hungary. The 330,000 square-meter facility was formerly responsible for churning out panels for Samsung's plasma TVs, but now it's expected to produce batteries for up to 50,000 electric vehicles every year. When the lines start running in the second quarter of 2017, it'll be the third such plant the company will have in operation.
It joins existing production in Ulsan, South Korea, and Xian, China. According to Samsung SDI, the decision to reuse the Goed facility isn't just down to sensible recycling, either. In fact, it argues, it's perfectly placed to capitalize on a growing market.
Europe, the company points out, is leading the global EV drive, courtesy of environmentally-focused policies that are encouraging more hybrid and plug-in electric vehicles. That has boosted battery demand significantly, and Samsung SDI is counting on it making sense to build those batteries nearer to where the cars themselves are being made and subsequently sold.
EVs are expected to be a growing proportion of Samsung SDI's business in the years ahead. The company is already responsible for producing small-sized lithium-ion batteries used by Samsung Electronics and others for smartphones and tablets, though the same technology also crops up in electric bikes, rechargeable vacuums, and cordless power tools. At the same time, its ESS – or Energy Storage System – division is pushing batteries for domestic and commercial power backup.
Indeed, Samsung SDI recently showed off its new ESS for household use, which the company envisages being paired, Tesla PowerWall-style, with solar panels. The technology is modular, combining 4.8 kWh battery modules into units of different size. A fully-packed unit could have 188 kWh courtesy of 39 modules, though that would probably be overkill for an individual home. In Europe, Samsung SDI says, the typical home needs 10 kWh each day.
Of course, Samsung isn't the only company looking to battery production to earn a spot inside the cars and homes of tomorrow. Earlier this month, Tesla announced that its power cell, module, and battery pack equipment installation was already underway at its Gigafactory 1 facility, part of a $553m investment in Q1 2017 into paving the way for the Model 3 and the company's upcoming solar roof tiles.