Tesla opens up solar roof pre-orders today [UPDATE]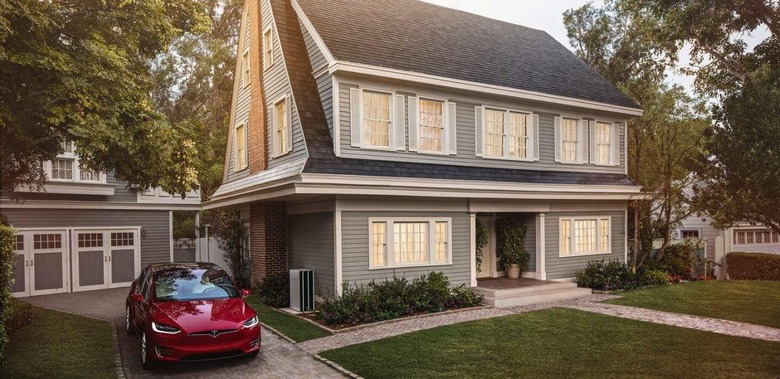 After revealing its solar roof to the world back in October, Tesla is now ready to open the flood gates. In the wee small hours of this morning, Elon Musk said that Tesla will be opening up pre-orders for its solar roof this afternoon. More information followed later, with Musk giving us an idea of just what to expect when pre-orders actually become available.
In a follow up tweet, Musk said that solar roofs will start going out to customers in the US later this year. "Solar roof can be ordered for almost any country," Musk said, and though he didn't delve too far into specifics, he did confirm that solar roofs will be available to those in Australia and the UK in replies to other users. When it comes to countries outside the US, Musk says that deployment will begin next year.
Tesla's solar roof will come in four different styles: smooth, textured, slate, and Tuscan. Unfortunately, not all of these styles will be available at launch. In a reply to yet another user, Musk said that only black smooth glass and textured will go up for pre-order today, while orders will open up for the slate and Tuscan styles in about six months.
Also unknown is whether or not Tesla will begin offering Powerwall batteries in more countries with the launch of its solar roof. At the moment, Powerwall can be ordered in about 35 countries around the world, which implies that there will be some countries getting the solar roof but not Powerwall. Tesla clearly considers Powerwall and its solar roof to be complementary technologies, so that may change when solar roof pre-orders open up later today.
At the time of this writing, Tesla's website still prompts visitors to sign up for updates on solar roof. While that means pre-orders aren't live yet, they should be launching shortly. We'll keep an eye on things and update this post when Tesla begins accepting orders, so stay tuned.
Update: As promised, Tesla's solar roof is now available for order through the company's website. The order page asks you to fill out a form with your address along with the square footage and number of stories in your home and then provides an estimate on how much the whole package will cost. You can also order Powerwall batteries to go along with your solar roof package.
While the textured and smooth styles are up for grabs, we may have a little longer to wait for the other two than initially expected. Tesla's website now says that the Tuscan and slate styles will be arriving in 2018, a little longer than Musk's stated six month timeline. In any case, if you've been chomping at the bit to order a solar roof for your home, now's your chance.
SOURCE: Elon Musk