Samsung does more viral marketing in Times Square for Galaxy S IV launch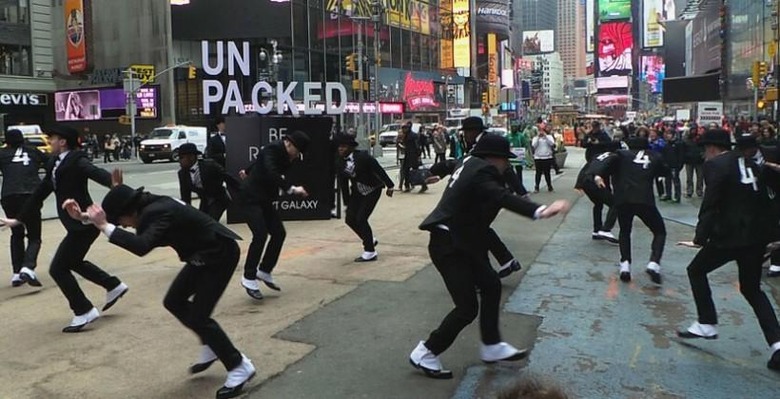 We already know Samsung is going to reveal its next flagship device in New York City, and the company even tweeted last month to join them in Times Square for the launch of the new device. Two days before the big day, Samsung is continuing its viral marketing streak and getting people pumped for the launch of the new phone.
Samsung Mobile tweeted a photo today, but it's not a teaser for the Galaxy S IV, but rather a picture of Samsung's dance crew in action. The team of dancers are in Times Square promoting the launch of the new device, and are sporting suit jackets with the number "4" on the back, along with skin-tight pants and ugly white shoes.
Along with the tweet, Samsung tells us to "be ready 4 #TheNextGalaxy," which only makes us aggravated even more, since we've already been ready for a while now. Either way, come March 14, we'll see what Samsung unpacks. We've already been treated with a wealth of rumors, and if most of them turn out to be true, then we already have a good idea of what to expect.
It's already said that the Galaxy S IV will come with eye-tracking technology in the form of "Smart Scroll" and "Smart Pause," where the phone will automatically scroll up and down a page and will also pause a video if your eyes wander off the screen. The phone is also said to come in black and white flavors with up to 64GB of storage.
[via Android Community]