Samsung To Add "Smart Scroll" And "Smart Pause" In Upcoming Jelly Bean Update

We've talked about some of the rumored features coming to the Galaxy S IV in the past, including "Eye Scroll" and "Eye Pause," two features that track your eyes in order to automatically scroll web pages or pause video, respectively. However, in a couple of leaked photos from an Android 4.2.1 update for the Galaxy S III, it looks like the feature will be coming to Samsung's current flagship device under different names.
SamMobile ended up getting a few leaked screenshots from the update, and the "Eye Scroll" and "Eye Pause" features seem to be renamed to "Smart Scroll" and Smart Pause," respectively. The screenshots were initially believed to have been from the Galaxy S IV, but SamMobile now says that they were taken from a Galaxy S III running the Android 4.2.1 update, which means that Smart Scroll and Pause features could come to GSIII at some point.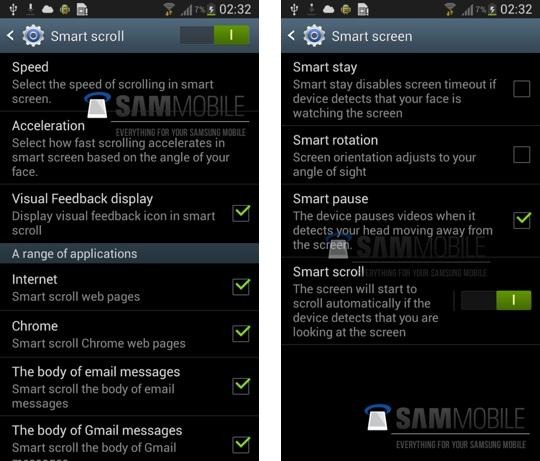 If you're not familiar with these two new features, Smart Scroll essentially tracks your eye movement, and will automatically scroll up or down on a web page depending on if the camera notices your eyes reaching the top or bottom of the screen. Smart Pause also tracks your eyes, but when watching a video, the phone will automatically pause it when it notices your eyes gazing off of the screen.
Obviously, we hope to learn more about these features on March 14, when Samsung will be holding an event to hopefully announce the Galaxy S IV, or so that's what we're believing to be the main focal point at the show. Hopefully we hear more about Galaxy S III compatibility with some of these new features, which should definitely give long-time GSIII a boost.
[via Android Community]