Samsung Delivers 3D TV Glasses to the Masses

If you'll remember back in April, Samsung let the world know about a little deal they'd be running in which with every purchase of one of their LED or plasma 3D HDTVs, you'd get two pairs of Active 3D glasses for free. That time has come, ladies and gentlemen, here come the glasses. For everyone who purchased a 2011 Samsung 3D TV from an authorized Samsung retailer between April 24th 2011 and June 25th 2011, it's time for you to grab your two free sets o' glasses.
This offer of course only works if you've not already gotten a couple pairs of glasses from the retailer via this promotion or a 3D Starter Kit promotion – for more information on how you can get your glasses, head on over to the site for collecting: www.samsung.com/us/3Dglasses. If you're unaware of the total excellence that is to be had in the televisions this offer works with, read on. Furthermore, there are several pairs of glasses that you'll be able to purchase if you want more than two sets. Ranging from $50 to $150 depending on excellence, here they are:
Model Number / Description / Suggested Advertised Price
SSG-3100GB Battery-operated 3D Active glasses $49.99
SSG-3300CR Compact Size Rechargeable 3D Active glasses $129.99
SSG-3300GR Rechargeable 3D Active glasses $129.99
SSG-3700CR Ultra-light Rechargeable 3D Active glasses $149.99
Now on to the review of the biggest most awesome 3D television ever, the Samsung UN55D8000 55-Inch 1080p 240Hz 3D LED Smart TV. Look at its massiveness: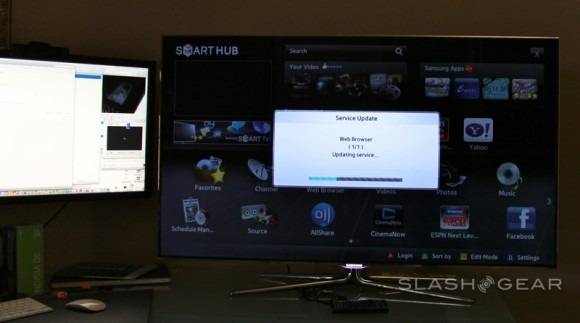 We've got a full review of this monster back a couple weeks ago for your full consumption. Meanwhile, check out the following promotional video we did with Samsung to show off their Smart TV technology and again the Samsung D8000 55" 3D Smart TV. So huge!
SAMSUNG DELIVERS ON 3D GLASSES PROMOTION

Samsung to provide 3D glasses directly to consumers who

purchased a 2011 3D TV after April 24, 2011, and who have not yet received glasses

RIDGEFIELD PARK, N.J., May 19, 2011 – Samsung Electronics America, Inc., a market leader and award-winning innovator in consumer electronics, today is announcing the launch of a new site which will allow the company to directly fulfill its previously announced free 3D glasses promotion, which offered two pairs of 3D glasses with all consumer purchases of 2011 model Samsung 3D TVs purchased during the promotion period.

Samsung values its customers and is committed to delivering a great consumer experience. For those consumers who purchase a 2011 Samsung 3D TV from an authorized Samsung retailer between April 24, 2011 and June 25, 2011, and do not otherwise receive 3D glasses from that retailer (either as part of the 3D glasses promotion or as part of a 3D Starter Kit provided by the retailer with select TV models), Samsung will provide two pairs of 2011 3D battery glasses directly to the consumer.

The "two free glasses" promotion will end June 25, 2011. Details for a new 3D glasses promotion will be announced prior to June 26th.

To make a claim, eligible customers should visit www.samsung.com/us/3Dglasses. All claims must be submitted within 90 days of purchase and must include proof of purchase. See site for additional rules and details.

Samsung also has lowered prices on its complete line of glasses as of May 1.Revised pricing follows (see above)

Samsung's 3D Active technology delivers a no-compromise 3D experience. Unlike other approaches to 3D, Active 3D Technology delivers up to double the resolution for an immersive, Full HD image (1080p picture for each eye), a wider viewing angle and no black lines interfering with the picture.

For more information on Samsung's full line of 3D glasses and TV accessories, please visit http://www.samsungusanews.com/.