Samsung doubles 3D glasses bundle; outs sub-$50 active specs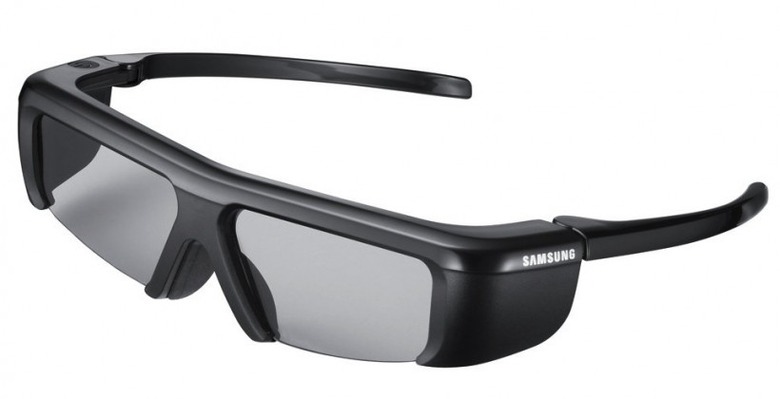 We may receive a commission on purchases made from links.
One of the drawbacks of active-shutter glasses we mentioned in our SlashGear 101: What is 3D TV? feature is the expense; outfitting an entire family to watch 3D content can quickly get expensive. Samsung is doing something to address that, with the news that as of April 24 it will be throwing in not one but two pairs of active 3D glasses with its range of LED or plasma 3D HDTVs. Meanwhile, if you still need a third or fourth set, there are price cuts on the horizon.
The Samsung 2011 3D active glasses (SSG-3100GB) will be priced at under $50. Samsung reckons a family of four can be watching content for under $100, though that only holds true as long as you're also buying a new 3D TV, of course, which is a whole lot more than $100.
The SSG-3100GB glasses have a non-rechargeable battery which lasts for up to 70hrs (and can be replaced). If you'd rather some of Samsung's more advanced specs, the company is promising that they'll be "price-adjusted" soon too, presumably in a downward direction.
Press Release:
SAMSUNG MAKES HOME 3D EXPERIENCE MORE AFFORDABLE THAN EVER

All Samsung 3D TVs to Provide Two Pairs of 3D Active Glasses; Extra Pairs to cost under $50.

RIDGEFIELD PARK, N.J., April 6, 2011 – Samsung Electronics America Inc., a market leader and award-winning innovator in consumer electronics, today announced new promotions that will make the 3D experience in the home more affordable than ever for consumers. Beginning April 24, Samsung will provide two pairs of 3D active glasses for its entire 3D TV lineup at no additional cost with the purchase of any Samsung 3D LED TV or 3D Plasma TV.

Also beginning May 1, 2011, Samsung's 2011 3D active glasses (SSG-3100GB) will be available at retail for under $50.

With the new promotions and price reductions, 3D TV customers can now outfit a family of four with 3D active glasses for under $100. The SSG-3100GB model does not require charging and will provide up to 70 hours of use from the included replaceable battery.

Customers purchasing the D7000 and above 3D LED TVs or the D6500 and above 3D Plasma TVs will continue to receive Samsung's 3D Starter Kit (SSG-3100M). The kit includes two pairs of 3D active glasses, promotional versions of DreamWorks Animation SKG Inc.'s (Nasdaq: DWA) complete Shrek collection on 3D Blu-ray and a voucher for Megamind 3D on Blu-ray. Customers already receiving this starter kit with a step-up TV model will not be eligible for the new promotion.

Samsung's 3D Active technology delivers a no-compromise 3D experience. Unlike other approaches to 3D, Active 3D Technology delivers 2x the resolution for an immersive, Full HD image (1080p picture for each eye), a wider viewing angle and no black lines interfering with the picture.

Samsung's 2011 3D active glasses deliver superior image quality and vivid, realistic 3D imagery. Samsung's complete line of 3D glasses (including the stylish and incredibly light glasses designed by Silhouette) will also soon be price-adjusted.

For more information on Samsung's full line of 3D glasses and TV accessories, please visit http://www.samsungusanews.com/.