Samsung debuts AI-powered washing machine at IFA 2017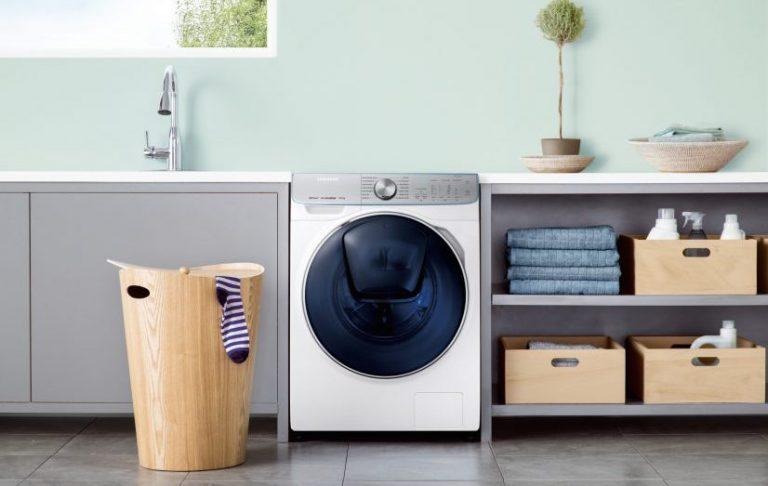 If the appearance of voice assistant Alexa on new devices wasn't your thing, and the slew of new gadgets and phones didn't get your attention, then the big trend of IFA 2017 was which products can successfully integrate artificial intelligence. This year Samsung decided to go with the washing machine, moving beyond their previous WiFi-enabled home appliances, and introducing the WW8800M with AI and QuickDrive technology.
As the main big feature of the washer, Samsung says QuickDrive enables to reduce the average length of time for a full load of laundry from 70 minutes to 39. Even with this reduction of time, there's no loss in washing performance, energy efficiency, or fabric care. It's not really made clear how it does this, but you can thank AI for those extra 31 minutes.
Of course, it would be an advanced home appliance in this day and age unless it connected with a smartphone app. Samsung's new Q-rator app lets users to take advantage of features called Laundry Planner, Laundry Recipe, and HomeCare Wizard.
MORE: SlashGear's best of IFA 2017
Planner is for setting things like scheduled finish times, while Recipe uses AI to recommend wash cycles based on things like the color and fabric of garments, or how dirty they are. HomeCare Wizard offers remote monitoring for the washer and can notify users of problems and provide troubleshooting support.
The WW8800M also touts things like reduced noise and energy consumption when doing laundry, but it seems the main features to benefit from AI are the time-saving aspect and improved care for clothes. Samsung hasn't said anything about the washer's price or availability, so we'll have and see what the real cost of AI laundry is.
SOURCE Samsung