Lenovo Home Assistant adds Alexa to Tab 4 smart speaker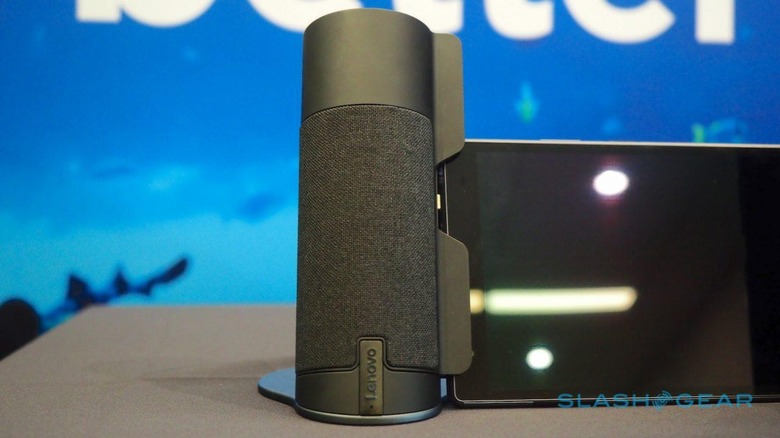 Lenovo has a new use for the Tab 4 Android tablet on your coffee table, with the Lenovo Home Assistant turning it into an Alexa-powered smart speaker. Unveiled at IFA 2017 today, the new speaker accessory acts as a docking station for the Tab 4 8, Tab 4 8 Plus, Tab 4 10, and Tab 4 10 Plus that Lenovo launched a few months back at Mobile World Congress.
The thinking is straightforward. Combine an app with Amazon's Alexa powering voice-controlled functionality with a docking station possessing a speaker and microphone array, and you have the perfect side-job for when your tablet isn't in use. The Tab 4 slots into place easily when you've lined up the charging port.
Since the USB-C port is in a different place on the two sizes of the Tab 4, you can move the USB-C plug on the Home Assistant to suit. On the top there's a microphone mute button, which disables the two far-field microphones that Lenovo says have a range of around 3m (over 9 feet). The rest of the cylindrical body contains the 3W speakers.
Unfortunately, I didn't have the chance to test how well those dual microphones worked, since Lenovo's units were nonfunctional. What I could try out was Alexa on the tablets themselves, which – when undocked – you trigger by tapping the microphone button on-screen, rather than using the "Alexa..." Speech command. That, Lenovo tells me, is by intent: it didn't want people using the tablets to be jolted out of whatever they were doing by someone calling out the trigger word.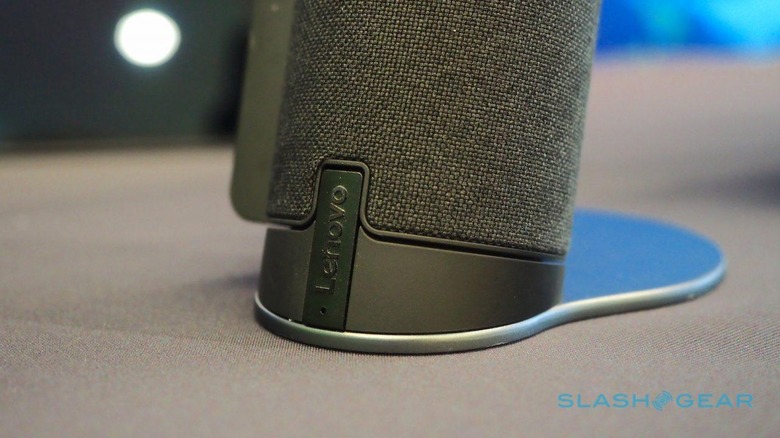 Although Amazon now has its own touchscreen Echo, the Echo Show, Lenovo actually developed its own interface. You don't get the full range of Alexa features, though it's a more interactive UI in many ways than Amazon's own. Music, for instance, offers more control over playlists than you get on the Echo Show.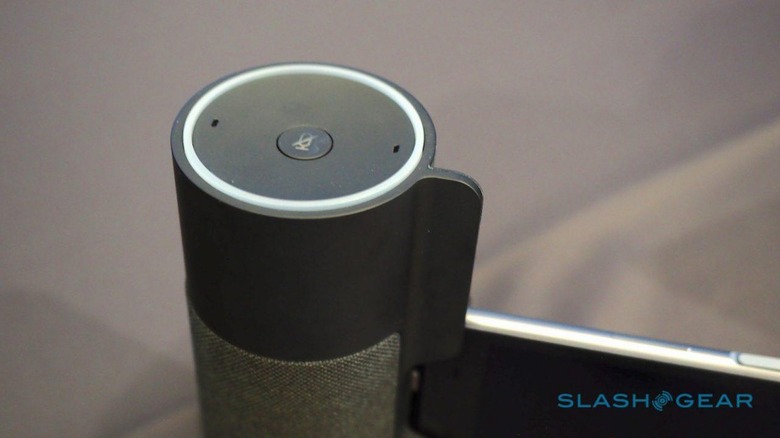 The UI loads up automatically when you dock the Tab 4 into the Home Assistant, and obviously the tablet charges at the same time, too. At $69.99, the Lenovo Home Assistant falls into the gap between Amazon's original Echo and the smaller, cheaper Echo Dot. That, though, assumes you already have the tablet: there's no standalone Alexa support if the Tab 4 isn't docked.
NOW READ: Amazon Echo Show Review
If you're not also in the market for a tablet, it's a tougher sell, though if you demand a touchscreen then the Home Assistant combination of Tab 4 and speaker is undoubtedly more flexible than an Echo Show. It'll go on sale in October this year.