Samsung Behold (aka T919 or Tocco) revealed by T-Mobile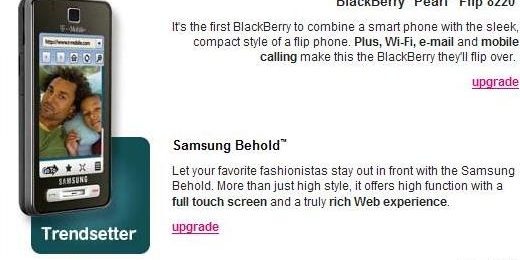 Samsung's Behold cellphone – aka the T919 or the Tocco – is yet to be officially announced on T-Mobile, but someone at the carrier doesn't seem to have realized that.  The touchscreen handset – which has a 5-megapixel camera and 3G connectivity – showed up on the My T-Mobile site [login required], and while there's still no release date it's presumably coming soon.
The Behold has assisted GPS, Bluetooth, video recording and can be used in horizontal orientation for messaging.  WiFi, though, is absent and the device uses Samsung's own OS rather than Windows Mobile; for many that will be a plus, however, not a minus!
News that the Behold was coming to T-Mobile USA first broke back in August.  The Tocco is already available in Europe; the exact differences between it and this T-Mobile version are unknown.
[via BGR]