Samsung F480 Tocco: Video Unboxing & First Impressions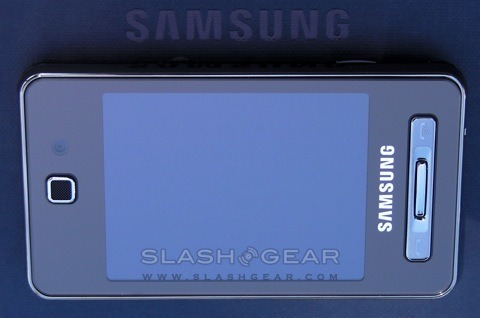 After a Memorial Day delay, Samsung's F480 Tocco has been delivered and we're ready to show you the SlashGear unboxing video and share our first-impressions of the touchscreen handset.  It's one of the more unusual unboxings; this is the first time I've had to "uncrate" a gadget!  The Tocco is an important handset for Samsung – they're spending big money on its European launch – and despite its compact dimensions they've packed in the functionality: HSDPA 3G, a 5-megapixel camera with autofocus and the latest incarnation of the TouchWiz GUI.  Read on to see whether the F480 has got what it takes to impress.

Once through the unusual outer packaging (which I don't believe will be standard!), the Tocco's box is discrete and elegant.  It's a theme that's carried over to the handset itself; it feels sturdy and well-built, and Samsung have obviously put some thought into how the F480 sits in the hand.  I'm particularly impressed by the two back-covers, one plain brushed metal and the other with an attached flip screen protector, complete with cut-outs for the earpiece and microphone.  It's a neat solution to both guarding from scratches and face-smears when in use, but I do wonder whether it could be a little thinner.  At 98.4 x 55 x 11.6mm and 106g, the Tocco is a seriously compact cellphone.  With the standard back-plate it'll even fit inside my wallet/business card holder.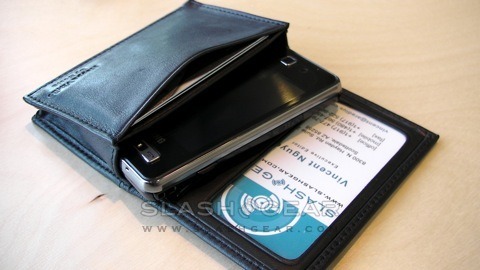 We'll bring you a full review of the TouchWiz GUI once we've had a chance to put it through its paces, but initial impressions are that it's a serious improvement over Samsung's Croix system as debuted on the F700.  Responsive and functional, it's coupled with an excellent 2.8-inch QVGA capacitive touchscreen that's surprisingly clear both indoors and outside in direct sunlight.  Slick little details, such as the volume rocker doubling as a scroller for menu lists, and different scroll speeds depending on whether you touch the left or right side of the screen, make the minimal hardware buttons a non-issue.  The Tocco has just a menu button, send/end call keys, a camera shortcut & shutter button and the volume control, together with a hold switch on top that locks the controls.
Internal memory is 223MB, expandable via MicroSD (with up to 8GB cards supported), and the USB 2.0 connection can be set to show up as a Mass Storage Device on your PC.  The media player is content with a full brace of audio (MP3, AMR-NB, I-Melody, SMAF, XMF, MIDI, SP MIDI, AAC, AAC+, Enhanced AAC+ & WMA) and video formats (MPEG4, H.263, H.264 & WMV), and there's an FM radio for when you tire of your own tunes.  The Tocco's battery is a 1,000mAh pack which Samsung suggest is good for up to 3hrs talktime or up to 250hrs standby on a 3G network.  It's too early for us to say how accurate that is.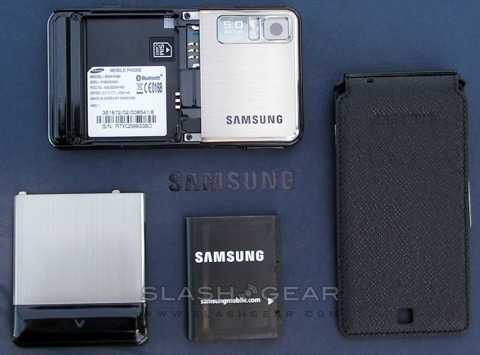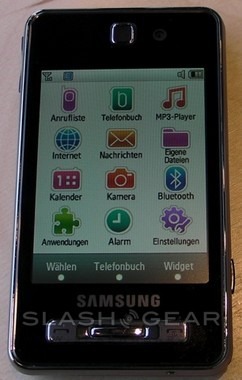 What has been perhaps most surprising is how well the Tocco's haptic feedback works.  Samsung are now calling it "differentiated tactile technology" and describe it as a "tangible and pleasing feedback sensation"; for once, it actually adds something to the usability of the cellphone rather than merely being a vibrating annoyance.  My wife, Lynnsie, is an avid texter – she turned down the offer of an iPhone because it lacks a hardware keyboard – but having spent a few minutes with the Tocco she's asked if she can be the one to review it!  Lynnsie too commented on how well-built the F480 is and on the sleekness of the design; if Samsung are, as has been suggested, targeting women with the cellphone, then they seem to be succeeding.
Saying that, it'd be a shame to leave the Tocco to the ladies.  The camera is quick to load and, while it's not going to replace your DSLR, works very well in basic mode.  It starts up quickly, auto-focus is similarly fast, and there's minimal lag between pressing the button and the picture being taken.  Here, the volume rocker controls the 4x digital zoom.  I'm yet to go through the more advanced functionality, such as the face recognition, or test out how the LED flash manages, so we'll cover that in our full review.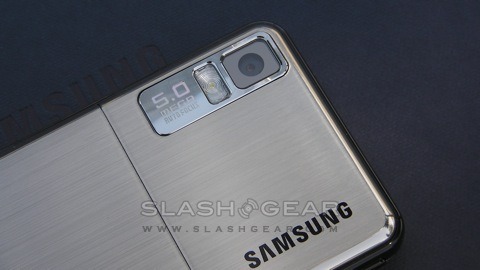 Disappointments, at least from this early perspective, are few.  Since this is a European handset, I didn't expect the Tocco to play nicely with AT&T's 3G network, and sure enough it's limited to EDGE data.  That also means video calls, using the front-mounted camera, aren't possible.  In-call volume is on the quiet side, and I found it quite difficult to hear people when I was in a noisy environment.  Under normal conditions it's sufficient, however, and when paired with Aliph's latest Jawbone 2 Bluetooth headset performance was fine.

So far, then, I'm impressed.  We've deliberately held back on comparing the Tocco to rival cellphones until we've had a chance to spend more time with it; check back for our full review to see how it holds up to the competition.  There are plenty more photos of the handset - click here for the first-impression Tocco gallery.  The Samsung Tocco F480 unboxing video is below; remember, you can click over to YouTube and choose "watch in high quality" to see a higher-resolution version of the footage.