Samsung Behold 2 Passes Through Bluetooth SIG With Interesting Wording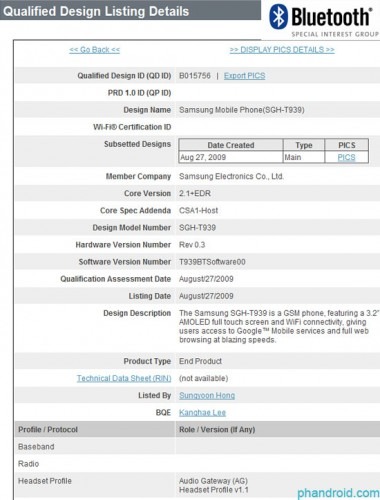 We get it that
at this point, and we're all for
seeing the expanding OS hitting more phones in the States
, but there's a point where jumping the gun might not be that beneficial. Android is a platform that needs to hit popular, or even eye-catching phones at this point, and shy away from ambiguous, run-of-the-mill devices. And, unless you fell head over heels for the original Behold when it launched on T-Mobile, then we're tagging "run-of-the-mill" on its sequel. But then again, does running Android on a device make it stand out, just by default?
We'll let you be the judge of that. We'll go ahead and focus on the most important part: "The Samsung SGH-T939 is a GSM phone, featuring a 3.2-inch AMOLED full touchscreen and WiFi connectivity, giving users access to Google Mobile services and full web browsing at blazing speeds."
It's the Google Mobile services that have the rumors going, but let's break it down. The Behold was a decent phone that packed TouchWiz, Samsung proprietary OS, and really nothing else of note. Samsung has a huge crush right now on AMOLED displays, as it even appears on their Android i7500 (Galaxy) over in Europe. The screen size (3.2") on the Behold 2 seems to be a perfect fit for another Android device. But, ironically enough, it's the "access to Google Mobile services" that seem to be the most off-setting. A quick search (via Google, no less) of "Google Mobile services" brings up the standard fair: Google Mail, Google Maps, Google Search, and YouTube. This could go either way, as having "access" to them could mean just being able to use the browser to view them. Or, as it would on an Android device, have the applications right on the device.
The original Behold found its way to the T-Mobile USA network, and there's no reason to think the sequel won't as well. The big questions, like release date and price, will be coming later. But, is this the first time Android won't be issued on a hugely
device? Or are we going to be surprised by the upcoming phone from Samsung?
[
Android Central]