HTC Hero Goes the Official Route Via the Sprint Network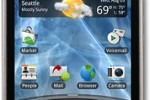 We love it when rumors start to get rounded up. Why? Because that means we no longer have to speculate, and we can finally remove our guessing caps. Besides, it's a lot better to hear the information from the horse's mouth anyway, isn't it? Because, like in this case, we get some tangible pieces of information that actually mean something. Like pricing, availability, and some extra tidbits that could even surprise the masses.
The rumor mill had been going pretty strong regarding the launch of the HTC Hero here in the States, but that's to be expected, especially if you've read our review. And after the images of the latest framework popped up from a Chinese website, it looked like an official announcement was imminent. And everyone was right. Sprint has gone ahead and released an official statement regarding the Hero, spilling out the details regarding the network, the phone's features, and its pricing. Off the top, we've got the phone at $179.99 after a $50 instant savings, and a $100 mail-in rebate.
However, there is a pretty big surprise here. The press release says that the HTC Hero is "with Google", but it is also runninng the Hero's Sense UI. We've seen all sorts of reports that the Sense UI wouldn't be coming to Google-branded devices, so thsi is a bit out of left field. It could mean a lot of things: like the phone may not actually be Google-branded, but that it does come stock with Google features, like Google Maps and Google Search, so someone interpreted it wrong. Or, that the phone is actually branded with the Google label, and therefore Google has no rules regarding anything. We'll see the results here pretty soon, as more pictures are sure to start flooding out, with the phone's release date set for October 11th.
OVERLAND PARK, Kan., and BELLEVUE, Wash. – Sept. 3, 2009 – Sprint (NYSE: S) and HTC Corporation today announced the upcoming arrival of the first wireless device offering the combination of the open and innovative Android platform with the high-speed connectivity of America's most dependable 3G network1 (EVDO Rev. A), HTC Hero™ with Google™. Offering a rich mobile Internet experience, the much-anticipated HTC Hero offers synchronization for built-in Google mobile services, including Google Search™, Google Maps™, Gmail™, and YouTube™ as well as access to thousands of applications built on the Android platform.
Beginning on Oct. 11, customers will be able to purchase HTC Hero through all Sprint retail channels including Web (www.sprint.com), Telesales (1-800-SPRINT1) and our national retail partner Best Buy for $179.99 (excluding taxes) after a $50 instant savings and a $100 mail-in rebate with a two-year service agreement. Pre-registration begins today at www.sprint.com/hero.
Access to countless applications
As a charter member of the Open Handset Alliance™, Sprint is actively engaged with the Android community. Through Android Market™, HTC Hero users have access to more than 8,000 useful applications, widgets and fun games to download and install on their phone, with many more to come. Thousands of developers are working to introduce new Android applications every day.
Intuitive, user-focused and fun
HTC Hero is the first U.S. device to feature HTC Sense, an intuitive experience that was built with a guiding philosophy to put people at the center and allows the device to be completely customized to the wants and needs of the user. The device's seven-panel wide home screen can be populated with customizable widgets that bring information to the surface.
HTC Hero users can easily create and switch between Scenes to reflect different moments or roles in their lives, such as work, social, travel and play. For example, a work Scene can be easily set up to include stock updates, work email and calendar, a play Scene could have music, weather, and a Twitter feed or a travel Scene could offer instant access to the local time, weather and maps.
Industry-leading features
HTC Hero features an integrated 5.0 MP camera and camcorder. It also offers easy access to personal and business e-mail, instant messaging and text messaging through POP, IMAP, and Exchange Active Sync accounts.
HTC Hero is a full-featured smartphone with Wi-Fi capability, a 3.2-inch capacitive touchscreen with pinch-to-zoom capability and a fingerprint resistant coating, integrated GPS navigation, and trackball navigation. Additional features include:
Stereo Bluetooth® 2.0 Wireless technology
accelerometer, light sensor and home screen widgets for improved usability
multimedia capable with microSD slot (32GB capable, 2GB included)
Sprint TV® with live and on-demand programming
NFL Mobile Live and NASCAR Sprint Cup MobileSM
easy access to social networking sites, including Facebook®, Flickr® and Twitter
visual voice mail for quick and easy access to specific voice mail messages
HTC Hero requires activation on a pricing plan offering unlimited data. Sprint's Simply EverythingSM plan provides unlimited nationwide calling, texting, e-mail, social networking, Web browsing, GPS navigation, Sprint TV, streaming music, NFL Mobile Live, NASCAR Sprint Cup Mobile and much more for only $99.99 per month. That's a savings of $1,200 over two years vs. a comparable AT&T iPhone® plan2. Sprint Everything Data plans with unlimited messaging and data start at just $69.99 for 450 minutes with unlimited night and weekend calling starting at 7 p.m. (All price plans exclude Sprint surcharges and taxes.)