HTC Desire Has a Desire To Be On Verizon with Google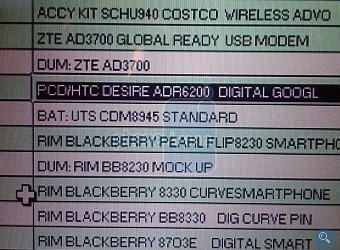 Android is beginning to pop up everywhere, and while we are eagerly awaiting Motorola's event coming up in about nine days now, we can't forget about the manufacturer who adopted Google to begin with: HTC. Now yes, they've just released the Hero, and are even slipping the device in a brand new suit onto the Sprint network (...still rumor...), but it looks like they've got another trick up their sleeve. And no, it's not a street car.
A new screenshot, just received over at PhoneArena, has a Verizon in-store supply list showing an "HTC Desire 6200" among the plethora of BlackBerries. No, we've got nothing for pictures, or even anything on the information front other than the name, that it's a phone packed with Google, and that it's coming out for Verizon. Unfortunately, because it is a "with Google" device, we won't be seeing any of that flashy SenseUI gracing the Hero, but who can pass up Android?
We know that Verizon has Android phones coming, but until recently we thought it was going to be mostly from Motorola leading the Big Red's attack on the green bot. It's good to see HTC isn't letting up. But now, the big question remains: what does it look like?
[via PhoneArena]