Samsung ATIV Book 6 Review
Samsung has a bevy of notebooks that offer different features for different users, including convertible laptops, and even models that can dual boot Windows 8 and Android. However, some users just need a traditional laptop that comes with performances and a clean look without any of the extra bells and whistles. The ATIV Book 6 is a good option in this category. It sports a 15-inch touchscreen display with a full-size keyboard, and enough processing power to get through most tasks. Let's see how it fares.
Hardware & Design
The ATIV Book 6 comes with an Intel Core i7 3635QM quad-core processor clocked at 2.4GHz paired up with 8GB of RAM. The processor keeps things humming along nicely, and while it's not the fastest chip out there, most users will be happy with its performance (more on that later). The laptop also has a 1TB hard drive, which should be more than enough storage to stash all your movies, music, and photos on without a problem.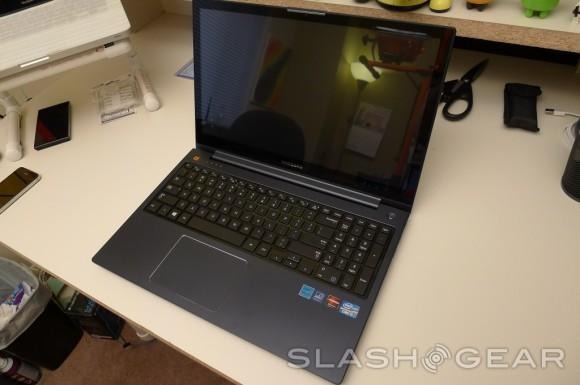 The ATIV Book 6's 15-inch touchscreen touts an impressive 1920x1080 resolution, which looks really stunning. Text looks incredibly crisp, and high-resolution images appeared sharp and vibrant. The display was one of my favorite aspects of the laptop, and it definitely doesn't hurt that it supports multitouch either.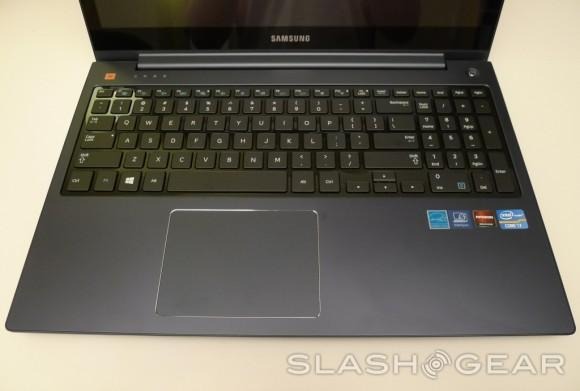 The notebook also comes with a full-size chiclet-style keyboard, complete with a number pad on the right side for the number-crunching folks at the office. I really liked the feel of the keyboard overall, but I felt that there wasn't enough travel to the keys to type effectively. Granted, it's rather quick to get used to, but I haven't found a laptop yet that has the perfect amount of key travel that I like than on the MacBook Pro.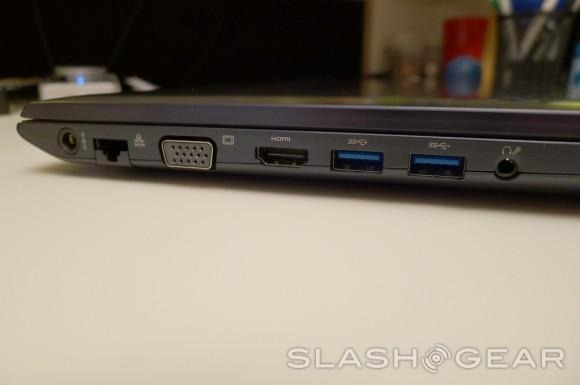 The ATIV Book 6 also has a really large trackpad, which is a huge plus, but it's made of plastic, so your fingers don't glide as easily like on a glass trackpad. That seems to be a huge problem for Windows laptops, as very few laptops come with decent glass trackpads, but for such a high-end laptop like this, we were expecting something a bit more on the premium side when it came to the trackpad.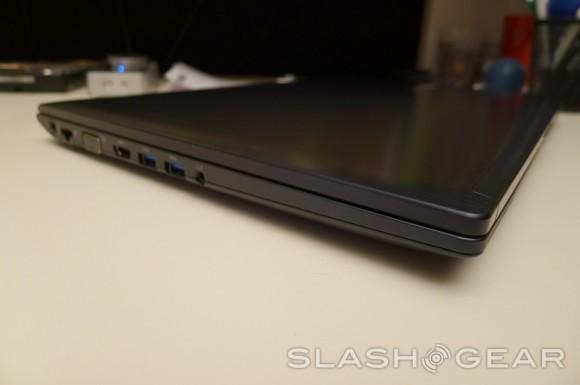 As for ports and connectivity options, the ATIV Book 6 comes with its fair share. On the left side you're treated with ethernet, VGA, HDMI, two USB 3.0 ports, and a combo headphone/microphone jack. On the right side, there's an SD card slot, two more USB ports (USB 2.0 this time), and a laptop lock. As you'll probably notice, there's no optical drive, which was a bit surprising considering that the Book 6 is quite the large notebook.
[sgbenchmark id=213 show=system]
Overall, while the ATIV Book 6 is just a traditional mid-size 15-inch laptop, it definitely had the look and feel of a larger 17-inch variant, sporting the large, beautiful widescreen display along with the full-size keyboard and large trackpad. It's certainly not the most portable laptop around, but we'd reckon that anyone buying it would certainly be prepared for a bit of bulkiness.
Software
The ATIV Book 6 runs a 64-bit version of Windows 8, so there's nothing that we haven't seen before. Obviously, the touchscreen allows users to navigate the metro-style user interface with ease, and the desktop mode gives power users a bit more flexibility, providing access to the file system and such.
Of course, as with most OEM options, you're treated with a slew of pre-installed applications (colloquially known as "bloatware"). This includes Samsung-specific apps like S Player, S Gallery, S Camera, and SideSync, which is an app that allows you to connect a Samsung Galaxy device directly to the laptop and do a number of different things, like transfer files and even control your smartphone with the keyboard and mouse.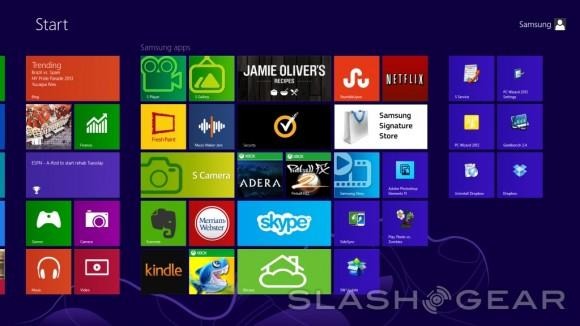 Other pre-installed apps include some useful options, including Netflix, Evernote, Kindle, and StumbleUpon. There's also Norton antivirus software, which doesn't cease to bug you every now and then to give the trial a go and pay for service down the line, but you can easily uninstall that you don't think you'll ever use.
Performance & Battery
Running the ATIV Book 6 through our trust benchmarking tool Geekbench, the laptop scored just over a 10,100, which is really impressive to say the least. It outperforms most of the recent laptops that we've reviewed, including the Acer Aspire R7, HP Spectre XT TouchSmart, Samsung's own Series 5 UltraTouch, and even Apple's Retina-equipped 13-inch MacBook Pro.
[sgbenchmark id=213 show=score]
Sadly, the ATIV Book 6 only sports Intel HD 4000 graphics, so most gamers will probably want to look elsewhere, but casual titles will be able to play without much problem. It's essentially just the Call of Dutys and the Battlefields that will have some trouble performing. However, the ATIV Book 6 is able to be upgraded to an AMD Radeon HD 8770M chip for a little extra cash.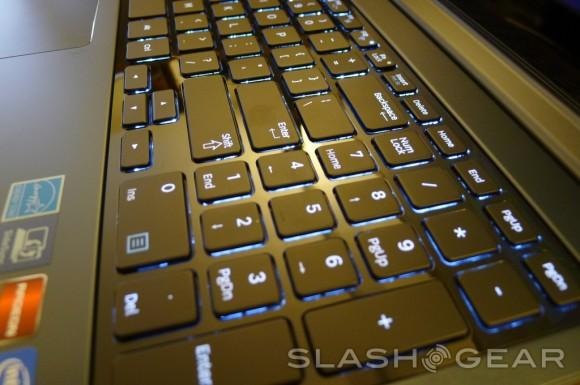 As for battery, it's a bit on the weak side, but wasn't horrible. Worst case scenario, you'll be able to get at least four hours before reaching warning levels. Having Netflix running on a near-constant basis with a 75% screen brightness lasted just over four hours until it reached 10%. Obviously, this is a bit on the extreme side, so casual use will give you a couple hours of extra battery life — six hours at the most during my testing.
Wrap-Up
From the face of it, the ATIV Book 6 is a pretty ordinary laptop, and while it has some unique features and a great-looking display, I don't think it has enough to really stand out from the huge horde of laptops currently on the market. Price-wise, you can grab it for around $1,100 (with the Radeon graphics chip), which is a pretty competitive price, especially with the power that it offers. Plus, the full-size keyboard, the large trackpad, and the crisp display offer a great user experience for those folks who consider form and function over hard internal specifications.