With the Samsung Series 5 UltraTouch you've got one of the companies most solid deliveries of an Ultrabook-level computer upgraded with Windows 8 and a full 10-point touch display. With this notebook you're going to be working with 3rd Gen Intel Core i5 processor power under the hood, a lovely 13.3 LED HD screen, and a market cost well under a thousand bucks. Sound like a value proposition you'll want to add to your already burgeoning Samsung device collection?
Hardware
This notebook, also known as model NP540U3C-A01US, is not the thinnest beast on the block, nor is it the lightest. But it's no monster, either. Instead what you're getting is a 12.4 x 8.6 x 0.6-inch notebook made from a mix of aluminum and plastic parts, certainly sturdy enough – and aesthetically pleasing enough on the outside – to be your daily driver in a public place. As an Ultrabook such as this will likely be used by you for doing work first and foremost, it's important to take a peek at the keyboard right out of the box.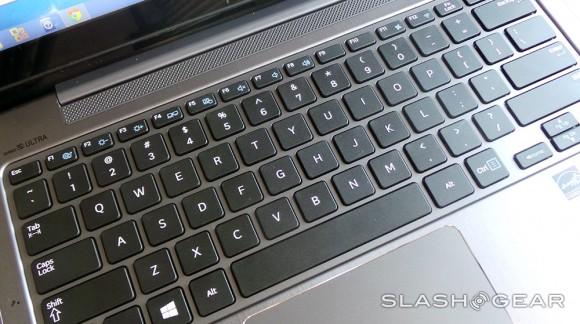 What you've got here is a top-class keyboard that's not unlike what we've seen from the generation of Samsung notebooks that've come out over the past year. If you're used to working with a MacBook, not a PC, you'll still feel rather at home with this layout and pressure sensitivity. The keyboard features a real no-nonsense set of keys as well, so no worries pecking away at the bits you're not wanting to hit.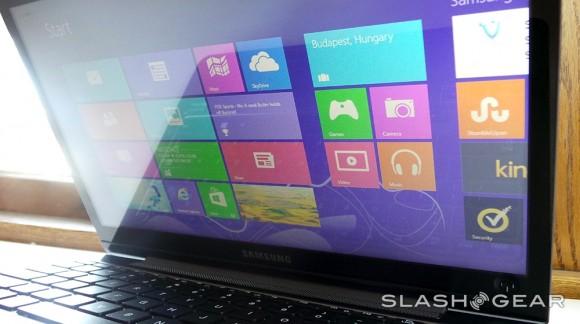 The display is certainly nice looking, and if you're not used to the ultra-high-definition eye-shattering screens that are also out there on the market today, you'll have a great time with the 1366 x 768 resolution here with LED HD technology and 10-finger touch. That means that if you've got an app that needs every single one of your fingers at once, you'll be able to do it here. Covering this display you've got Corning Gorilla Glass – resistant against scratches and damage like a pro. This display is also 300 nits bright, working with SuperBright Technology so you know you're backed up by a brand that means business.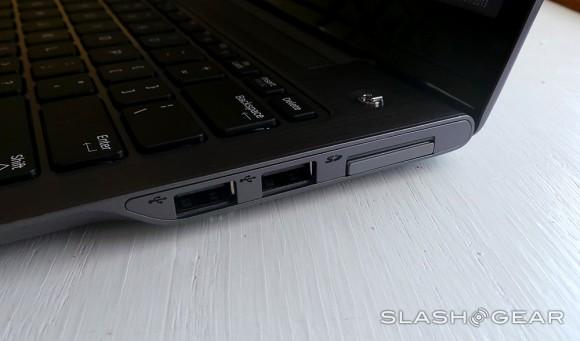 Inside you'll be working with 8GB of system memory, a hard drive of 128GB (SSD), and a find little web camera peeking up at you above the screen. You've also got Intel HD Graphics 4000, perfectly generous for your everyday movie watching, and you'll be connecting to the web either wirelessly with Intel WiDi and Intel Centrino Advanced-N 6235 802.11 a/b/g/n or wired with this machine's built-in ethernet port.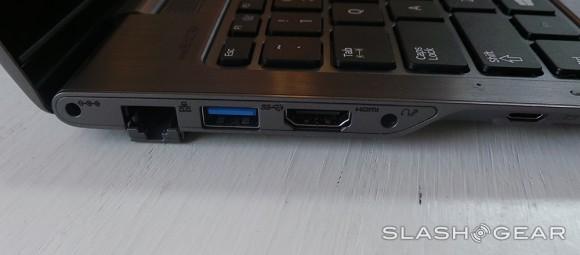 Next to your ethernet port (which pops open or closes down for a more compact experience, mind you), you'll see one USB 3.0 port, HDMI out, and your very own headphone/microphone jack. Lucky you! On the right you've got another two USB 2.0 ports and a multi-card reader (SD/SDHC/SDXC). Altogether you've got a really solid package, certainly one you can bring home to mother.
Hands-on
This device is only surprisingly heavy because I'm so very used to handling computers now that are lighter than they have any business being. When you're working with Ultrabooks and MacBook Airs and the like every single day of the week, having one like this UltraTouch will seem like a slight change. But as it is with most notebooks and such, the weight and the shape of this machine feels natural rather quickly.
The location of each of the ports feels quite natural, and though it does still feel a bit odd to be pulling open the ethernet port on the left hand side whenever it's needed, it's not been a burdon in any way. Toss this and the Samsung Galaxy Note 10.1 and the GALAXY S 4 in your pockets and backpack and you're set!
Software
Samsung is particularly proud of its collection of apps made specifically for Windows 8, including such winners as Quick Starter. With Quick Starter, you're able to grab your own toolbar and start button (otherwise willfully yanked from your life by Windows 8) so you'll have a more familiar user interface if you've never used Windows 8 before. You'll also have all kinds of awesome AllShare Play action going on – particularly awesome if you're a Samsung Galaxy S III or GALAXY S 4 or Galaxy Note user.
[sgbenchmark id=204 show=system]
With AllShare Play you'll be connecting with your mobile devices with ease, sharing your media from device to device in a personal mobile network instantly. This interface also works with Samsung Smart TVs and tablets as well as smartphones.
[sgbenchmark id=203 show=score]
Above and you'll also find some read-outs we've taken of the notebook. You'll see some additional details about what this Ultrabook is packing as well as some benchmark results from our standard test: Geekbench. Feel free to head back to our archive of reviewed devices to compare and contrast as well!
Battery Time
Off the wall connection we've found the Samsung Series 5 UltraTouch to be getting a little over 5 hours of battery life. That's without streaming video – if you're going to be doing heavy processing tasks, this may not be the workhorse for you. Instead you'll find this device best for daily work on-the-go without demanding a full 8-hour workday spread without power.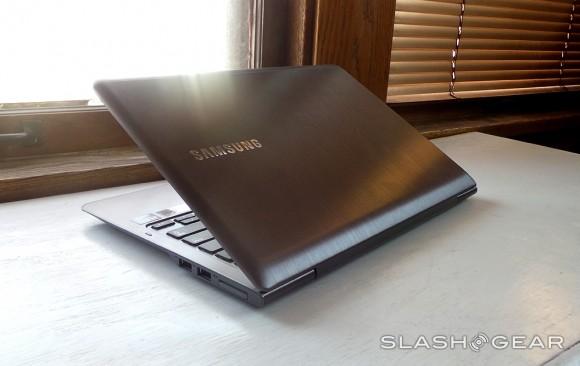 That said, battery life on this device isn't all that different from the rest of the Ultrabooks out there right now. You'll find a machine like the Lenovo IdeaPad Yoga 13 working with essentially the same amount of battery time where the newest era of MacBook Air units are some of the only mobile notebooks we've worked with that last longer in the field. Choose wisely!
Wrap-up
With the Samsung Series 5 UltraTouch you've got an Ultrabook that's ready to be your best buddy in college, your friendly office companion, or your coffee shop cohort. While the Samsung notebook line doesn't hold quite the "cool" factor their smartphones and tablets have earned over the past few years, they still connect in more ways than any other machine – particularly if you want to work with the oddity that is AllShare.
The model we've reviewed here will cost you a cool $859.99 USD and is available everywhere fine Ultrabooks are sold. We'd recommend, as always, heading out to your local notebook dealer to see how this unit feels before picking one up for yourself. Samsung has made a fabulous notebook here, and you're going to want to take it out for a test drive before you make the big jump.