Samsung Android Go phone leaks (and settles some arguments)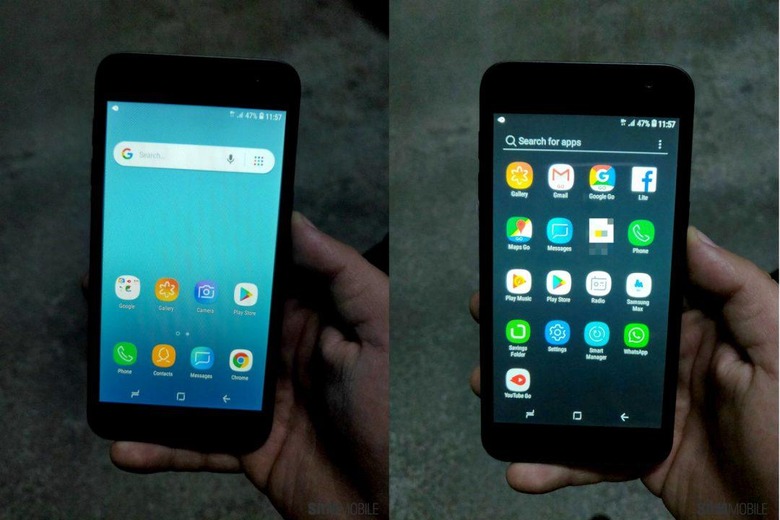 Samsung's first Android Go smartphone has been spotted in the wild, confirming that just because a handset runs Google's pared-back OS, that doesn't mean device-makers can't customize it. Android Go – otherwise known as Android Oreo Go Edition – is Google's vision of a platform for more affordable phones, running more frugal versions of apps.
So, there are "Go" versions of apps like Gmail, Google Maps, Files, and the Assistant. Each are designed to use less memory and be less system-intensive, though you do lose out on some functionality and graphical complexity along the way. However, the upside is that they should work smoothly even on humbler-spec devices.
Samsung has been rumored to be working on an Android Go handset of its own for some time now, and now the first images of the device in the wild have leaked. SamMobile shared photos of the phone – which may launch as the Samsung Galaxy J2 Core – and it confirms a few expectations. For a start, it finally puts to bed any suggestion that Samsung would leave off its own custom interface.
Google hasn't explicitly said either way whether Android Go phones can be customized. However, the company's webpage for the more simplistic OS certainly doesn't deny it. In Samsung's case, the iconography and other stylistic details are the same as we're used to from the company's other Android devices.
While that might come as a disappointment for anybody who was hoping for a pure Android experience, it probably won't impact how this particular phone performs. Beyond the apparent 8GB of onboard storage there's no detailed specifications. Previous leaks suggested Samsung would use a 1.4 GHz quad core Exynos 7570 processor and 1 GB of RAM.
Google has pitched Android Go as ideal for developing markets, where smartphones are less commonplace because they're typically disproportionately expensive. It's not clear at this stage how much Samsung might charge for its phone, though Alcatel announced an Android Go device of its own, the Alcatel 1, back in June. That has an $89 price tag and what look, on the face of it, to be similar specs to what we're expecting from the Samsung.