Samsung "AMOLED 12M" SCH-W880 12MP cameraphone official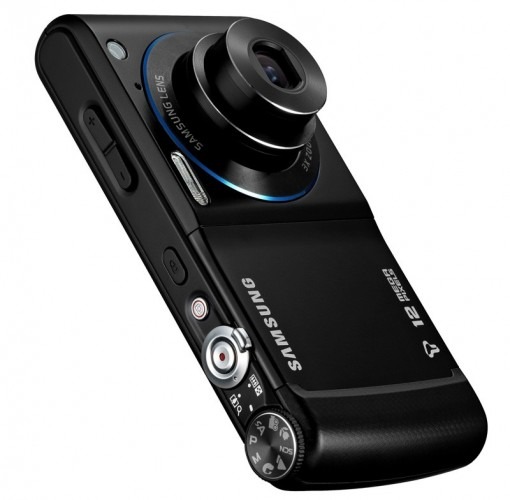 We may receive a commission on purchases made from links.
After Samsung's 12-megapixel "AMOLED 12M" was leaked yesterday, the company is back today with a full press release and details of the optical zoom-packing touchscreen handset.  The Samsung SCH-W880 will arrive in Korea from early in October, where users will be able to marvel at its 3.3-inch WVGA AMOLED touchscreen and gasp in glee at its 3x optical zoom.
The AMOLED 12M also supports 1,280 x 720 30fps video recording, and can apparently shoot, save and be ready for the next shot in two seconds.  Samsung have put digital-camera style controls on the side of the phone, just to make photographers feel at home, plus there's touch autofocus, tracking and a "smart auto" mode.  Onboard memory is 4GB, plus there's a microSD card slot.
The Samsung SCH-W880 is a GSM 900, PCS 1800/1900, WCDMA 2100 device, so if you can find one in Europe there'll be a few networks you can use it on; you won't be able to make use of the integrated digital TV, though, which is designed for the Korean market.  Sadly there's no telling when or if it might cross over officially to the US or Europe.
Press Release:
The World's First 12-megapixel Camera Phone with an Optical Zoom Is Launched in Korea

Following the launch of Pixon12, the first 12 megapixel camera phone in June, Samsung astonishes the world with the 12 megapixel camera phone featuring Optical Zoom

Seoul, Korea, September 29th, 2009 – Samsung Electronics Co. Ltd., a leading mobile phone provider, today announced the launch of the 'Samsung AMOLED 12M' (Model Name: SCH-W880), the world's first 12-megapixel camera phone with an optical zoom up to 3 times. The phone is going to be sold in Korean market from early October.

The 'Samsung AMOLED 12M' is incorporated with the latest camera technology and display technology – the world's first 12-megapixel camera with an optical zoom and the world's most advanced WVGA (800 x 480) AMOLED full touch screen.

As a response to one of the most demanding mobile consumers in Korea, the 'Samsung AMOLED 12M' comes packed with a host of functions which enable consumers to easily capture, browse and share their images on the move – all on a brilliant full-touch 3.3-inch WVGA AMOLED screen.

"Samsung has led the camera phone market introducing the very many first of its kind camera phone – the first 5-megapixel (SCH-V7800, June 2005), the first 7-megapixel with an optical zoom(SCH-V770, July 2005), the first 10-megapxel (SCH-B600, October 2006), and recently, the first 12-megapixel camera phone for global market(Samsung Pixon12, June 2009). The Samsung AMOLED 12M is a living proof of our continuous commitment to introduce the most up-to-date technology to enrich users' mobile experience." said Executive Vice President JK Shin, Head of Mobile Communication Division in Samsung Electronics.

The Samsung AMOLED 12M enables users to take perfect pictures quickly and easily, thanks to the Dedicated Camera Power Key which also provides a real digital camera-alike look and grip feeling. Samsung AMOLED 12M features fast image saving for next shot, so users can move to next shot within around 2 seconds. The phone also provides high quality video recording (1280 x 720) which offers 30 frames per second.

The phone provides the best photo quality by adopting innovative camera features. With Touch Auto-Focus (AF) tracking, users can simply select focus point with the touch of a finger, after which the AF function will automatically follow the object, keeping it in focus even as it moves across the screen. Moreover, Smart Auto feature allows users to capture the perfect images as the camera automatically changes the scene and mode based on its object, background and lighting. Images taken on the Samsung AMOLED 12M are worth showing off to friends and loved ones as they boast digital camera quality thanks to the phone camera's superb lens and Xenon flash.

Product Fact Sheet

Network

WCDMA (2100 MHz)

GSM(900), DCS(1800 ), PCS(1900) Roaming

Display

3.3" WVGA AMOLED

Camera

12MP with 3X optical Zoom + 2X Digital Zoom

Xenon + Power Led Flash

Touch AF Tracking, Smart Auto, Beauty Shot, Macro Shot,

Video / Audio

Video: HD Level (1280 x 720) 30fps

MPEG4, H.263, H.264, DivX, XviD

Audio: MP3, AAC, AAC+, AAC+e, WMA

Value Added Features

Terrestrial DMB (Mobile TV)

Connectivity

Bluetooth® 2.0, USB 2.0 HS (micro USB)

Memory

Internal memory: 4GB

External memory: Micro SD (up to 32GB)

Battery

1,100 mAh

Size

115.8 x 56.9 x 16.3 mm