Samsung Acme i8910 appears: new high-spec smartphone for MWC?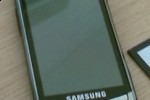 Images purporting to be of a new touchscreen handset, the Samsung Acme i8910, have leaked, together with word that the device is set for launch at Mobile World Congress later this month.  The Acme i8910 is believed to be an 8-megapixel cameraphone with specifications similar to those of the Samsung Omnia, together with either 8GB or 16GB of storage, GPS and DivX playback.
Other rumored specifications include an HDMI output, WiFi connectivity (which we'd assume would go along with 3G), a 3.5mm headphone socket and is DLNA compatibility.  Going from the pictures, there looks to be a front-facing camera for video calling, too, plus volume controls on the left-hand side.
What we don't know, so far, is what OS the Samsung Acme i8910 runs.  Obviously the Omnia i900 uses Windows Mobile 6.1, but Samsung have also discussed releasing an Android-based device in Q2 2009, with some expecting it to be announced at MWC.  There would potentially need to be some button changes, though, from the three front-panel softkeys shown in these images. 
[via Mad 4 Mobile Phones]