Samsung certainly knows how to grab attention, and the freshly announced Ultra HD UN85S9000 shown off at CES today is hardly shy and retiring. A whopping 85-inches of 4k-resolution screen, the vast TV – with a 110-inch version also in the pipeline – is incredibly bright and detailed, and even at a distance the quality and crispness is eye-catchingly impressive.
Samsung says the S9000's industrial design – the easel-style frame – is intended to make the TV less intimidating in the lounge. In reality, it's perhaps even more dominating than a regular set, the metallic-finish tubular frame leaving the screen almost floating in mid-air.
Samsung Ultra HD eyes-on:
Cleverly, Samsung has included speakers inside the frame, and unlike the typical wimpy drivers included in most TVs, there's 150W of power to go with the picture. Upscaling from 720p/1080p to Ultra HD is also supported; useful, since right now there's a dearth of native 4k footage around.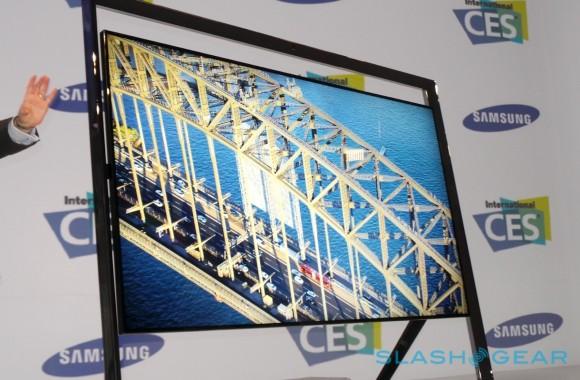 Samsung isn't talking about pricing right now, but we can't imagine the S9000 series is going to be anywhere near cheap. More details on the Ultra HD TV here.