Sagem Puma phone hands-on; 2nd-gen Android model tipped for 2011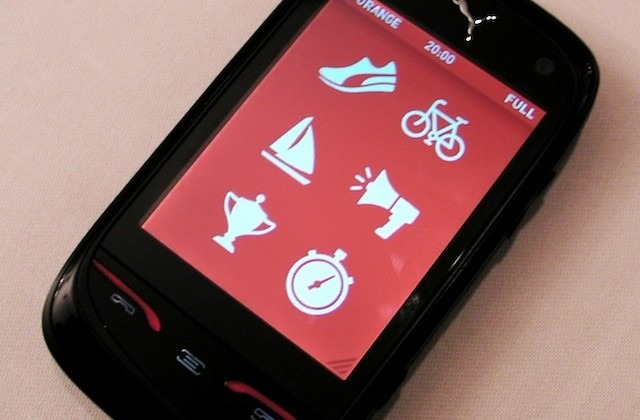 Having been a surprise hit at MWC 2010 back in February, Sagem Wireless brought the latest version of their Puma phone out on the prowl in London last night ahead of the UK launch.  Set to hit Vodafone and Orange in the second week of May, the handset has gone through several software refreshes since MWC and is now looking positively snappy.  Of course, we also took the chance to ask about the potential for a US launch of the Puma phone, and Sagem confirmed that they're looking at bringing it to North America in the first half of 2011.  After the cut, more Puma phone first-impressions plus news of the second-gen device and Sagem's plans for Android.
In a way, the Puma phone is a little like a skinable regular handset which you buy for a single skin.  Shamelessly targeted at the sports/lifestyle customers that have made Puma so successful over the past decade, the hardware itself – perhaps with the exception of the solar panel on the back, which can top-up (though not fully-recharge) the device from sunlight or some indoor lighting – is unremarkable, relying instead on the user experience to differentiate it from rivals.  Navigation is via touch and gestures on a 2.8-inch 240 x 320 capacitive touchscreen, and there's 3G, GPS, a 3.2-megapixel camera with flash and Bluetooth.  In the hand it's solid and feels reasonably well-made, perhaps a little heavier than you might expect but nothing too weighty.  The touchscreen is small in comparison to some devices we've seen launched recently, but Sagem's bold UI graphics make it feel bigger than it really is.
We spoke to Jérôme Nadel, executive VP of marketing and user experience at Sagem Wireless, who described the Puma phone as an "active" device.  The UI is split into three icon-led homescreen panes: activities on the left, a shortcut page in the center and more regular phone functionality on the right, which you can swipe between.  Default on-screen controls are minimal, but you can swipe up from the bottom right-hand corner – Sagem describe it as "pulling up the carpet" – to reveal a contextual menu with more options.  Similarly, battery life and other details are normally shown in very general terms – the battery gage says "full" or "hungry" rather than giving a percentage – but you can pull down the top status bar, like on an Android device, and see more accurate figures, network status and other details.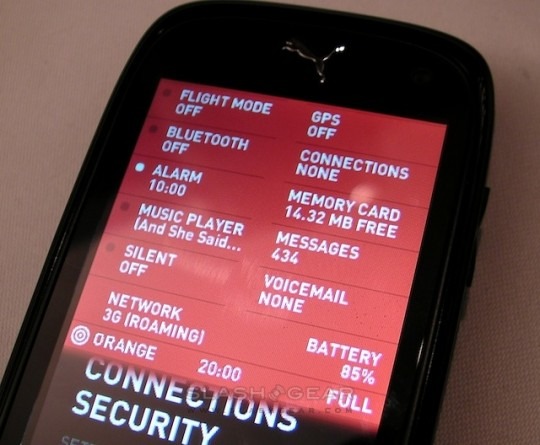 Sagem have littered the UI with various distinctive touches, some of which are endearing and others which feel a little cheesy.  We quite like the animated puma – called on-screen by double-tapping the center hardware key – which feels like a modern-day Tamagotchi, but the calculator telling us it "thinks the answer is..." just gets in the way of quickly seeing the result.  Still, there are plenty of more useful features: a pedometer and a bike speedometer, for instance, which also use GPS to track your course and can later show you where you ran or rode, together with a nautical compass (that handily works on land as well as at sea).  Sagem are looking into adding a competitive edge to these features (though maybe not the compass) by allowing owners to share their best times or longest distances on some sort of online leaderboard; they may also do the same thing with the SMS/call counter that shows you how many messages or phonecalls you've made that have been powered solely by energy from the solar panel.
The expectation is that the Puma phone will carve its own successful niche – Nadel described some of their negotiations with Vodafone, where the carrier was concerned that the Puma services could clash with their own Vodafone 360 service, and Sagem suggested that in fact theirs would merely fill in the gaps around it – and be just the first device to carry the brand.  In fact, there's already talk of the Puma 2, pencilled in for launch sometime in 2011.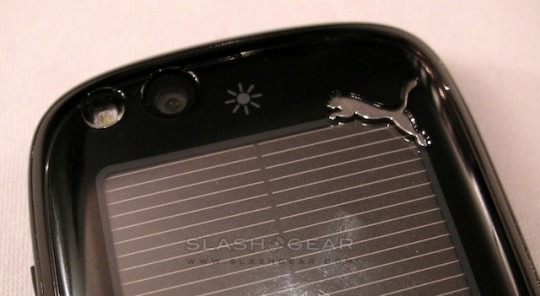 That device will likely run Android underneath the Puma customizations.  Sagem have already announced that they'll be looking to Android to replace their home-grown OS on a number of handsets moving forward, but Nadel told us that the second Puma device will likely be a cheaper, Android-based handset slotting in underneath the first-gen model.  It will have access to the same cloud infrastructure of news, shopping and social networking, a system which Sagem took the lead in developing for use on the Puma handset.  Since they created it, the company are also looking to use it with other high-profile brands; Nadel suggested several big name companies he considers potential targets – Gucci being a good example – where the same content delivery system could be rebranded to satisfy different niche customers.
Sagem tell us the MRSP for the Puma phone is expected to be £329.99 ($501) though of course it will likely be available free on a new contract.  The company is also looking to get the handset – in SIM-free form – into Puma's retail stores; apparently the sportswear company isn't entirely sure its staff are up to explaining and selling phone contracts quite yet.  We'll have a review of the Puma phone just as soon as it gets through final network testing; Sagem expect that to be complete by early May 2010.