Rovio Account Rolls Out Globally For Cross-Platform Syncing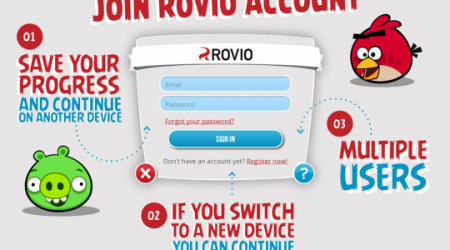 Back in May, Rovio introduced a new method that would allow Angry Birds gamers to have their progress synced across all of their devices, called Rovio Account. The new feature has been slowly rolling out over the past couple months, and the game developing studio announced today that Account is available to all on iOS and Android.
Essentially, the purpose of the feature is all in the name. Rovio Account lets you create an account, which is used to save and store progress in an Angry Birds game and have that game data synced across your multiple mobile devices. By doing this, gamers will be able to stop playing the game on one device, and pick up where they left off on another.
It's important to note, however, that support is rather limited at this point. Rovio Account is only compatible with the original Angry Birds title release, as well as one of their most-recent launches, The Croods. The good news is that Rovio will be adding additional games to the support list in the future, but no timeline was provided.
Since Rovio has numerous games, including Bad Piggies and numerous Angry Birds spin-offs, it'll be interesting to see which games receive priority as far being added to the list of Rovio Account support. We're guessing that Rovio's upcoming Angry Birds Star Wars II title will have the feature built-in from the start, but we'll have to wait and see.
You should see the new feature pop up in either Angry Birds or The Croods if you have those installed on your device. You'll be able to create an account from there and then log in on all of your other devices to sync your progress so that you don't have to start over on a new device.
VIA: Android Community
SOURCE: Rovio