ROLI's $299 Seaboard Block is a modular squishy-keyed keyboard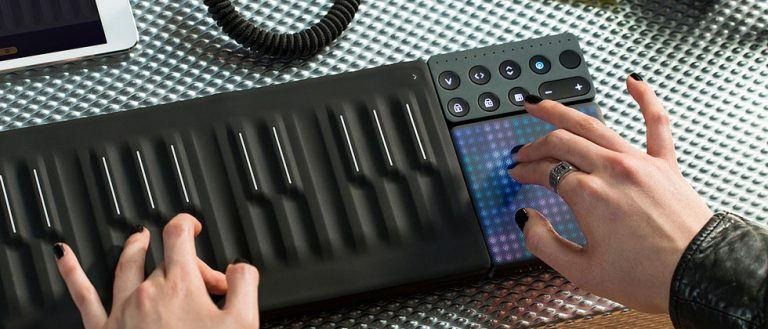 Odd instrument company ROLI has a new keyboard, the Seaboard Block, and it's the most affordable of its squishy-keyed models to-date. Priced at $299, the Seaboard Block is intended to fit into a backpack and play music with synth apps running on your smartphone. It's also less than half the price of what was formerly ROLI's cheapest Seaboard RISE.
Along the top are 24 of ROLI's "keywaves", touch-sensitive keys made of a rubbery silicone which can not only be tapped but squished, pushed side to side, and more. Like the Seaboard GRAND and Seaboard RISE models, that opens the door to far more expressive play, mimicking non-keyboard based instruments like woodwind, along with more esoteric synthesizer sounds.
Like before, there's ROLI's NOISE smartphone app which can be used to play both synth and drum sounds. Launching today, meanwhile, is a new Equator Player app. That's intended for desktop or laptop computers; it's based on Equator, the sound engine released for the original Seaboard RISE models that can adjust notes and sounds based on parameters like how hard you press a keywave, how long you hold it, how the pressure and angle of your fingertip changes over time, and how you release it.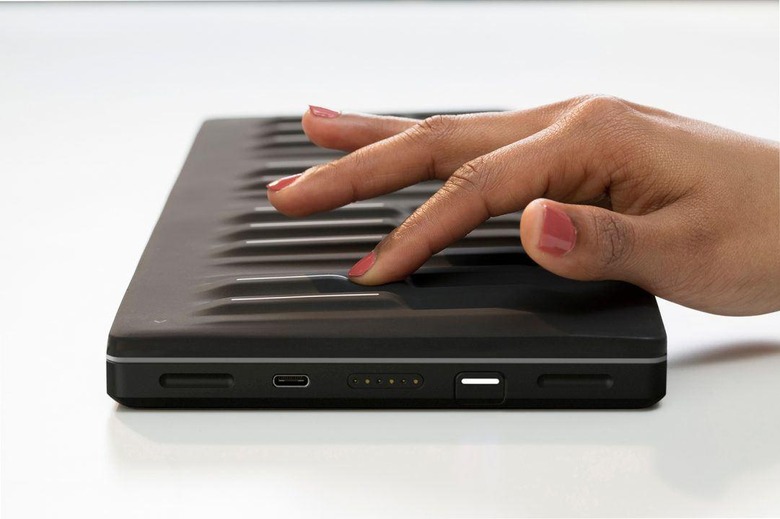 There are six new soundpacks being released today, joining the 100+ sounds that NOISE and Equator Player can produce. They range from vintage electronic through to "Cinematica". ROLI is also including a three month license of MaxMSP, a more open-ended music production app. With it, the full expressive capabilities of a Seaboard Block can be used with not only other MIDI devices and software, but more broadly as a way to control movie files and more.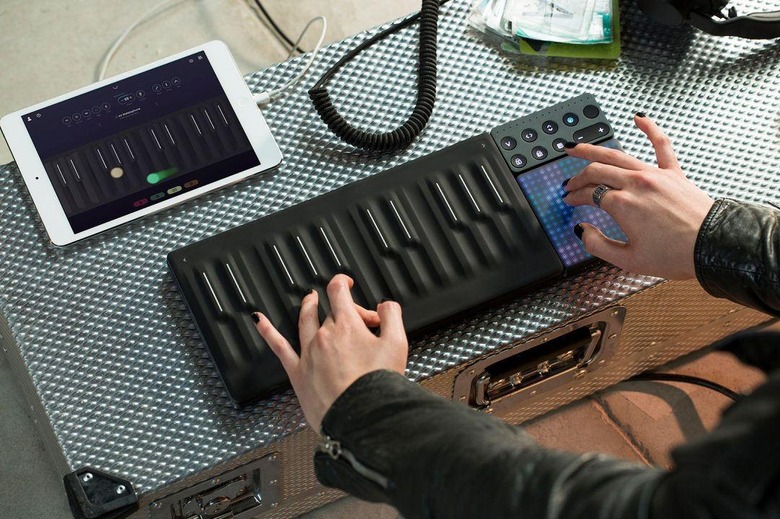 While the Seaboard Block can be used as a standalone wireless MIDI keyboard, it really comes into its own when joined by other ROLI BLOCKS. Like those, it has magnetically-attached connectors on its sides, allowing individual BLOCKS to be joined together into a freeform music system. That includes the Lightpad Block, Live Block, and Loop Block that ROLI launched last year, along with a new model also arriving today.
That's the Touch Block. The same dimensions as the Live and Loop Blocks, it's intended to be used with the Seaboard Block and the Lighted Block, specifically their expressive behavior. For instance, there's the ability to adjust how much side-to-side finger movements trigger pitch-bend on the fly, or how pressure changes evolving sounds.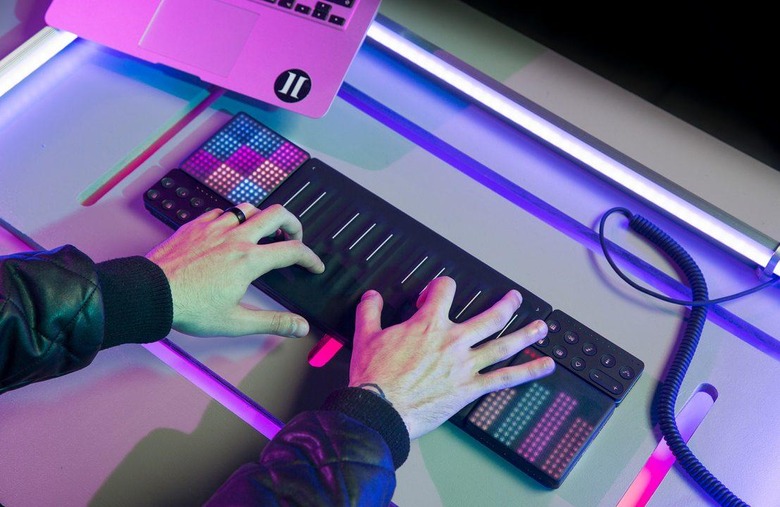 NOW READ: ROLI BLOCKS Review
All of that could be modified within the NOISE and Equator Player apps. However, much as with the Live and Loop Blocks, by breaking the controls out into dedicated buttons the idea is that play – and in particular live play – can be much more immediate. With the BLOCKS Dashboard app, Seaboard Block and the other BLOCKS can be integrated into third-party apps and platforms like Ableton Live, Logic Pro, and Omnisphere.
ROLI's Seaboard Block and Touch Block are both on sale from today. The Seaboard Block is $299 – a fair amount cheaper than the $799 Seaboard RISE – while the Touch Block is $79.