RoBe:Do launch Three: new netbook-based robot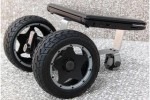 Robotics platform manufacturer RoBe:Do Robotics have added a third model to their range of netbook-powered 'bots, the Three.  As with the previous two platforms, the Three is a modular chassis which uses a USB-connected motor controller; the buyer slaps their laptop or netbook onto the deck, and it acts as the Three's brain.
Three is supplied fully-assembled, and in its most basic form has two 6.7-inch wheels with twin 120 rpm motors.  They're apparently faster than any RoBe:Do have used before, and are powered by either 8 or 16 rechargeable NiMH 9.6V batteries.
Into the system you can plug an optional three-sensor digital IR navigation array, for autonomous control, or any number of USB sensors, webcams, I/O controllers and other gadgets to adapt the platform.  C, C++, C#, Flash AS3, Java, .NET, Python, VBScript and Visual Basic are all supported, among others, and you can use a Linux, Mac or Windows based notebook or netbook.
The RoBe:Do Three is available to order now, priced from $439 ($399 as an introductory offer); the navigation array is a $79 option, while the batteries are priced at $34 or $44 for the 8 or 16 packs respectively.
[via Gizmag]