RoBe:Do Netbook-Powered Autonomous Robots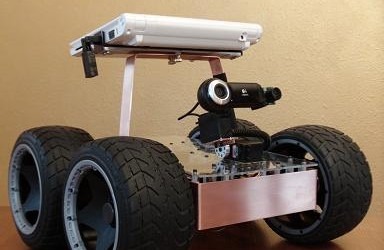 A netbook might not be much cop for video editing, but it's certainly clever enough to act as the brain of a robot.  That's the attitude robo-makers RoBe:Do have taken, with their first two software-ready autonomous robots, each delivered full-assembled and just waiting for your Eee PC (or similar) to drop in and control things.
Video demo after the cut
The two robots – Coppa and Silvio – are intended to act as platforms for greater owner tweakery.  Each is capable of carrying not only its own mechanics, 12V rechargeable battery, autofocus webcam and sonar system, and netbook "brain", but a variety of accessories including motion, heat and humidity sensors, servo-driven grabbing actuators and pretty much anything else you can think of. 
Everything connects to the netbook via a single USB connection, and there's plenty of leftover scope for any modifications you might want to make.  In the video below, you can see a RoBe:Do robot triggered remotely via Twitter from an iPhone.  The RoBe:Do Coppa is priced at $1,649, while the Silvio comes in at $1,449.
]
[via Everything USB]