Rivian R1T electric pickup argues EV makes the perfect truck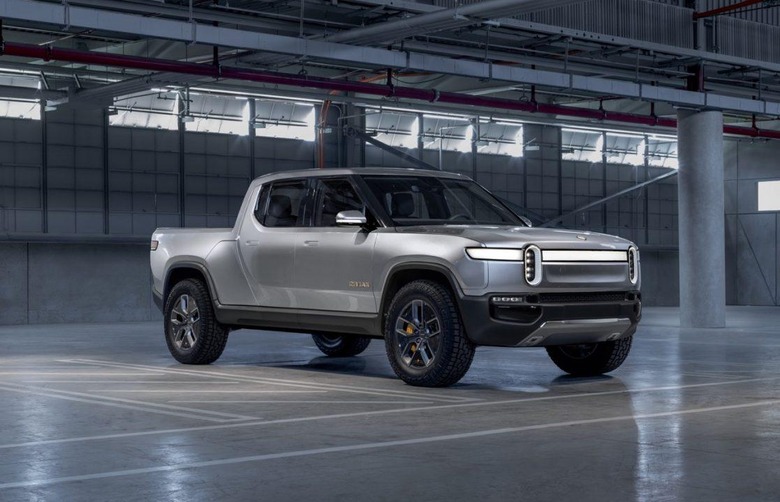 Rivian has revealed its first electric pickup truck, with the Rivian R1T aiming to prove to drivers of utility vehicles that EVs aren't just competitive with but actually better than gas and diesel trucks. Unveiled ahead of the LA Auto Show 2018, the R1T promises up to a 400 mile range and standard all-wheel drive.
It certainly looks the part. Combing traditional pickup cues like chunky fenders and bold lines, with more modern touches like the surface smoothing and LED lighting, it straddles what you might expect from a truck and what's familiar from EVs.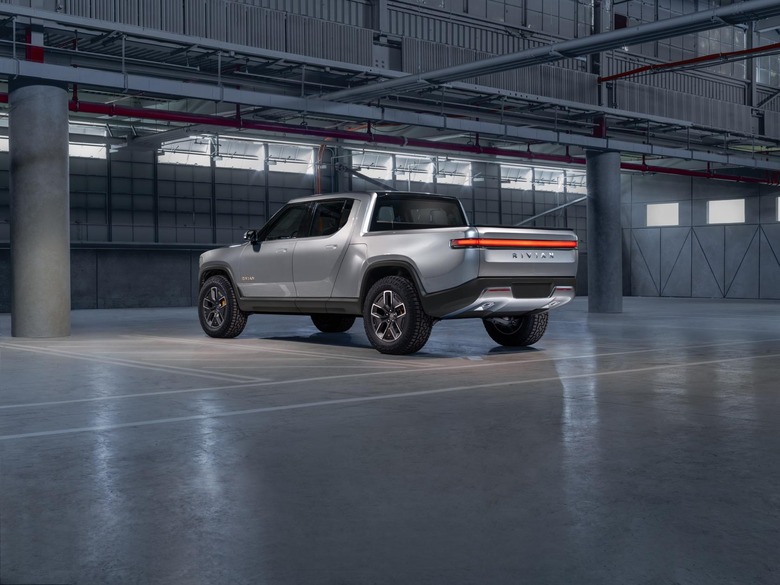 The short overhangs and high ground clearance, though, have practical applications. The R1T has a 34 degree approach angle and 30 degree departure angle, with a 26 degree ramp breaker angle. It can climb a maximum 45 degree gradient.
Ground clearance is over 14-inches, and the pickup has a water fording depth of over 3 feet 3 inches. Overall, it's just shy of 18 feet long, with more than 11 feet of that in wheelbase. The bed is 4 foot 7 inches long with the tailgate up, and 4 foot 6 inches wide.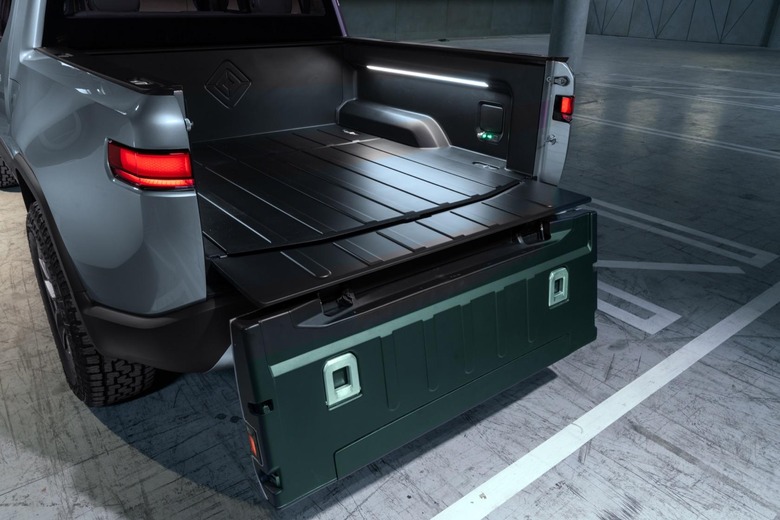 Unlike most pickups, however, there's also a front trunk, or "frunk": that has a 330 liter capacity. A further 350 liters can be fit into the gear tunnel storage, and 200 liters in the rear bin. The R1T has a payload rating of 1,764 pounds, and a trailer weight rating of 5,000 pounds.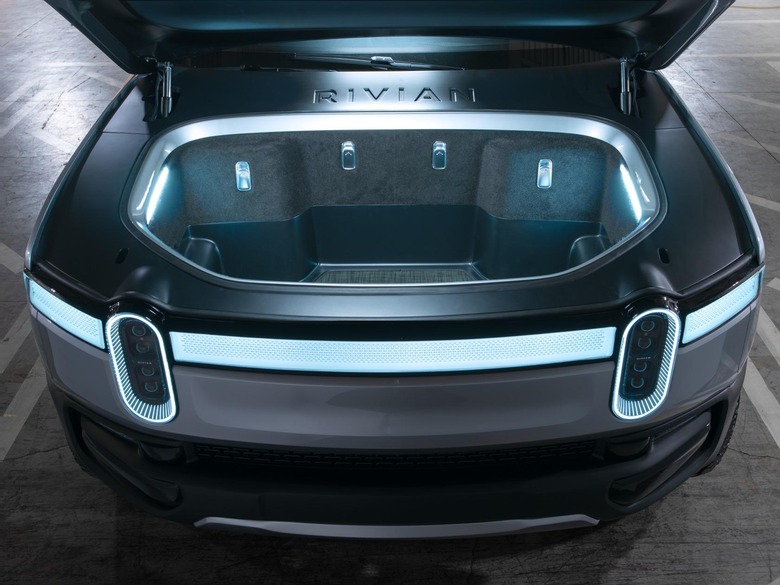 It's built on Rivian's so-called skateboard platform, which combines the battery pack, drive units, suspension, braking, and thermal systems all in a single slice. That doesn't rise above the height of the wheel, both keeping the center of gravity of the eventual vehicle it underpins low, and meaning that anything above that point can be dedicated to passengers and cargo.
A quad motor system packs 147 kW per wheel. Rivian will have three versions of the R1T, differentiated by range and power. The entry level R1T 105 kWh will have a 230+ mile range, 300 kW of power, and 560 Nm of torque. It'll do 0-60 in 4.9 seconds.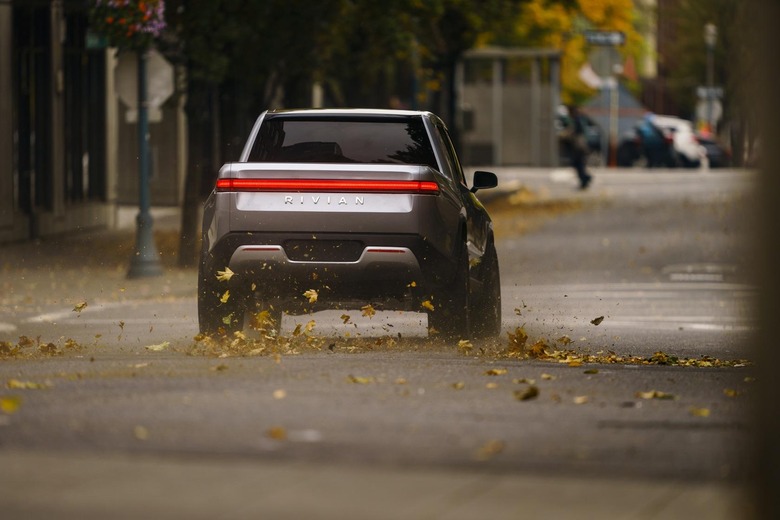 The R1T 135 kWh steps that up to 300+ miles of range, 562 kW of power, and 1,120 Nm of torque. 0-60 mph comes in 3 seconds. Finally, the R1T 180 kWh gets more than 400 miles of range, 522 kW of power and 1,120 Nm of torque. It'll do 0-60 in 3.2 seconds. Top speed for all three is 125 mph, and they support 160 kW fast charging to add roughly 200 miles of range in 30 minutes on a suitable charger.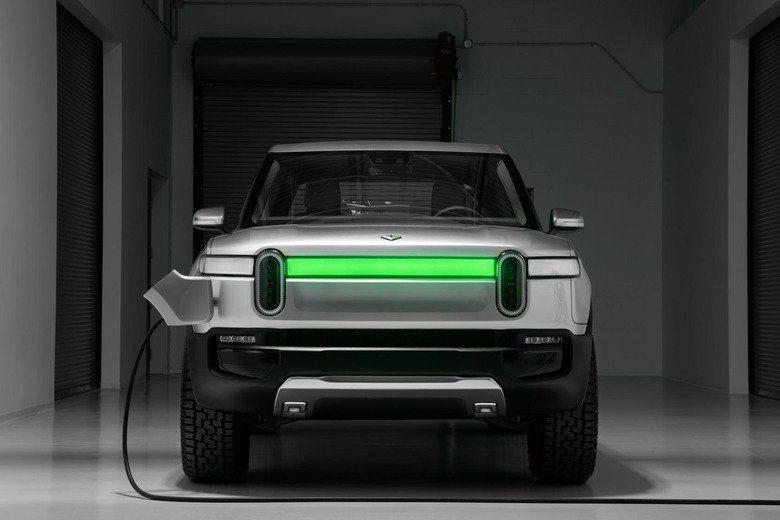 Rivian won't have the electric pickup market to itself, mind. Tesla has a pickup truck of its own in the pipeline, while Ford plans a hybrid version of its best-selling F-150.
What the startup is hoping sets it apart is the flexibility of its skateboard architecture. That'll not only be used for the R1T, but for an R1S SUV. Rivian will show that off later this week, in fact, an example of the design and functionality potential when you package together all of your key mechanical components.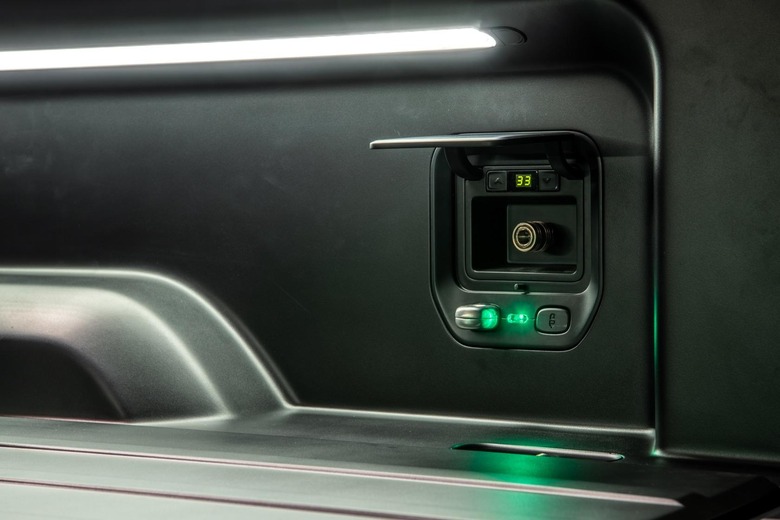 To tempt pickup fans, there's a powered front hood, a lockable gear tunnel storage compartment below the cab, and integrated locking cables in the bed. A camera monitors what's inside, and can warn the owner if something is moved. An integrated tonneau cover is watertight, and there's a telescoping racking system that can be used to easily store things like bikes and tents.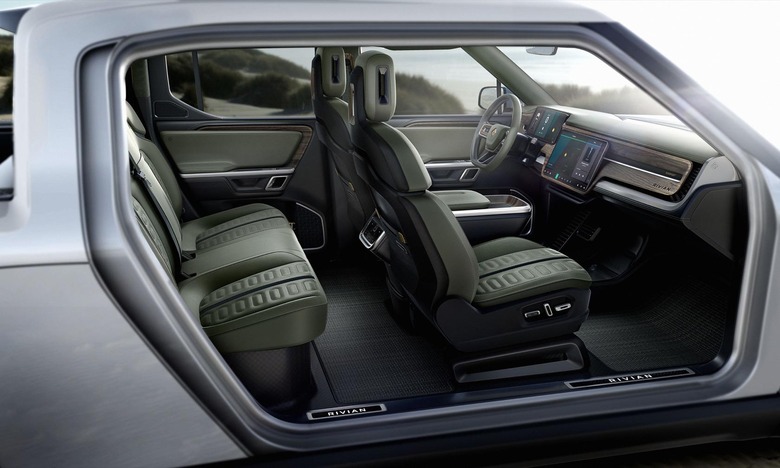 The trunk also gets three 110 volt outlets and integrated compressed air. It's not the only technology, of course. Rivian says it will launch the R1T with hardware support – including cameras, LIDAR, radar, ultrasonic, and high-precision GPS sensors – for Level 3 hands-off and eyes-off highway driving.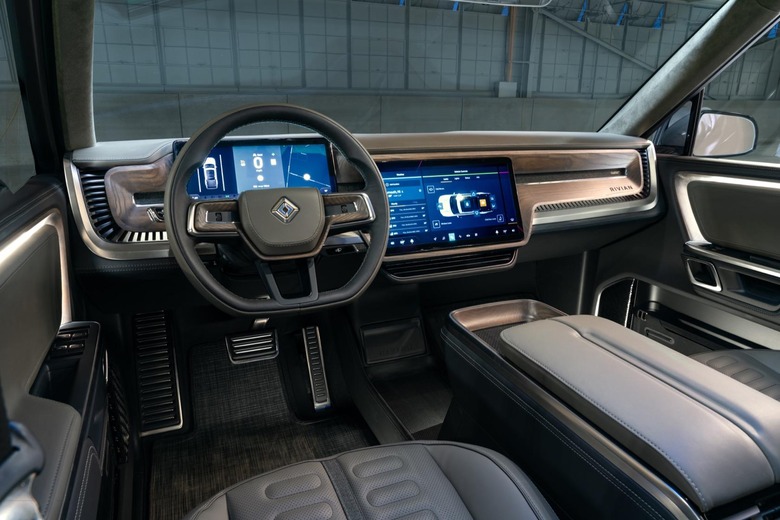 The cabin gets a 15.6-inch center touchscreen and a 12.3-inch digital instrument panel. There's a 6.8-inch touchscreen for the three rear passengers. OTA updates are supported, Tesla-style.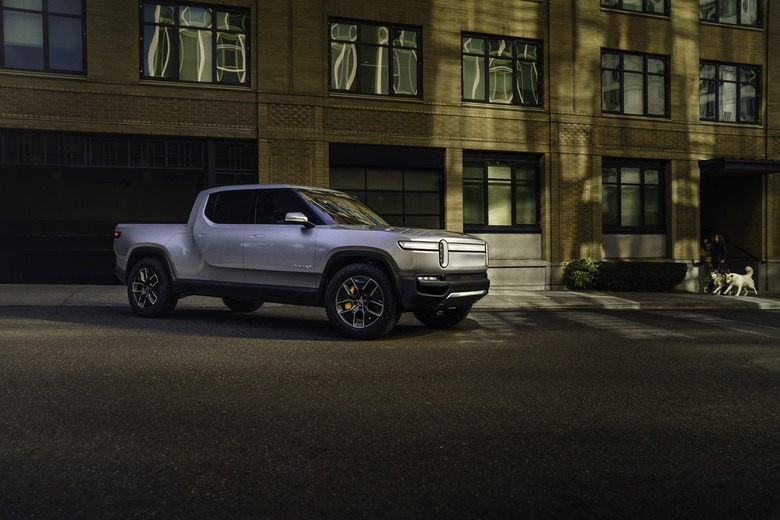 As for safety, Rivian is targeting IIHS Top Safety Pick Plus and NHTSA 5-Star ratings. There are eight airbags and various active driver assistance aids.
Rivian says the R1T will begin deliveries in late 2020, with pricing beginning at $69,000, though points out that the US federal tax credit could take $7,500 off that. The 130 kWh and 180 kWh models will launch first, with the lower range 105 kW R1T arriving within 12 months. Refundable deposits – of $1k – are now being taken to stake a place in line.