Ring Protect vs Nest Secure: Home alarm showdown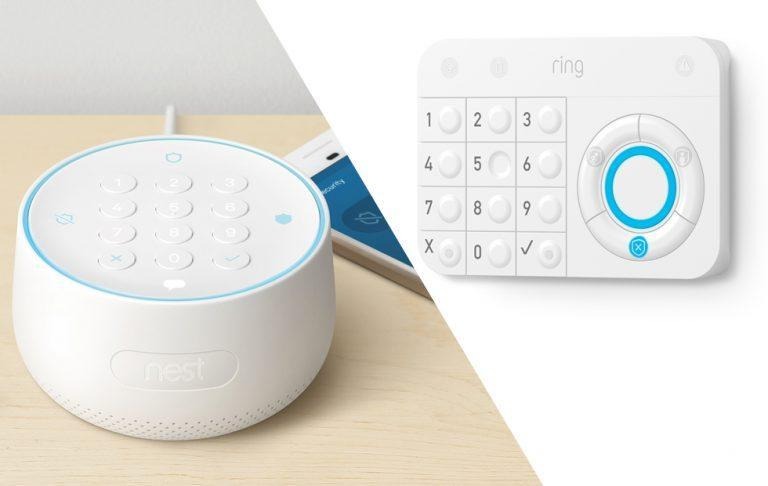 Home security is one of the first places many smart home upgraders begin, and the past few weeks have had some high-profile entrants to the arena. First came Nest, with its long-anticipated Nest Secure. Today, Ring Protect arrived to offer a competitively priced alternative. So, how do Ring and Nest compare?
How much to get started?
Ring is undercutting Nest significantly. Ring Protect kicks off at $199 for the starter kit, which includes the base station, a separate keypad, a single door/window sensor, a movement sensor, and a Z-Wave extender. In contrast, Nest Secure's starter kit is a hefty $499. That gets you the Nest Guard hub, two Nest Detect sensors – which double as motion and door/window sensors – and two Nest Tags, the NFC key fobs which can be used to deactivate the system without a PIN.
It's clear, then, that Ring packs the most punch for your dollars. Both systems are intended to be easy to install, without calling on the assistance of professionals. Still, if a few screws and adhesive pads is still beyond your scope, Nest will offer professional installation – for a fee.
Ring's system has more components, and though that means more things to install it also adds a little flexibility. The Nest Guard hub, for instance, doubles as a motion sensor, the control pad for arming and disarming the system, and the siren itself. That means it's best located in the entranceway to your home, since you'll need to either punch in the PIN or tap your Nest Tag against it to shut the alarm off.
In contrast, Ring separates out the control panel from the base station. The latter acts as the wireless hub, but also includes the siren (which is actually louder than Nest's, at 104 dB versus 85 dB). It means you could feasibly put the Ring control panel in your hallway while more centrally locating the base station, maximizing wireless range.
Eventually, Ring told SlashGear, you'll be able to add extra sirens to your system. That's not something Nest Secure supports.
What about extra sensors?
Ring offers two separate sensors that work with Ring Protect. Motion sensors are priced at $30 each, while door/window sensors are $20.
Nest's approach to sensors is slightly different. Rather than offering separate motion and door/window sensors, it has combined the two into a single unit. Each is priced at $59.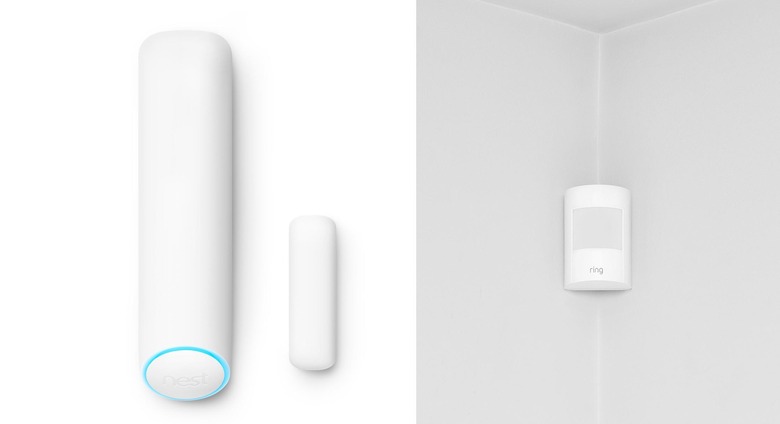 It'd be great if that combination meant that the sensors were cheaper than Ring's. Really, though, what you're paying for is convenience of installation and minimal extra clutter in your room. Nest's do have one bonus that Ring's do not, mind:
24/7 Monitoring
If you're happy being the security guard, neither Nest nor Ring need have any ongoing subscription fees. If there's an alarm, you'll get a notification on your smartphone. However, both companies have the option of professional, 24/7 monitoring.
Nest is partnering with MONI for its service. Pricing will be announced closer to launch. Meanwhile Ring is handling its own monitoring, part of the Protect Plus plan that costs $10 per month or $100 per year. In addition, it also includes unlimited cloud storage for any Ring cameras you might have installed. Nest hasn't said how it's MONI service will interact with its own camera subscriptions.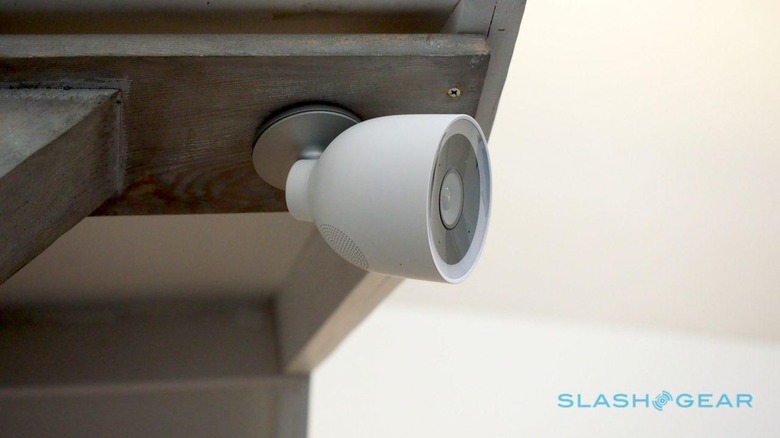 Both systems offer cellular connectivity, though it's an option not included with the basic package. Nest will charge $5 per month or $50 per year for its service. Ring includes cellular as part of its Protect Plus plan. Either way, the idea is that even if your home WiFi connection goes down, your alarm will stay online.
Similarly, there's battery backup for both systems. The Nest Guard will run for up to 12 hours without external power, while the Ring Protect hub and base station will each last 24 hours. Unlike cellular, battery backup is fitted as standard.
The bigger smart home
Both companies offer Z-Wave extenders to help deal with network dead spots in larger homes. It might be some trial-and-error to figure out whether you need one, mind, as factors like the layout of your home and the materials involved are just as significant factors as its sheer size. Nest's extender is $70, but Ring – which includes an extender in the starter kit – is yet to confirm pricing.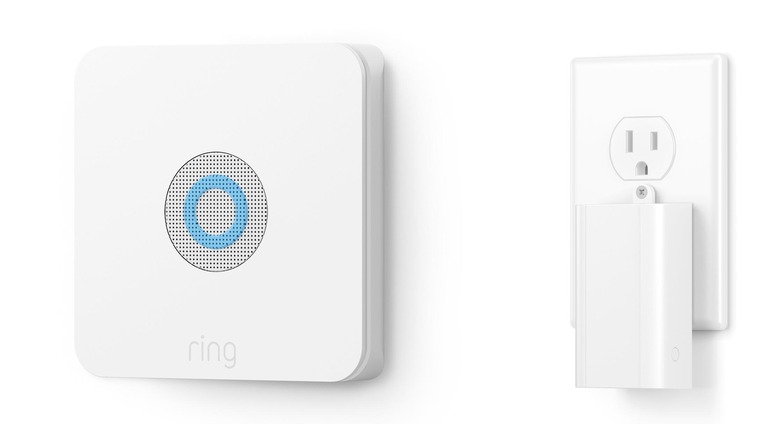 As for integrating with other devices, Nest has the edge. Thanks to the company's Works with Nest program, you'll be able to hook your Nest Secure system in with compatible connected lighting and more, in addition to its own thermostats and cameras.
Wrap-up
Although Nest Secure has some advantages, not least its potential for integration with the broader smart home, you pay handsomely for that. In contrast, Ring Protect is less than half the price for the starter kit, and its sensors are more affordable too. Although Nest hasn't confirmed professional monitoring pricing yet, it seems unlikely it'll undercut Ring, especially with cellular backup sold separately.
Meanwhile Ring Protect is making it to market sooner, on sale at Best Buy at the end of October. Nest Secure will follow on in November. Whether Nest takes the time to make its system more cost competitive remains to be seen.