RIM Teases New BlackBerry OS 7 Device Details Coming Tomorrow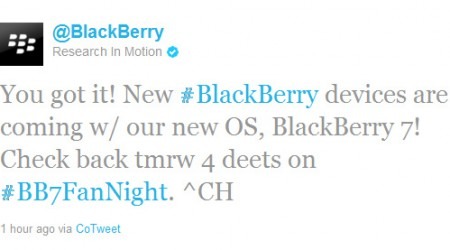 Research In Motion (RIM) has just tweeted a message not more than an hour ago, teasing new details of their upcoming BlackBerry OS 7 devices. The company is set to launch seven of these devices before the end of this year in hopes of turning things around and providing enough buffer time before its transition to a new QNX platform.
The Tweet didn't reveal any specifics except that the BlackBerry OS 7 devices are coming soon, asking followers to check back tomorrow for the details. Some of the BlackBerry OS 7 devices we already know about, include the BlackBerry Bold 9900 and 9930 as well as the BlackBerry Touch 9860 also known as the Monza or Monaca. Some were slated for a summer release but have since been delayed for September.
It's not clear what caused the delay, although RIM suggests that it was partly due to efforts in getting the hardware to meet market expectations. Hopefully, what details come tomorrow will be exciting enough to mitigate some of the bitter news announced this morning of RIM's imminent layoff of 2,000 workers.
[via IntoMobile]