RIM Reportedly Involved In Anti-Apple "Wake Up" Campaign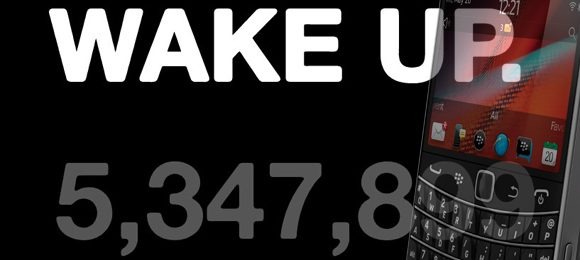 RIM has become the next company to be connected with the anti-Apple event held in Australia last week, after Samsung denied involvement despite proximity to the Galaxy S3 launch this week. Samsung told SlashGear in no uncertain terms on Friday that it was not behind the Sydney flash mob, which saw a bus-load of black-clad protestors arrive outside the Apple store waving "Wake Up!" banners. Now, thanks to some digging by MacTalk and others, there are indications that the BlackBerry manufacturer might be connected.
The Apple Store demonstration was linked with a "Wake Up Australia" website running a countdown; that countdown expires several days after Samsung is expected to unveil its new flagship. However, buried in the source code is a DoubleClick Floodlight Tag ID, 2215527, which a little Googling turns up as also used by RIM's Australian BlackBerry site.

The ID apparently works as a unique identifier for DoubleClick users, and would seemingly imply that RIM had some involvement in the "Wake Up" countdown site. It was also spotted by a user at the Apple Insider forums.
We've got a request in with RIM for an official comment on whether or not it was involved. The company is holding BlackBerry World 2012 this week, from May 1 to 3, though no new smartphones are expected to be launched at the developer-focused event.