RIM Files for SurfBook Trademark with Canadian Intellectual Property Office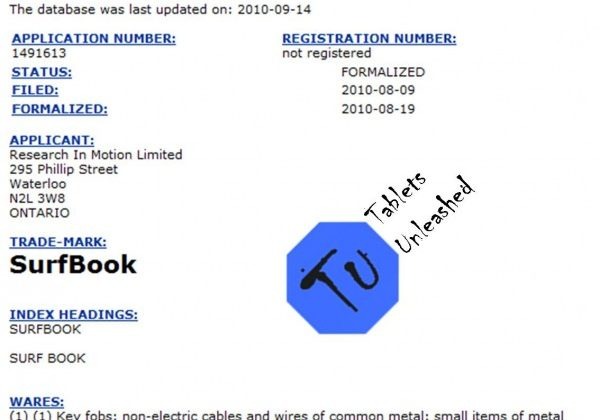 Rumors about the forthcoming tablet from BlackBerry manufacturer Research In Motion (RIM) over the last few months have managed to keep things interesting, especially considering the name that RIM has reportedly chosen for their first tablet device. But, with a new trademark filed with the Canadian Intellectual Property Office (CIPO), BlackPad may not be the only name we see the company's tablet device flying with around the world. Either that, or something else altogether from the company is also on the way.
The trademark filing was recently found within the CIPO, and as the title suggests, RIM is aiming to grab the name SurfBook. However, the trademark application doesn't tell us any other details about what the name could be aligned with. In fact, it's pretty general — it could be referencing a tablet, a smartphone, or even a netbook. It's a clever move by RIM, as it means that if they do have something coming down the pipe, this trademark application will mean that they grab the name ahead of time, no matter the avenue they choose to go down.
Or, it could mean that BlackPad, which is the tablet's name that's been running rampant for a little while now, could be what the tablet is known here locally, but SurfBook could be the title in other places, like in Canada. Debate about whether or not the BlackPad/SurfBook will be an independent tablet device, or a companion piece to your BlackBerry handset are abundant, but one thing is almost for sure: the device will probably feature an Operating System which was developed by QNX Software Systems. Other than that, it could have a 1GHz processor and a camera.
[via Tablets Unleashed]