RIM BlackBerry 9630 Niagara shows its face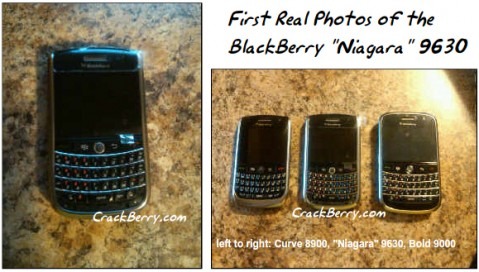 Take the keyboard of the BlackBerry Bold and the slinky chassis of the BlackBerry Curve, mingle them together with a little CDMA connectivity, and you'll apparently end up with this: the RIM BlackBerry 9630 Niagara.  Seen here in real photos for the first time, this is apparently no photoshop..
According to the leaked specifications, the BlackBerry 9630 Niagara is believed to be a CDMA World Phone, which means not only will it play happily on Verizon's network in the US, gobbling up EVDO Rev.A signals with gleeful abandon, but GSM too.  In fact quadband GSM is promised, with support for everything from GPRS through EDGE to UMTS for high-speed internet access.
Other rumored specs include a 3.2-megapixel camera, and possibly a version without for those paranoid industrial types.  The BlackBerry 9630 is shaping up to be the best thing since sliced-bread (assuming sliced bread had a trackball); now all we need is a leaked release date, please.