Ricoh Theta V Review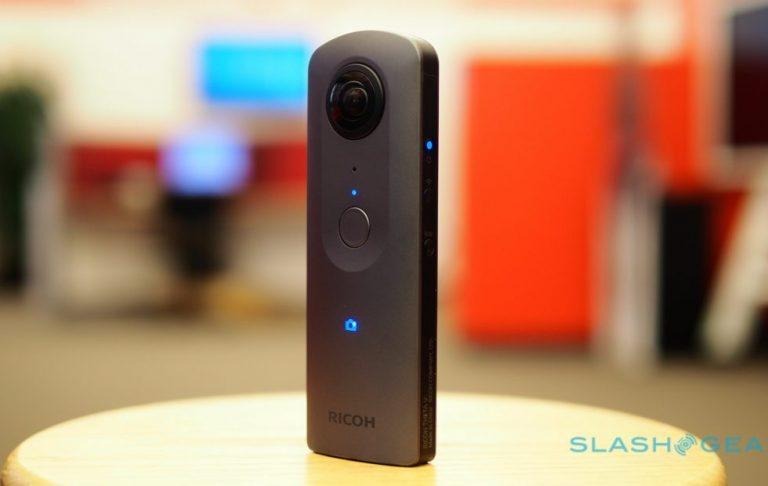 EDITORS' RATING: 7/10
Ricoh arguably created the consumer 360-degree camera market, and now the Theta V wants to retake the crown from those that followed it. Making a welcome move to 4K Ultra HD, it adopts a new Android-based architecture that Ricoh promises should deliver far greater flexibility down the line, too. Indeed, the Theta V promises plenty for its $430 price tag, but has it done enough to fend off competition in what's become a crowded segment?
The Theta V's design hasn't changed much from earlier models. Standing just over five inches tall, it's a narrow grey and black plastic stick with a big shutter-release button on the front and power, wireless, and mode buttons down one edge. Status LEDs glow through the front. The HDMI connection previous Theta models offered on the base has been replaced by a 3.5mm audio input, but you still get a standard tripod mounting screw.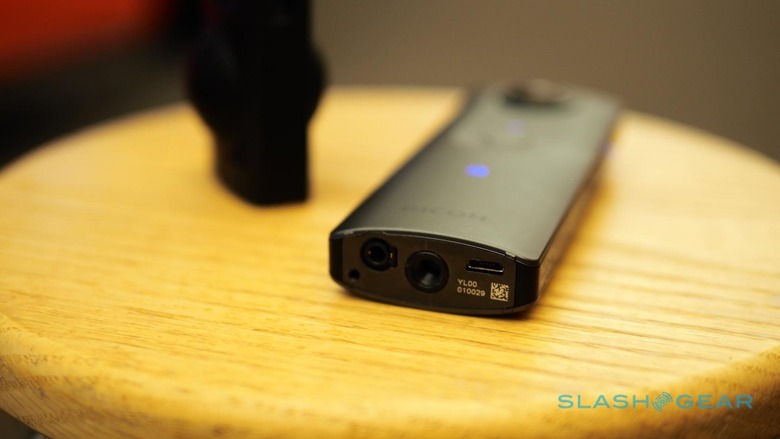 Ricoh has used two 12-megapixels sensors for the Theta V, with f/2.0 optics, and which can now capture up to 4K Ultra HD video at 30fps in 56 Mbps H.264 format. Alternatively there's 2K video support at 16 Mbps. Still are captured as 14.5-megapixel JPEGs, but there's no RAW mode.
The real improvements are inside. Ricoh now uses a Snapdragon 625 chipset for the Theta V, bringing smartphone-level processing power to its camera. It means a new turn of speed: it's now fast enough to capture time-lapse shots every four seconds, for example, twice as fast as before.
It also paves the way for on-camera apps, since there's a customized Android OS running on that Snapdragon. To begin with, Ricoh has added a Miracast streaming app, which runs on the Theta V and, with a compatible adapter on your TV – I used an Amazon Fire TV – allows you to stream 360 video wirelessly directly to the screen. You wave the Theta V around like a magic wand to navigate the on-screen UI.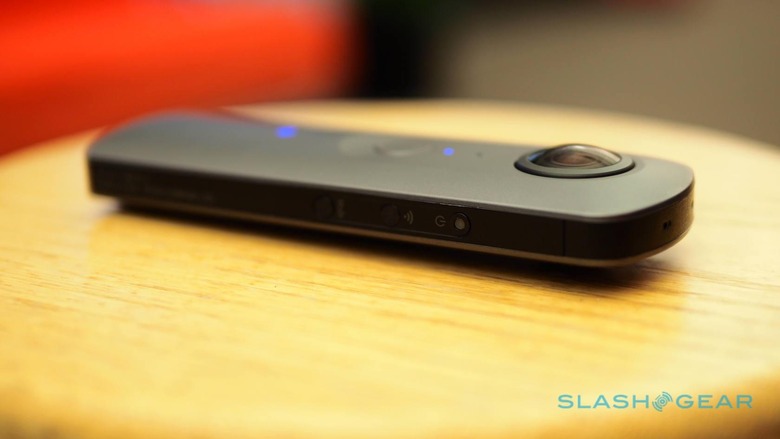 Connectivity has seen some changes too, even if the Thetas V still uses microUSB rather than USB-C. The WiFi now supports both 2.4 and 5 GHz connections, and Bluetooth has been added; it means you can remotely control the basics of starting and stopping video recording, or snapping a still 360 photo, from your phone without first joining the Theta V's WiFi, though you'll still need to do that if you want a live preview.
Ricoh promises faster remote control startup over Bluetooth, which is handy if you're trying to capture something in a hurry: it takes about 2 seconds from remotely turning the camera on from the app before you can take a shot via Bluetooth, compared to about 20 seconds over WiFi. Actual transfers demand WiFi and take a couple of seconds for stills but considerably longer for video; notably, you can't continue using the app while the transfer is in progress.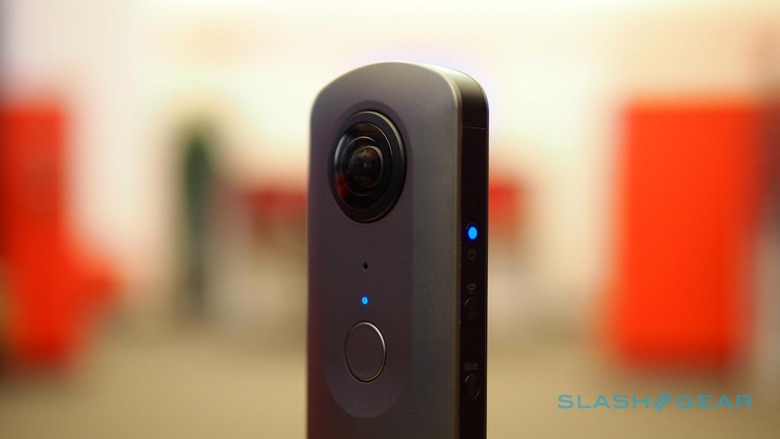 Unfortunately, the other big connectivity improvements Ricoh says should come with the Theta V aren't ready yet. Wireless LAN client mode, which will allow the camera to connect to a router directly so that your phone can simultaneously access it over WiFi while also keeping its own WiFi internet connection, was expected in 2017; that's been pushed back to Q1 2018.
Since there's no removable storage option, you're stuck with the Theta V's 19 GB. That's good for up to 40 minutes of 4K video, 130 minutes of 2K, or up to 4,800 360-degree photos. Ricoh says the camera should run for up to 80 minutes of video capture on a full charge, though it's worth noting that 4K recordings are capped at 5 minutes apiece by default. You can change that to 25 minutes maximum, though Ricoh warns that it may prevent imports to the mobile app.
Theta apps
Ricoh's software approach is a little more convoluted than that of other 360 cameras, primarily because it breaks the capture and editing functionality out into three different apps. For capture, you need the Theta S app for iOS or Android; then, if you want to edit photos there's Theta+ along with Theta+ Video for editing footage. All three are free, but it does mean there's some jumping around to be done in your workflow. If you want to share, you can do so with photos on Ricoh's theta360.com site, though you'll need to log in with either your Facebook or Twitter account. Videos will need to be uploaded to YouTube or Facebook, which you can do directly from the Theta S app.
Alternatively you can use Ricoh's desktop apps for Windows and Mac. You'll need them if you're an iPhone user and you want to upgrade the camera's firmware, too, since while the Theta S Android app not only shows the currently installed version but can update it too, the iOS version can't. Instead, you'll need a microUSB cable and a desktop or notebook handy. Ricoh says iOS firmware update support should come in Q1 2018.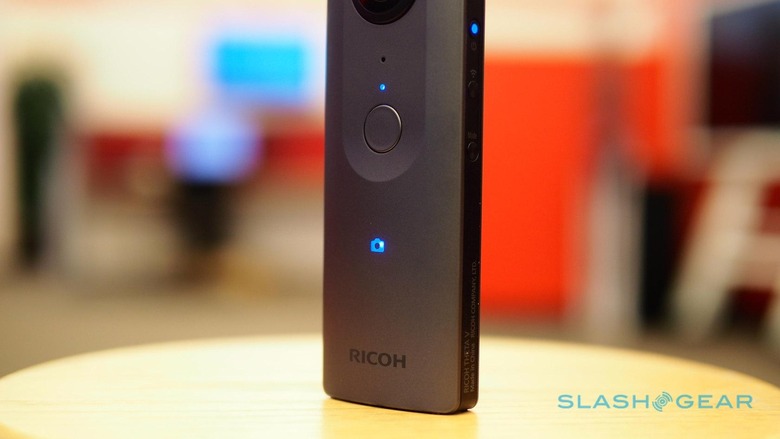 Ricoh wears its "proper" photography talents on its sleeve. The Theta S app has a whole host of manual controls available, allowing you to tinker with ISO (up to 6400), white balance, shutter speed (up to 1/25,000 second), and more. Its been redesigned versus previous versions, too, so that the manual settings are easier to find.
What you don't get are the more creative editing options cameras like Rylo and GoPro's Fusion support. Theta+ Video, for example, supports trimming and cropping, ten different color filters, eight music tracks (plus the ability to add your own), but the most important part is the four different 360 views. Video can be exported as a ball, the "little planet" that looks like a reverse spherical, flat, and straight.
Absent, however, is the ability to easily take a "regular" aspect ratio section of the frame from the 360 shot and manipulate that in the same way that Rylo and Insta360 support. With a Rylo camera, for instance, I could quickly create a traditional 1080p clip from 360 footage that looked as though the camera was physically rotating as on a tripod or gimbal. Although you could probably do that with serious desktop editing software with the footage the Theta V captures, it's far less straightforward than what rivals are offering.
360-degree live-streaming video is another example of that. Yes, the Theta V can be used to stream a live, spherical video, but it'll need to be plugged into a computer to do so: Ricoh doesn't support it in the mobile apps. Again, it's in the pipeline, with a release scheduled for sometime in Q2 2018.
Video and Photo quality
Ricoh has been in the 360 game for some years now, but that hasn't stopped the Theta V from seeing a learning curve since it was launched earlier this year. There have been a number of firmware updates addressing things like the smoothness of joins in both stills and video, reducing shake, improving color accuracy, and more. It's good to see, though it does only renew my frustration that you can't quickly update to a new firmware version from your iPhone.
Join lines have noticeably improved – the following video and photos were shot on v1.20.1 – and though there's no optical image stabilization the Theta V handles being mounted on a car hood surprisingly well. Transitions from light to dark are solid, though if you hear 4K and expect to be able to crop in and still have decent results you're in for a disappointment. 3840 x 1920 resolution sounds a lot, until you remember it's spread across an entire 360-degree view.
Ricoh Theta V –
Ricoh Theta V –
Ricoh Theta V –
Stills, meanwhile, particularly benefit from the Theta V's HDR mode. It makes a significant difference to what you capture in scenes with extremes of brightness. In the following cabin shot, for example, the first image is taken with HDR turned off: the windows are blown-out, as the Theta V compensates for the dark interior. The second image shows HDR turned on, with a much more balanced scene.
Ricoh Theta V no HDR –
Ricoh Theta V HDR –
Accessories
Unfortunately the camera isn't waterproof out of the box. Ricoh offers a waterproof housing, the TW-1, which allows the Theta V to be used at depths of up to 100 feet. It's a painful $199.95, however, albeit also usable if you have an existing Theta S or SC camera.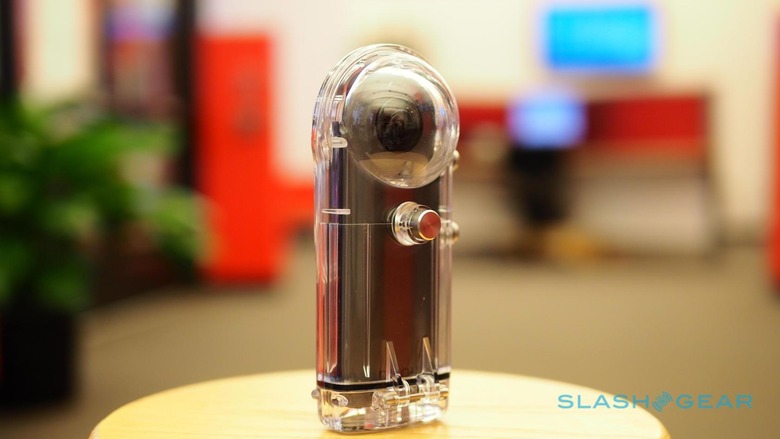 Ricoh's other notable accessory for the Theta V is the $269.95 3D Microphone TA-1. Screwing into the tripod mount on the bottom, and plugging into the camera's 3.5mm jack, it's a collaboration with Audio Technica and improves the quality of the Theta V's four-channel directional audio recording.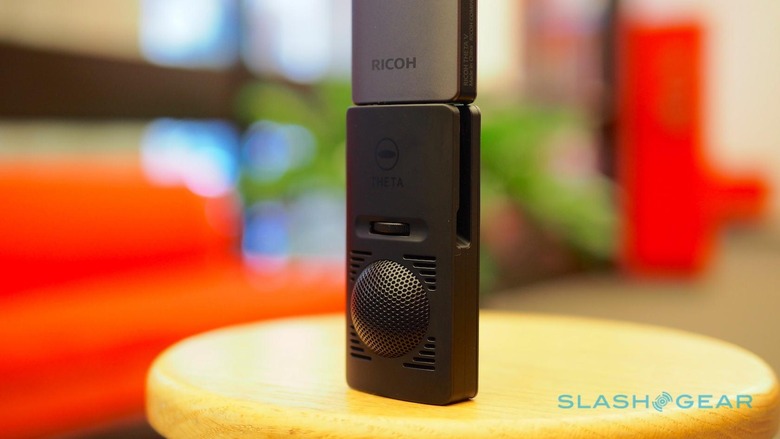 If you want to share such clips so that others can hear the effect – the soundstage basically changes as you look in different directions in the video – you'll need to do it on YouTube, as 3D audio isn't widely supported yet. You might also struggle to edit it, as not all video apps are compatible. Ricoh didn't provide me with either the waterproof case or the TA-1 microphone to test.
Wrap-up
The Theta V clearly takes 360 very seriously. Its host of manual settings and 3D spatial audio support – not to mention the optional TA-1 microphone – combine with solid video and photo performance. Problem is, while the Ricoh has been focusing on bringing prosumer functionality to a consumer device, its rivals have been busy making 360 video more approachable and, dare I say it, fun.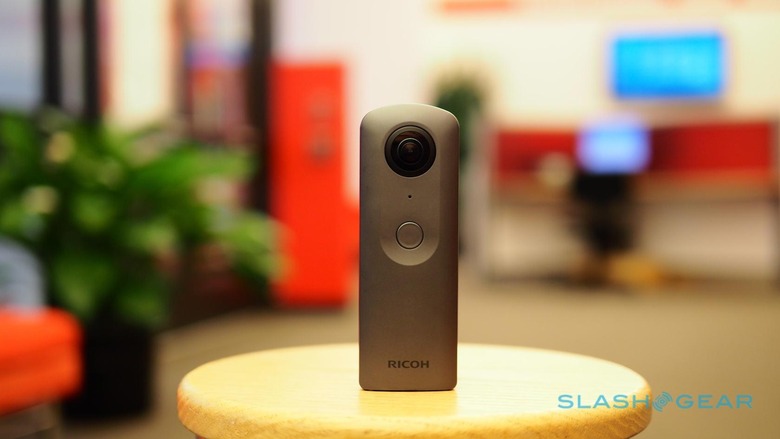 Here's the thing. I prefer the look of the video that the Theta V captures, but I'm more likely to reach for the Rylo camera because of its video editing abilities. For me, 360-degree footage in and of itself isn't especially compelling: far more interesting is being able to take that footage and do things I couldn't ordinarily do with traditional-aspect video cameras.
If you're looking to shoot video for virtual reality headsets, or because you specifically want a 360-degree clip, the Theta V's picture quality makes it a great option. Doubly so, now that the street price is down to under $380. What I'm more interested in, however, is whether Ricoh can engage developers to make interesting apps that take advantage of the Theta V's Android-based brain. Get that right, and it could help shift 360 cameras out of their niche and into the mainstream.