Ricoh Theta hands-on: 360 panoramas in a single shot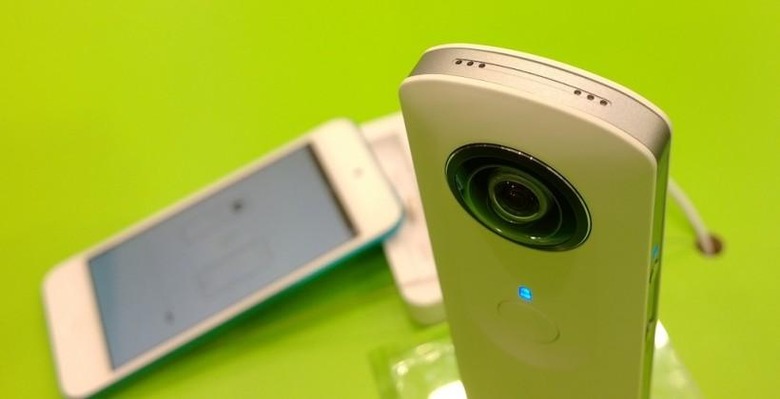 Just about any modern smartphone can shoot a panoramic photo these days, and some even a 360-degree photo, but it's a time-consuming process; Ricoh wants to change all that with the Theta, capable of capturing a full spherical image in a single snap. Rather than the ponderous snap-and-stitch that builds up a 360 shot from individual frames, the Theta pairs two 5-megapixel sensors on either side of a slim bar that can collectively grab all the data simultaneously. We grabbed some hands-on time at IFA 2013; read on for our first impressions.
As standalone cameras go, the Ricoh is on the compact side. A white plastic bar wrapped with a silver band, the two bulbous lenses are either side near the top, with a round button underneath one and a row of secondary controls along one side. They control power and the wireless connection with a smartphone, with a WiFi link to hook up the Theta with the mobile app.
The app isn't actually necessary for use every time, however. When you're out with just the Theta, you can hold it up and hit the capture button and it'll save it to the internal 4GB of storage. There's no preview display, however – though that's less important since you're effectively capturing everything – as well as no indication of how much internal capacity is left over. A tripod mount and USB port are on the bottom.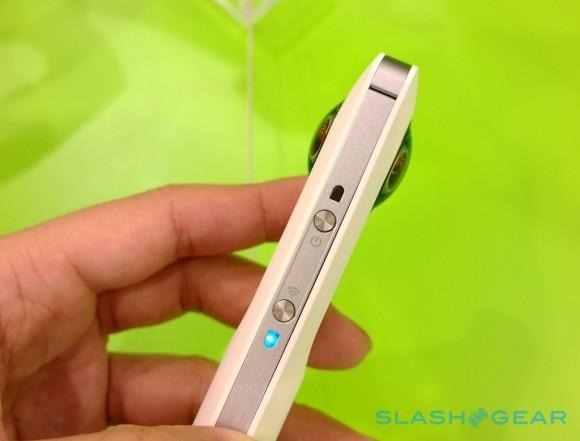 More useful is the Theta app, currently available for iOS but with an Android version due in December. Ricoh is also working on Windows Phone support for the Photosynth app, the company tells us, though that won't be ready until sometime in 2014.
The app allows you to remotely trigger the camera (though you still don't get a preview), as well as browse photos that have been synchronized and those that are still remotely stored on it. It takes a half minute or so to transfer the picture across the direct WiFi link. Each shows up as a small round thumbnail; when you open them up, you can pan and scroll around, as well as pinch-zoom.
Picture quality is 10-megapixels – each of the sensors captures at 5-megapixels – though that's spread across the full panorama. Unfortunately there's no way to export them as a simple photo; instead, you have to upload them to Ricoh's Theta360.com gallery site, and then effectively share links to that to Facebook, Twitter, Tumblr, and other sites. Clicking the link opens up the viewer in the browser, allowing the photo to be panned and zoomed as if on the phone.
It's a similar limitation to what we've seen on other specialist cameras, such as Lytro; regular galleries just aren't set up to handle unusual image types.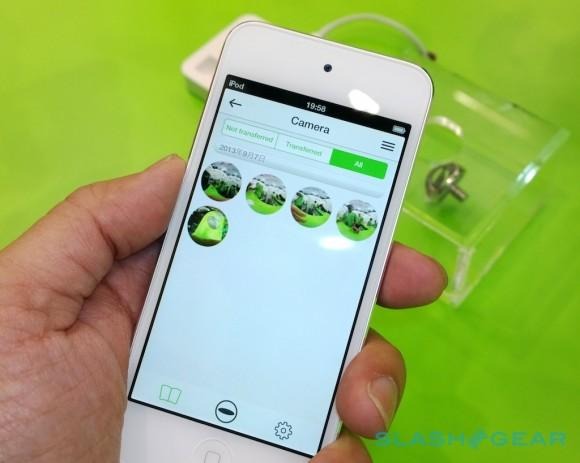 Is the Theta a gimmick? In many ways, yes: it's dedicated to a single purpose – the fixed lenses can't be removed to shoot, say, two regular 5-megapixel images from both sides – and its output is limited in how the shots can be used. At $399, it's not cheap either, especially given the availability of free phone apps that can do something similar, albeit without the same finesse.
Nonetheless, it's a fun gadget, and if you're regularly taking photos at public events – we can see Theta being a hit at weddings, for instance – the technology is certainly clever. We wouldn't argue with Ricoh bringing out a clip-on lens for regular phones, too, for 180-degree shots; flip the handset around and you'd get the full 360. The Theta starts shipping next month.