Rhapsody iPhone app submitted to Apple for approval [Video]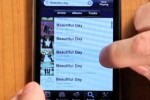 RealNetworks have submitted a Rhapsody iPhone app to the Apple App Store for approval; if it passes Apple's notorious software guardians, it will allow on-demand streaming of Rhapsody's 8m+ tracks over WiFi and 3G connections.  In addition, the Rhapsody To Go iPhone app – which will also run on the iPod touch – gives access to the users' own library and existing playlists.
Access to the app will require subscribing to Rhapsody To Go, currently priced at $14.99 per month, while the app itself will be free.  There'll also be a free trial for new subscribers, though no word on how long it will last.
Video demo after the cut
The company has now turned its attention to an Android version of the app, while likely keeping its fingers crossed that Apple does not decide Rhapsody for iPhone might impinge too greatly on their mobile iTunes revenues.  Back in July rival streaming music service Spotify – though not currently available in the US – submitted their own mobile app to Apple for approval.
[via mocoNews]